BWW Review: Sprightly and Sparkling Moliere's LEARNED LADIES at TAM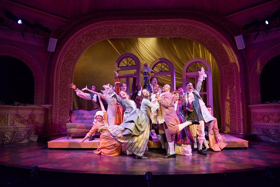 Four hundred and forty-five years later French playwright Molière still bubbles with joyous, effervescent, sometimes mordant wit, and it is just this sparkle that Theater at Monmouth's new production of The Learned Ladies serves up in generous, exuberant fashion in an elegantly translated (uncredited), briskly performed, hugely witty comedy of manners about the affectations of a group of philosophy-loving women and the gender politics of their world.
Director Sally Wood strikes just the right balance between the period style and modernity, adding a dash of zany contemporaneity in several choreographed interludes. She paces the comedy quickly, limns the characters with a skillful hand so that they are never camp or caricature but always remain, as was Molière's genius, endearingly human. The decision to play Belise, one of the philosopher-ladies by an actor in drag has no foundation in 17th century French theatre practice, but certainly has numerous antecedants in modern productions, and it is a device that works deliciously in the hands of veteran TAM player Mark S. Cartier.
The production, designed by Meg Anderson, is classically simple: three white framed glass portals that swivel choreographically to suggest locale changes and serve as the de rigeur props in the numerous fast-paced comic romps. Gregg Carville's creamy lighting design bathes the lovely little white and gold space in warmth and flatters the performers. Jonna Klaiber's costumes are beautifully crafted in elegant, rich colors and fabrics and designed with a hint of drollery. Rew Tippin rounds out the production team with his fine sound design and interesting counterpoint of musical styles.
The cast is completely at home in the idiom, delivering the period text with naturalness and ease. As the warring husband and wife, Ryan Vincent Anderson (Chrysale) and Lucy Lavely (Philaminte) create the necessary sparks of controversy, while still convincing that there is a foundation to their bond. Lavely manages to be sharp tongued without turning into a complete shrew, while Anderson tempers his macho bravado with an endearing softer side. Kelsey Burke (Armande) and Maggie Thompson (Henriette) create a believable contrast between the two sisters, while Wardell Julius Clark makes for an ardent suitor Clitandre. Mark S. Cartier's foolishly romantic Belise avoids going completely over the top, but unfailingly produces wry smiles. Josh Carpenter is an earnest, loyal Ariste, while J.P. Guimont turns in an entertainingly affected performance as the poet Vadius (and the Notary). But perhaps the best satirical characterization comes from James Noel Hoban as the pompous, puffed-up, gold-digging poet Trissotin. Hoban perfectly captures the ridiculousness of this dandy, all the while exuding a foolish charm that explains why he is idolizes by the learned ladies.
The remainder of the ensemble each contributes effective cameos with Meghan Leathers an earthy, amusing Martine, Ben Shaw a self-pleased Julien, and Mackenzie Shaw, Emery Lawrence, and CJ Stewart completing the company.
In a season whose theme is Power, Passion, and Privilege, TAM once again demonstrates its affinity for and facility in staging not only Shakespeare but period classics of European theatre. Revivals such as this production of The Learned Ladies remind us not only of the enduring genius of writers like Molière at the same time that they subtly suggest that while culture and customs may change, human nature remains remarkably consistent in its foibles and aspirations.
Photographs courtesy Theater at Monmouth
The Learned Ladies plays in repertoire July 6- August 20, 2017, at TAM, Cumston Hall, 796 Main St., Monmouth, ME 04259 207-933-9999 www.theateratmonmouth.org