Review: Curious and Curiouser: Colorful ALICE IN WONDERLAND at Maine State Ballet
The Maine State Ballet unveiled its charming, colorful production of Alice in Wonderland this weekend in Falmouth to the delight of its multi-generational audience. The lavish and lovely production with choreography by Linda MacArthur Miele is faithful to Lewis Carroll's tale and brings to life the author's principal characters.
Miele sets the ballet to music by Alexander Glazunov's Raymonda and William Walton's Façade, and she chooses to overlay a spoken sound track with dialogue from Carroll's book to which the dancers mime their storytelling. To this she adds amusing sequences for the eccentric creatures like the Mad Hatter or The Cheshire Cat and avails herself of Carroll's nonsensical streak in witty moments like "The Lobster Quadrille." To these comic segments, she adds large scale company numbers with the requisite solos, duets, and other combinations, and these, like the first act "Garden of Live Flowers" or finale "A Game of Croquet" add grandeur to the work.
Brooke Sowerby (who shares the role with Kendra Murray) made a pert and stylish Alice. An expressive mime, she also acquitted herself gracefully in her solo choreography. Emma Davis made an appropriately energetic White Rabbit, while Trevor Seymour was a slinky, elusive Cheshire Cat. It was great fun to watch Glenn Davis and Caitlin Bodlovick tap their way gleefully through Tweedle-Dum and Dee's solo and later to enchant as the Mad Hatter and Doormouse with Boomer Druchniak as the March Hare in a zany tea party sequence. Frederick Bernier made a wily Caterpillar; Janet Davis an imperious Queen of Hearts with Michael Hamilton as her doddering King, and Arie Eiten athletically danced a mischievous and winning Knave of Hearts.
Among the soloists in first act flower dances, Veronica Druchniak was a regal Tiger Lily, Kallee Gallant and Boomer Druchniak a winsome pair as Buttercup and Dandelion, Rhiannon Pelletier a classy Rose, while Adrienne Pelletier partnered by Michael Hamilton as the Shy Violet and Snap Dragonfly proved the highlight of the act with their stunning line and lifts. The second act offers some sprightly dances, especially for the various card characters with a briskly danced Spades sequence (Sally Minton, Hannah Bergeron, Aidan Volk), a droll "Lobster Quadrille" (Jessica Bartlett, Cloe Dilworth, Margaret Dwinal, Kate Larkin, MarieClaire Owens, Caroline Routh, Abigail Ryer, Ksenia Smart, Sophia Spelman), and a lively penultimate number for the Aces (Veronica Druchniak, Kallee Gallant, Adrienne Pelletier, Rhiannon Pelletier).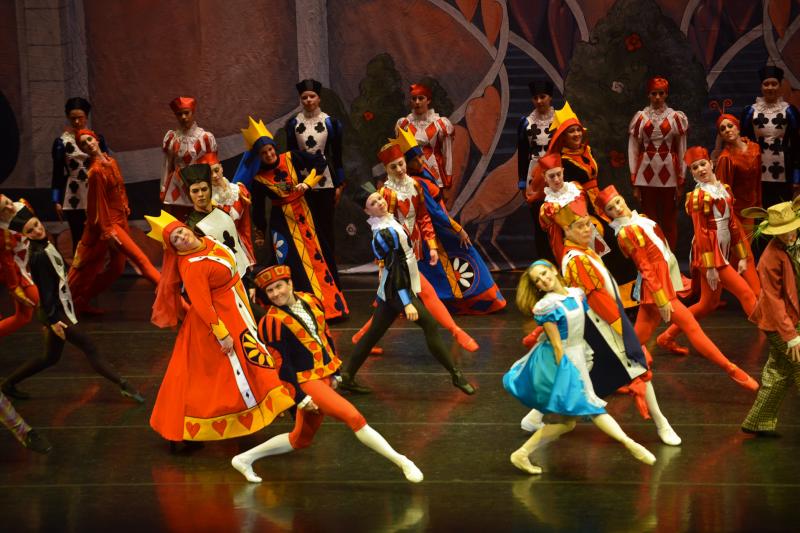 The corps de ballet performed with commitment, energy, and a high level of skill, though the precision of the port de bras and the lines in the two large act finales was a little ragged.
The production itself is noteworthy, not only for its choreography and cast, but also for Gail Csoboth's truly magical drops and lavish, vivid-hued, characterful costumes and masks and Frederick Bernier's ably handled lighting, well-balanced sound, and technical aspects. All combine to conjure up the timeless classic with whimsy and elegance.
Photos courtesy of Maine State Ballet
Alice in Wonderland runs at the Maine State Ballet's Lopez Theater, 348 US Route One, Falmouth, ME from March 23 - April 8, 2018. 207-781-7672 www.mainstateballet.org