Review: BROADWAY AT THE GOOD THEATER Serves Up Holiday Cheer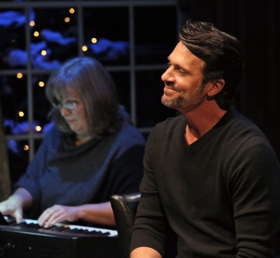 Among the many holiday season theatrical offerings, the annual musical revue, Broadway at the Good Theater inevitably proves to be a refreshing and original approach to ushering in a season of good cheer. The 2017 production, conceived, written, and directed by Brian P. Allen, is no exception; in fact, if anything, this year's show is bigger, bolder, and full of delightful surprises.
Devoting the stage to the Broadway musicals of the 1950s, Allen presents a collection of thirty-six songs and medleys that range from blockbusters like The King and I, The Music Man, and The Sound of Music to virtually forgotten little gems like Saratoga, John Murray Anderson's Almanac, and Pipe Dream. Allen's encyclopedic knowledge of the Broadway genre allows him to choose cleverly and juxtapose the pieces to create a brisk, witty, and melodically memorable evening. Working with three New York guest artists, some new regional and local talent, and the returning regulars of the ensemble, he assigns songs to each performer based on individual strengths and creates contexts that are engaging.
Musical Director Victoria Stubbs on keyboards leads the onstage excellent trio (Bill Manning-percussion & Asher Barreras-bass), and provides the skillful arrangements, especially of the extended medleys, which allow the evening to cover more music and make smooth transitions.
Steve Underwood's set design (with set decoration by Justin Cote) is more elaborate than usual: a handsome wine-colored, well-appointed interior drawing room festooned with garlands, lights, and a glittering tree. Ian Odlin lights the stage with a cozy hearthside warmth, and the uncredited costume designs (likely selected by the individual artists) give just the right hint of character and period while capturing the colorful charm and occasional silliness of the season. Stage Manager Michael Lynch and Technical Director Craig Robinson round out the production team.
The three guest artists each contribute special moments to the show's tapestry. Displaying a strong lyric baritone and crisp diction, Daniel Patrick Smith delivers a characterful "Trouble in River City" (Music Man) and a touching rendition of "The Man I Used to Be" (Pipe Dream). Replacing the originally scheduled Kathy Voytko on short notice, Jessica Phillips sings with lyric musicality and proves winsome in the Damn Yankees duet, "A Man Doesn't Know" (with Eric Kunze), and sings an elegant "Getting to Know You" from King and I. Kunze, who has played a number of "legitimate" leading men on Broadway, creates magic with his exquisite rendition of "Maria" from West Side Story and wrapped up the concert with a heart wrenching performance of a new song from a work in development, "Thank you," which deals with the relationship of a hearing man and deaf woman. The haunting melody and lyrics paired with the use of American Sign Language creates a stunning closing moment.
The thirteen-member supporting cast makes a lively ensemble, and each is given a moment to shine. Laura Houck excels in portraying jaded, brassy, sophisticated women in her strong, smoky voice; Her rendition of "Boston Bequine" (New Faces of 1952) is wickedly funny, and her brief selection from Gypsy touching. Marissa Brown uses her light coloratura to deliver a Barbara Cook medley, while Hannah Daly projects a sweet ingénue presence in songs like "That's the Way It Happens" (Me and Juliet). Jen Means demonstrates once again that she is a consummate interpreter of a song and text, delighting in "It's a Helluva Way to Run a Love Affair" (Plain and Fancy) and "I'll Never Be Jealous Again" (Pajama Game). Lynne McGhee belts out the vocals and the broad comedy in "Flings" (New Girl in Town) and in the closing number, "Give It All You Got" (Oh Captain). Shannon Thurston displays a voice of considerable flexibility, range, and power and practically steals the show with her performance (together with Allen as the Inspector) of "Is It a Crime" (Bells Are Ringing). High school sophomore and newcomer to the Good, Madeline Fitzgerald, gives a sultry performance of "Ain't It De Truth *(Jamaica) and catches the eye with stage presence in the ensemble.
Among the men, veteran Glenn Anderson again demonstrates his flair for comedy and his skill with dialects. His witty, waltzing Captain Hook ("Captain Hook's Waltz, Peter Pan) is delightfully memorable moment. Jim Gaddis contributes a very funny "Maria Medley" which - when juxtaposed with Kunze's mellifluous rendition of Bernstein's song - proves hilarious. Conor Riordan Martin makes a goofy L'il Abner ("If I Had My Druthers"), while Steve Leighton brings color and character to several pieces, among them the opening "Fixin' for a Long Cold Winter" from Courtin' Time and the title song from Take Me Along. Newcomer John Lanham proves a pleasing discovery. He brings a firm, focused, lovely tenor and a winning presence to numbers like "Sing You Sinners" (Mr. Wonderful) and "What a Waste" (Wonderful Town). Rounding out the male ensemble is young Halim Moldaver, who continues to hone his stage skills.
Over the years, Brian P. Allen has made these holiday revues much-anticipated events, and the sold-out crowd at the Good Theater last night bore witness to the dynamic impact this little theatre continues to have on Portland's cultural scene.
Photos courtesy of the Good Theater, Steve Underwood, photographer
Broadway at the Good Theater runs November 29-December 3, 2017, at 76 Congress St., Portland, ME www.goodtheater.org 207-835-0895