BWW Feature: ROCKY HORROR LIVE HEATING UP THE STAGE THIS AUGUST at Rocky For Equality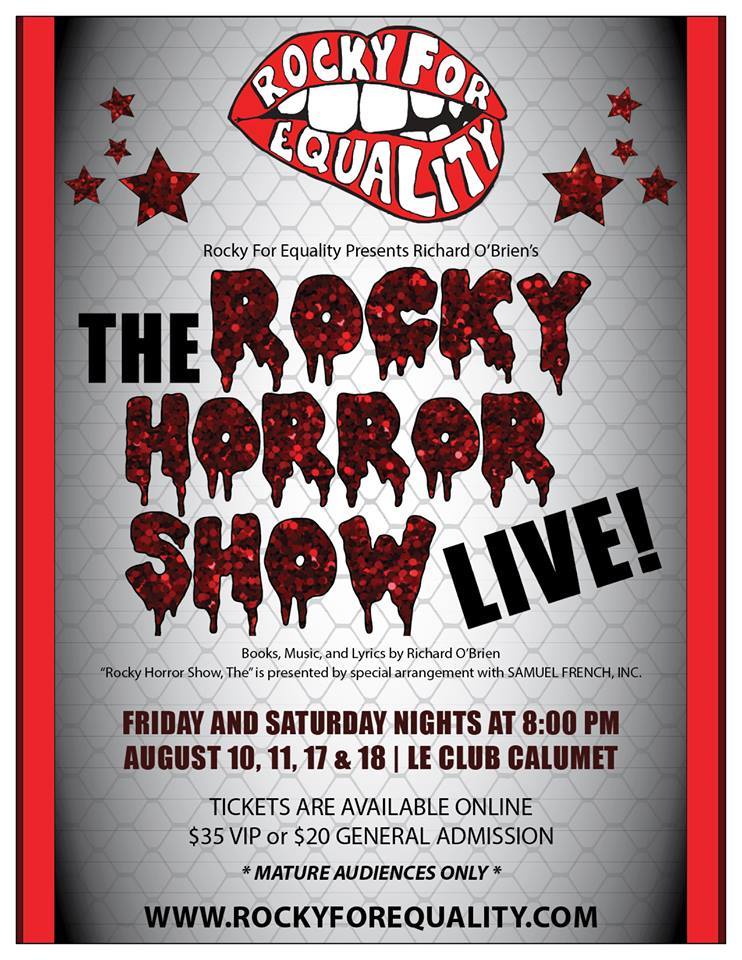 It's just a jump to the left...
This August, Rocky For Equality will be staging their annual LIVE production of Rocky Horror, after a years hiatus, and we are thrilled they are back!
The Rocky Horror Show written by Richard O'Brien, originally premiered in London in 1973 and inspired the cult classic film, The Rocky Horror Picture Show.
While many theatres around the globe do shadow productions, Rocky For Equality's show is the real deal, with a cast of 15, live rock band and plenty of opportunities for audience partici...pation!
Helming this year's production is RFE's Artistic Director, Becca Tinkham. No stranger to this show, Tinkham has a deep love for all things Rocky Horror and that translates into incredible innovative productions that always leave the audience gagging for more. Her artistic prowess is once again on full display as Tinkham enjoys the challenge of theming all of her Rocky Horror production in a unique and innovative way. This year, Rocky Horror will take on a Vaudeville theme, all while staying true to the source material. Tinkham is joined by Jake Boyce, a choreography staple in the local theatre scene, and is known for his high energy, imaginative choreography. Boyce will take on Rocky Horrors iconic dance numbers, giving them a fresh spin, while utilizing 15 powerhouse performers.
The cast comprises of:

NARRATOR: Matty Cutler
BRAD MAJORS: Daniel J. Legere
JANET WEISS: Amber Sutherland
RIFF RAFF: Cameron Prophett
MAGENTA: Melanie Mansir
COLUMBIA: Danica Hemond
FRANK'N'FURTER: Jak Peters
ROCKY: Allison Truman
EDDIE/USHERETTE: Amanda Slack
DR. SCOTT: Lucy Poland
PHANTOMS: Gabrielle Bouthot, Alexa Bartley, Valorie Lake, Vanessa Glazier, and
Raye Anne Desoto
Show Dates
Aug 10, 11, and 17, 18 at 8pm
At: Le Club Calumet, Augusta
Tickets are on sale now - https://www.brownpapertickets.com/event/3504096
This is the most fun you can have in fishnets! Dress up, invite your friends and come party to the incredible rock-and-roll score.
Drinks are also available before and during the show.
This production contains mature content, parental discretion advised
For more information
http://www.rockyforequality.com/