Click Here for More Articles on SOMETHING ROTTEN
BWW Interview: A Sneak Peak at SOMETHING ROTTEN! with Matthew Janisse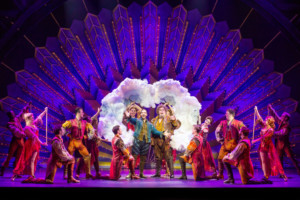 Matthew Janisse is no stranger to moving around. Born in Venezuala to Canadian parents, he was raised in Taiwain, and grew up in Miami. Now he's touring the country as the lead in SOMETHING ROTTEN! an uproarious dose of pure Broadway fun.
Janisse describes SOMETHING ROTTEN! as a wacky comedy--sort of a Spamalot meets Shakespeare in the Park. "There are jabs at Shakespeare, but you don't need to know anything about Shakespeare. There are references to musical theatre that are funny even if you don't know musicals. It's truly hilarious."
SOMETHING ROTTEN! is a story about two brothers trying to come up with a hit under the shadow of the rock God Shakespeare. The oldest brother Nick Bottom, played by Janisse, is always second fiddle to Shakespeare and hates him with a fire that is not easily quelled. "Nick thinks his wild success is unfounded and inflated. There are many great moments of Nick and Shakespeare butting heads over their rivalry."
This leads to Janisse's favorite number--the frantic God I Hate Shakespeare. It's Nick's anthem and the song that describes how he's feeling. "It's him talking about being overshadowed by the overly praised Shakespeare. The song itself, the lyrics, are so funny. My challenge is to maintain that wild manic energy while still making the story crisp and clear."
Music and Lyrics for SOMETHING ROTTEN! were written by brothers Wayne and Karey Kirkpatrick who no doubt utilized their own sibling experiences to craft an authentic and entertaining relationship for Nick Bottom and brother, Nigel, played by Richard Spitaletta. "Nick is the commercial side of theatre, Nigel is the artistic passionate side, Janisse explains. "He's a self conscious, amazing poet who through his own neurotic tendencies doesn't realize his own brilliance. Nigel is a sweet open-hearted little brother to Nick's hammerhead business type."
"As the oldest, Nick Bottom is the leader of an acting troupe and is a man with a lot of pressure on his shoulders," says Janisse. "The troupe is struggling financially, he's responsible for everyone involved as well as his wife and brother. All his stresses drive him to make foolish decisions."
Out of desperation Bottom goes to a soothsayer to determine what the next big thing in theatre will be. It's going to be a musical! Which leads to the crowd favorite number, A Musical, sung by the soothsayer, Greg Kalafatas. "It's a big tap extravaganza like an old musical theatre dance break and takes an enormous amount of energy from the entire cast. It is a show stopper that never fails to bring down the house."
Because the tour has just recently kicked off, Janisse explains that the cast hasn't had an audience until recently. "We sometimes forgot how funny it is. Having an audience is a whole different experience. They are the final characters that have been added to the show, which is an interesting thing to manage. Building in time for laughter, chuckles, applause, that's the most memorable thing to negotiate. Every night it's a different relationship."
Janisse shares that this is a dream part for him. "I saw it in previews with my parents, but right away I went to another contract. During my breaks I would turn on the soundtrack and sing it in the parking lot because the music is so funny. To have this opportunity to tour this show, and sing these songs to people. It's incredible.
SOMETHING ROTTEN! makes its Wisconsin premiere at Overture Center Tuesday, Oct. 9-Sunday, Oct. 14. Local actor and arts administrator (Children's Theater of Madison, Four Seasons Theatre, Capital City Theatre) Brian Cowing will join the national tour's ensemble.
Tickets are available at the Overture Center Ticket Office (201 State Street), by phone (608.258.4141) or online (overture.org). Groups of 10+ may be eligible for discounted tickets by contacting 608.258.4159.
SOMETHING ROTTEN! is part of the Broadway at Overture Series, presented in partnership with Broadway Across America.