Victoria Woodhull Play Closes Tuesday 6/19 with Live VR Recording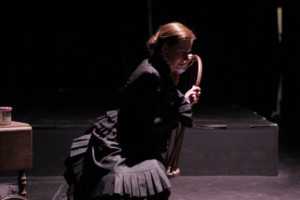 The Owl & the Pussycat Theatre Co is proud to announce, The Terrible Legend of Victoria Woodhull closes this Tuesday, June 19th with a special performance - a live virtual reality recording slated for distribution by VR Home TV. Come join the magic in this cutting edge New Medium where Theatre & the Virtual Stage collide in the great beyond.
Victoria Woodhull was the first woman to run for President of the United States in 1872. In this 50 minute play, a well-meaning Canadian Actress (Ashley Ford) conducts a seance in order to summon the spirit of the late Victoria Woodhull, in order to tell her tale from beyond the grave, in the light of today's #MeToo movement, and set the record straight.
VR Home TV was founded with the motivation to expand the at-home VR experience. As the industry's leading virtual reality at home experience, VRHTV's goal is simple, "Entertain our audiences with an extraordinary content of theatrical performances from around the globe, delivered by top professionals in the industry. Whether you want to watch a ten minute short play or a longer one-act, VR Home TV delivers some of the best shows of intimate stage theater." In this unique 360 degree live vr recording and truly immersive theatrical experience audience members may even become a part of the play, captured on camera.
The Terrible Legend of Victoria Woodhull closes this Tuesday, June 19th @ 7pm at The Hobgoblin Playhouse - 6520 Hollywood Boulevard, Los Angeles, CA 90028 (btwn Wilcox & Shrader)
$5 Discount Tickets can be redeemed using the discount code: VRTV at http://www.hollywoodfringe.org/projects/5406?tab=tickets
For more information about the play visit www.VictoriaWoodhullPlay.com
To learn more about VR Home TV visit: www.vrhometv.com