Theatre in Historic Places: FEFU AND HER FRIENDS in Aline Barnsdall's Hollyhock House
Theatre in Historic Places is a series by Los Angeles Senior Editor Ellen Dostal featuring theatre, music, and other arts performances in historic venues around Southern California.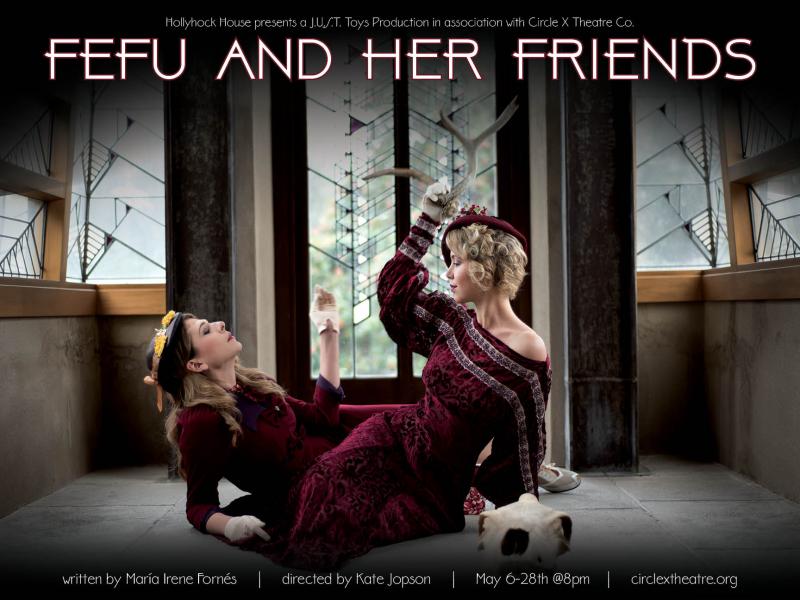 Nearly a hundred years after Aline Barnsdall first envisioned an artist colony on Olive Hill in the middle of Hollywood, the public will have a rare opportunity to experience her dream come to life. Beginning May 6th, Hollyhock House, in partnership with Circle X Theatre Co. and J.U.S.T. Toys Productions, presents the María Irene Fornés play FEFU AND HER FRIENDS staged as an immersive theatrical event inside Hollyhock House. It is a first for this historical beauty and an exciting project that unites the past and present in more ways than one.
Frank Lloyd Wright began designing Hollyhock House, his first commission in Los Angeles, in 1919. It was meant to be Aline Barnsdall and her daughter's home, and the surrounding 36 acres were to also house a theater, several additional residences, a movie house, and even shops. A fiercely independent spirit, Aline was a woman ahead of her time in an era when most women could only aspire to be wives and mothers. Instead, thanks to the oil fortunes of her father and grandfather, she traveled the world studying avant-garde theatre and supporting causes that aligned with her passionate resistance to the norm. Eventually she landed in Los Angeles and commissioned Wright to build her a dream.
Director Kate Jopson found the similarities between Barnsdall and Fefu, the play's leading character, to be remarkably resonant. Strong women with an innovative point of view and a singular determination to not be dictated to by the patriarchal world around them, they instead forged their own path.
As curator of Hollyhock House for the last twelve years, it's safe to say that Jeffrey Herr has an intimate relationship with the house. An expert on its history, and incredibly generous in sharing those stories, it is thanks to his willingness to venture into the unknown that the hill will be alive with the sound of theatre for these few precious performances in May.
For my money, the theatricality of the site itself and its dramatic point of view makes the thought of seeing a play in this space more than thrilling. Today, Kate and Jeffrey talk about what it takes to bridge the past and present and create what might be a once-in-a-lifetime experience.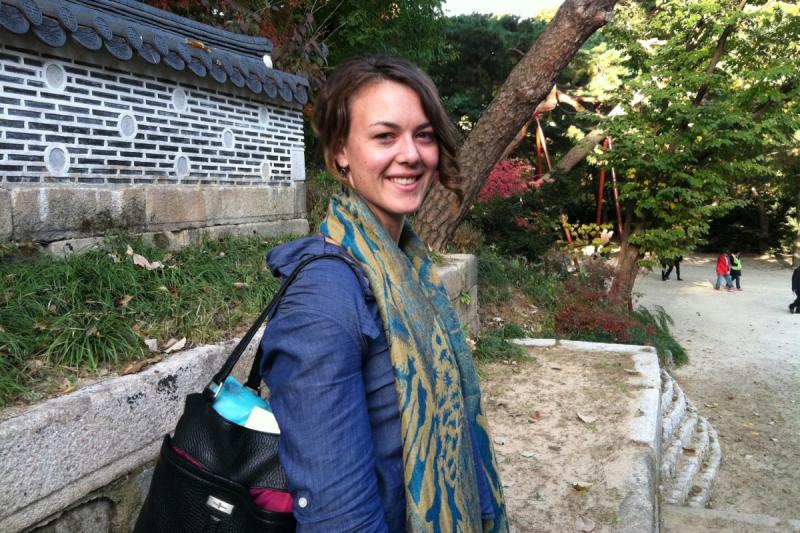 Kate Jopson: How a partnership begins
I had approached Jeffrey about doing a different piece at Hollyhock House about a year ago, but it had too short a timeline and wasn't quite right. Even though we didn't work together then, I maintained a relationship with Jeffrey and continued to invite him to all the shows I directed. We got to know each other better, and he got to know my work as an artist.
While that was developing, I also assisted on a project directed by my mentor with J.U.S.T. Toys Productions. The company is run by two Eastern European artists and my background in theatre is Eastern European. This time they approached me and asked what production I'd like to direct. I had wanted to do FEFU AND HER FRIENDS forever because I think it is one of the best American plays of the twentieth century. Their mission is to bring international artists together and to produce work that shows women in a different light so this seemed like a perfect project for them.
I am also Associate Artistic Director of Circle X Theatre whose mission is producing plays that are rarely done. FEFU AND HER FRIENDS can be difficult to produce because it has a cast of eight women and the second act has four scenes that happen simultaneously. I proposed it to both companies and they agreed it sounded like a good partnership. Once we decided to do the play, we needed a location. I knew I wanted to do it site-specifically. We looked at a few other historic places but, in my heart, I always wanted Hollyhock House.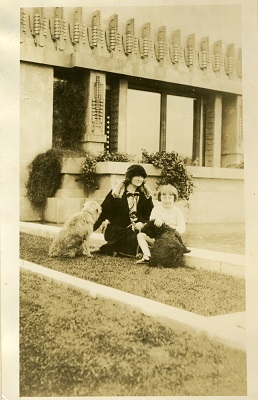 All roads lead to Aline
I had always been interested in the story behind Hollyhock House and about Aline Barnsdall and her relationship with Frank Lloyd Wright, the architect. The radical causes that she supported in the early twentieth century, the women she supported like Emma Goldman, the fact that she had a child out of wedlock and wore that proudly, the fact that she brought all these architects to California, how she shaped the area and Hollywood... she was such a strong, interesting force in her time.
It was also appealing because I grew up going to Frank Lloyd Wright houses with my parents and looking at architecture. He and Aline had a challenging relationship and FEFU is all about how men have created the society that women then must live in and learn how to deal with. There is so much resonance between the themes of the play and the history of the space that, to me, it just had to be there. Hollyhock House was designed by a man, and it's beautiful, but it never really felt like her home. I thought that was very poignant.
Staging the play in historic surroundings
When FEFU AND HER FRIENDS opens, the audience will be facing out toward the living room with the sun setting beyond these beautiful west-facing windows. I specifically wanted to start the play at 8pm to capture the effect of the light. The audience is seated for the first act as the women arrive and Fefu's world begins to unfold in a burst of energy.
In the second act, we use four different areas for the four scenes that happen at the same time: the library, the kitchen, the courtyard, and the music room courtyard. The audience will break up into groups and rotate between the scenes until they have watched them all. This gives us an opportunity to create different images and experiences in each location. Audience members will have folding stools they can carry with them, and they'll be able to choose whether they want to sit or stand.
Then, for Act 3, the audience comes out into the central courtyard where we have the catharsis of the play. It's a beautiful area with a curved fountain in the back that was built to look like a Greek theater.
Diving into the Matrix
The play has two realities that operate at the same time. I describe it like the Matrix. There is the reality you see on the surface and then that gets scraped away and you see the "real" reality where the bones of our society are laid bare. This layer is expressed through movement and music. Our choreographer, Zsófia Nemes, is from Hungary and she received a grant from the Hungarian government to come to Los Angeles and do this play.
An international influence
We have an international group of artists collaborating on this project, with cast members from Romania, Hungary, Brazil, Germany, Puerto Rico, and the U.S. FEFU's playwright, María Irene Fornés was born in Havana, Cuba and our composer, Daniel Szabo, is from Hungary but now teaches at UCLA. I grew up in California, but I've also lived and worked abroad. That exposure to many different cultures has made me view both myself, and being a woman, differently.
I grew up on a tree farm so I did a lot of work that is traditionally associated with being men's work. I didn't have a hard line of what women do and what men do until I was an adult. Living in the Middle East, and even living in liberal areas in California, you become starkly aware of what is expected of you and gradually you find yourself giving in to those expectations because it's easier than trying to fight against them. Now that I'm turning thirty, it is difficult to realize I am more traditionally feminine than when I was sixteen.
Finding the personal in art
I do think you have to find the personal otherwise it just becomes theoretical. That's something that can be dangerous with FEFU because there are so many ideas in the play. It's very rich but if these were simply large concepts they wouldn't connect with people. I couldn't direct the play if I didn't have a personal moment when reading it where I felt almost ghosted by it, like it was speaking something I wish I'd always spoken but was never able to. That idea, that things happen not on a conscious level but on this more subtle level, is something I'm trying to express with imagery. The play explores the conflict between society and nature. Or more specifically, how society limits human expression (particularly for women) and how our spirits fight against unjust societal restrictions.
Touching the abstract world
Some people define María Fornés's work as abstract realism. I love that because there are characters and dialogue that you can relate to that pull you in, and then you'll get hit from the side with this other more abstract symbolism that strikes you in the gut. Theatre works so well on that level. It's alive. It's an art form that is generated in front of you every single night so it isn't complete until you have an audience. And there are certain experiences, like being in Hollyhock House and having an awareness of its history and how that attaches to the play, that can only happen here.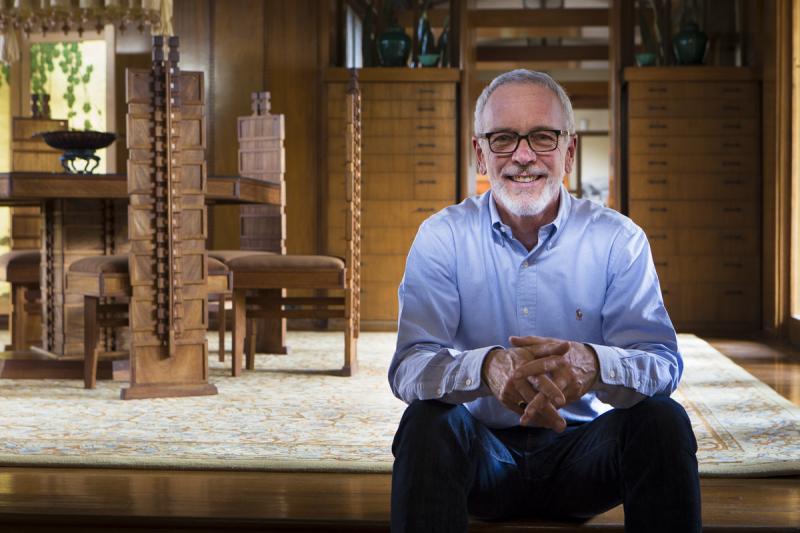 Jeffrey Herr: The keeper of the keys
The interesting thing about Hollyhock House is that, while it was meant to be a residence and never intended to house a production of any sort, if you look at what Frank Lloyd Wright has designed, it shows that he took into consideration his client's interests and has symbolically provided aspects that look very much performance-oriented.
Queen of the hill
Aline Barnsdall had the good fortune to be born into a fortune and also to have parents who saw that she was educated abroad. This is where she developed a real passion for avant-garde theatre, the kind of theatre she would have seen in Germany with Max Reinhardt. She also studied acting under the great Italian actress Eleonora Duse. Eventually, she decided that she wanted to produce avant-garde theatre herself.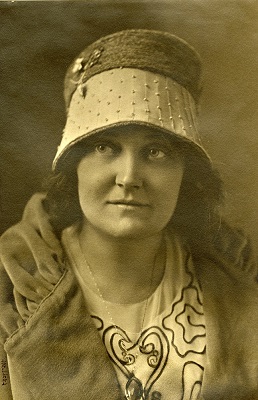 Aline was born in Bradford, Pennsylvania but migrated to Chicago in 1913. The city had a thriving arts community and also a very interesting social movement at the time. It's almost impossible to talk about Aline Barnsdall and theatre without mentioning Emma Goldman, who very much influenced Barnsdall's idea of the potential for theatre. It wasn't just entertainment. Theatre had a purpose that served a broader socialist cause to educate people.
The artist and the architect
It was in Chicago that Aline first met Frank Lloyd Wright. She wanted to create an artist colony and, in her mind, he was the only architect who could even come close to building the kind of extraordinary performance space she envisioned. She connected with him on an intellectual level and she really believed him to be a genius. But since all of Wright's structures were created specifically for a site, and she didn't have one yet, it was only conceptual at this point.
Then, in 1919, she came to Los Angeles and fell in love with the city. Aline had a penchant for dramatic sites. She purchased ten acres in Palos Verdes on the coast that had a 180 degree unobstructed view of the ocean. She also fell in love with 36 acres of grass in Hollywood known as Olive Hill for which she paid the astounding sum of $300,000. That was a lot of money in 1919. She had been looking for a plot to build a theater on but now that she had this extraordinarily dramatic site, her creative spirit began to think bigger. That's where the idea expanded to include not just the theater but residences for the director, for the actors, and for herself. The plans even called for a cinema to be added into the project, conceptually.
Tensions build
We don't know the exact timeline but we do know that Wright was designing and building Hollyhock House between 1919 and 1921. It's also important to note that he was building the Imperial Hotel in Tokyo at the same time, a project that took the majority of his focus, much to the chagrin of Barnsdall. The two had a difficult relationship and it's fair to say that things didn't go well. The highlight of their difficulty was that Wright provided conceptual drawings for a theater but he never produced working drawings that her agent could take to the bank and figure out how much it would cost. We know this because there are letters that document her pleas.
There was also the pressure of Aline's residence, which was supposed to cost $50,000 but had already exceeded that budget by three to four times, and other litigation and issues. In 1921, with the house not yet completed, she fired Wright and abandoned the project. At that time she was producing theatre in rented spaces, wanted her own theater, and just thought that this was a futile endeavor. And she didn't want anyone else to build it. She wanted Wright.
After firing him, she decided to give the house and twelve acres of land to the city of Los Angeles in memoriam of her late father, Theodore Barnsdall. The city refused the gift mainly because of the stipulations that came with it. Barnsdall then reconsidered some of those stipulations and hired Rudolf Schindler, who had been the Hollyhock project architect for Wright, to come and finish the upstairs master bedroom suite. He completed it in 1924 and she made a second offer which the city eventually accepted in January of 1927.
Deciding where to tell the story
One of the intriguing aspects of FEFU AND HER FRIENDS is how to accommodate the four scenes that take place at the same time. A lot of the action happens in the inner courtyard which is this wonderfully dramatic space. It's enclosed so it symbolically holds the play together.
There was another very real physical component. Sound spillover had to be contained so the scenes couldn't take place too close to each other. The library is an intimate space where the audience will stand just outside the door and observe the action inside. The terrace off the music room was a very practical way of separating the audience and limiting the sound. Again, here you have this really interesting meeting of the architectural qualities of the house with the needs of this particular production.
Hollyhock House has been described as a garden house. It is Frank Lloyd Wright's realization that, for the first time in his life, he's in a climate where he can experiment with dissolving the barrier between the indoors and the outdoors so this music room terrace is the counterpoint to the music room. It is an unconventional room, architecturally defined but missing a ceiling and partial walls, yet it's as much a room as the conventional music room, which does have a ceiling and four walls. It may not have been created with this intention but a lot of artistic genius is recognizing serendipity and then seizing upon it and utilizing it for your own artistic means.
When Kate suggested using it, I saw how it could be done. We have to be creative because moving between the indoors and outdoors we have things like floors and rugs that need to be protected. Instead of seeing that as an obstacle, Kate worked on solving those challenges. That was one of the reasons that sold me on even trying to figure out if it were possible to produce FEFU here. We've never done anything like this at Hollyhock House before but Kate was very amenable to following all of the almost Draconian protocols that are necessary, down to the fact that we can only have twenty people in the audience at a time.
Kindred spirits
What is really interesting to me, in an intellectual way, is that Fefu, the main character, is very much an Aline Barnsdall kind of person. Frank Lloyd Wright said, "Aline Barnsdall is about as domestic as a shooting star" and it's true. But what this did was give him an extraordinary opportunity with this very special client to recreate domestic space and completely rethink how a person would use this interior space. It's not your typical open floor plan. The way he designed the house for living is a pre-cursor of the open plan so, for example, you stand in the foyer and you look directly through the dining room straight into the kitchen.
Interestingly, Barnsdall didn't just eat in the dining room. There are photographs to prove that the cook would take tables and place them in different areas. Wright himself made this very simple to do by way of providing a circular access through the house.
When people walk into the foyer, they don't often realize it but they are subliminally confused. They have no idea where they are or where to go next. What you have are these interiors that are very much tabula rasa. You could use them for many different aspects of your daily life. Most people look at it and say that it's a great place for a stand-up cocktail party. Of course it is, but Barnsdall wasn't particularly known for entertaining so the idea of a stand-up cocktail party probably wasn't on her list of things to do.
This is a house for a very independent client and you can see how these rooms are interdependent upon themselves. Fefu is also very much a free spirit so you have an interesting comparison between the fictional character and the real life character. Their unique connection is why the play made sense for Hollyhock House.
The legacy continues
This is as much an experiment as I think the playwright was engaging in when she wrote play, and as Barnsdall was engaged in trying to create her vision, and Wright's response to that. It's all a grand experiment.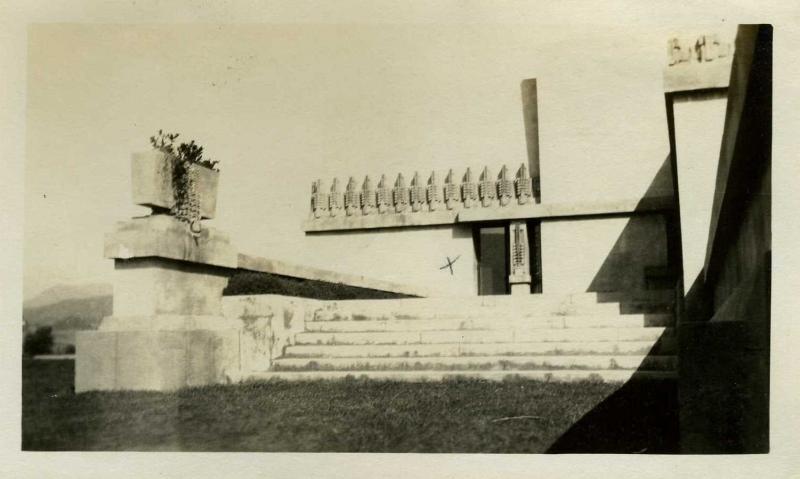 FEFU AND HER FRIENDS runs May 6 - 28, 2017. Tickets are available at circlextheatre.org/fefu. Performances are Saturdays, Sundays, and Mondays at 8 p.m. (with an added performance on Friday, May 26). Hollyhock House is located at 4800 Hollywood Blvd., Los Angeles, CA 90027.
For more information about the Hollyhock House, visit barnsdall.org/hollyhock-house. For updates about J.U.S.T. Toys Productions, go to www.toystheplay.com.