Review: Youth Participants in the Award-Winning Y.E.S. Program Shine in A WINTER'S TALE Musical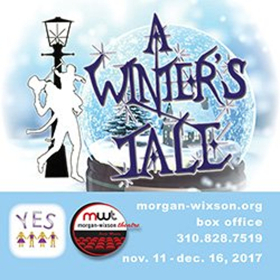 The Morgan-Wixson Theatre's Youth Education/Entertainment Series (Y.E.S.) supports the group's commitment to engaging young audiences, training young talent, and supporting literacy, with their participants ranging in age from 8-18. Y.E.S. offers four youth productions each year and one full-length Youth Musical each November/ December with matinee performances on Saturdays and Sundays. These productions are open to all without any membership or performance fees, and the group draws in the best youthful talent from all areas of Los Angeles.
Led by Director/Musical Director/Costume Designer Anne Gesling, along with Choreographer Lauren Blair, the Y.E.S. musical production for November/December 2017 was A WINTER'S TALE,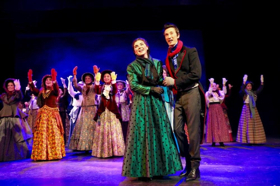 and I can tell you these two talented women worked miracles with a cast of 39 young performers already at the "triple-threat" status. As a former secondary teacher, I can honestly say that I have never seen such a talented group of young performers work together as the members of this group do, with not one of them breaking the fourth wall or character, all the while keeping their accents authentic with their harmonious singing always in tune and dancing perfectly in step and always presented with enthusiastic joy.
A WINTER'S TALE, written by David Patrick Taylor with music and lyrics by David Patrick Taylor (additional lyrics by Kelli James & Douglas James) is a lively musical adaptation of Dickens' A Christmas Carol which showcases both the humor and pathos of Dickens rich 1843 story of spiritual renewal and redemption.
Using the tools of a variety of musical theatre styles (pop, rock, calypso, Irish jig, standard) to recreate the story of Ebenezer Scrooge and his three ghostly visitors on Christmas Eve, this classic tale has become a holiday favorite for children and adults. And I can tell you that each and every one of them in the audience was thoroughly entertained and enchanted by the overall brilliance of the Y.E.S. production, with Set and Lighting Designer William Wilday to be commended for adding pure magic to the entire production.
Along with the excellent ensemble work beginning with the opening "A Winter's Tale" production number and continuing throughout the show, well-earned praise goes to many in the cast. First and foremost, Quinn Robinson, a junior at Redondo Union, portrays Scrooge just as convincingly as any adult performer I have seen in the role. From his "bah humbugs" to his character-driven solo numbers, his is the type of performance any actor should dream to achieve.
18-year old Hollister Starrett, who originally just wanted to be in the light booth before realizing that life in the spotlight was even more fulfilling, gives a heartfelt performance as Bob Cratchit, especially with his family during their emotion-filled "God Bless Us Everyone" farewell to Tiny Tim (Lexi Sexton), so much so that audible sniffles could be heard throughout the audience.
Clayton Davis, a sophomore at Santa Monica High, portrays Fredrick Hollingsworth, Scrooge's nephew who works in his uncle's accounting office with Cratchit, yet is able to maintain a very upper-class lifestyle with his family, as opposed to Cratchit who family is rich in love but poor in possessions. This
becomes especially evident at the beginning of Act II when the two families appear at opposite sides of the stage while enjoying their respective Christmas dinners during "May the Road." Even the youngest members of the audience surely understood that love is what really matters, even before Scrooge learns that lesson himself.
Other performers of note include Ella Ward as Scrooge's housekeeper Mrs. Dilber (sharing the role with Zelda Saltzman), Hannah Cohen as Abigail Hollingworth,
Zoe D'Andrea as the ever-suffering in poverty Emelie Cratchit, Alexandra Senior as Caroline, Sebastian Hochman and Gianna Pira as Mr. and Mrs. Fezziwig, Nicholas Vizzi as Jacob Marley, and the three "ghosts" who visit Scrooge: Christmas Past (Sophie Golay in a gorgeous Gesling-created costume), Christmas Present (Fiona Porter, sharing the role with Daisy Billington), and the gothic-inspired Christmas Yet to Come (Milla Moretti) whose number "Who's Gonna Care" included some of the most brilliant dance/hand choreography in the show.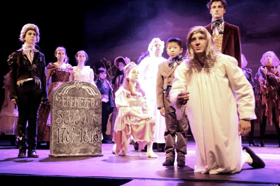 Given the overall quality of the production and others in the past, it is easy to see why Y.E.S. was named 2008 Outstanding New Children's Theatre Company, awarded by the American Alliance for Theatre and Education (AATE). Criteria include a high level of artistic production, sound management practices, and community engagement. AATE is the leading national organization in the United States for theatre educators, theatre artists, and educators who use drama and/or theatre in the classroom.

In his recommendation of Y.E.S. for the award, Tom Whaley, the Visual and Performing Arts Coordinator for the Santa Monica-Malibu Unified School District, wrote: "I see it as a win-win in terms of younger students seeing older students and adult actors on stage, reinforcing literacy and allowing students to attend a live theatre performance in a real theatre!"
I encourage you to support the Morgan-Wixson Theatre's Youth Education/Entertainment Series (Y.E.S.) by checking the website https://www.morgan-wixson.org about the program and its family-friendly productions, including THE VELVETEEN RABBIT from February 3-18, 2018.
Photo credit: Miriam Billington