Photo Flash: Opening Night of Judd Hirsch and Tom Cavanagh in FREUD'S LAST SESSION
FREUD'S LAST SESSION, New York's long-running hit play by
Mark
St. Germain
, kicked off its L.A. premiere Wednesday night, January 16th starring Judd Hirsch as Sigmund Freud and Tom Cavanagh as C. S. Lewis under the direction of Tyler Marchant, who helmed the original New York production. Presented by The Broad Stage & Carolyn Rossi Copeland, Robert Stillman and Jack Thomas, FREUD'S LAST SESSION will play a strictly limited engagement through February 10th at The Broad Stage in Santa Monica. Check out photos of St. Germainand the cast on opening night below!
The Off-Broadway premiere engagement of FREUD'S LAST SESSION opened on July 22, 2010 to rave reviews and became a sellout sensation throughout its phenomenal two-year run. The show is also currently playing to sold-out houses in Buenos Aires, Stockholm and Anchorage. Additional productions are set to open this season in London, Mexico City, Sydney, Madrid, Sao Paulo, Singapore, Vancouver, Copenhagen, Phoenix, Cincinnati, and Tucson.
FREUD'S LAST SESSION centers on legendary psychoanalyst Dr. Sigmund Freud, who invites the young, rising academic star C. S. Lewis to his home in London. Lewis, expecting to be called on the carpet for satirizing Freud in a recent book, soon realizes Freud has a much more significant agenda. On the day England enters World War II, Freud and Lewis clash on the existence of God, love, sex, and the meaning of life - only two weeks before Freud chooses to take his own. Not just a powerful debate, this is a profound and deeply touching play about two men who boldly addressed the greatest questions of all time. Mark St. Germain's celebrated new play was suggested by the bestselling book The Question of God by Harvard's Dr. Armand M. Nicholi, Jr.
Judd Hirsch is a two-time Tony Award winner for I'm Not Rappaport and Conversations With My Father and his other Broadway credits include Barefoot in the Park, Chapter Two, Art, Talley's Folly, and Knock Knock. Off-Broadway, he starred in The Hot l Baltimore and The Seagull. Mr. Hirsch won two Emmys for the long-running hit TV series "Taxi," and his other film and TV credits include A Beautiful Mind, Ordinary People (Oscar nomination), "Damages," Serpico, Running on Empty, "Numb3rs," "The Law," "Color of Justice," Independence Day, and "Dear John."
Tom Cavanagh is best known as the star of the hit NBC series "Ed." On Broadway, he starred in Urinetown and Shenandoah. His other film and TV credits include "Scrubs," "Royal Pains," "Stories from the Vaults," "I Love the '80s," Bang Bang You're Dead, "The Outer Limits," "Jack & Bobby," "Eli Stone," "Love Monkey," "Trust Me," "Anya's Bell," Breakfast with Scot, Two Weeks, The Cake Eaters, "Trading Christmas," Something More, "A Killer Among Us," "Snow," Dangerous Intentions, and Gray Matters.
Playwright Mark St. Germain has written the plays Camping with Henry and Tom (Outer Critics Circle and Lucille Lortel Awards); Dr. Ruth, All the Way; The Best of Enemies; Out of Gas on Lover's Leap; and Forgiving Typhoid Mary. With Randy Courts, he has written the musicals The Gifts of the Magi, Johnny Pye and the Foolkiller and Jack's Holiday. TV credits include Writer and Creative Consultant for "The Cosby Show." Mark co-wrote the screenplay for the acclaimed film Duma, and he directed and co-produced the documentary My Dog: An Unconditional Love Story featuring Richard Gere, Glenn Close and Edward Albee, among many others.
Scenic design for FREUD'S LAST SESSION is by Brian Prather, with costume design by Mark Mariani, lighting design by Clifton Taylor, and sound design by Beth Lake.
For more information, visit www.FreudsLastSession.com.
Photo Credit: Ben Gibbs Photography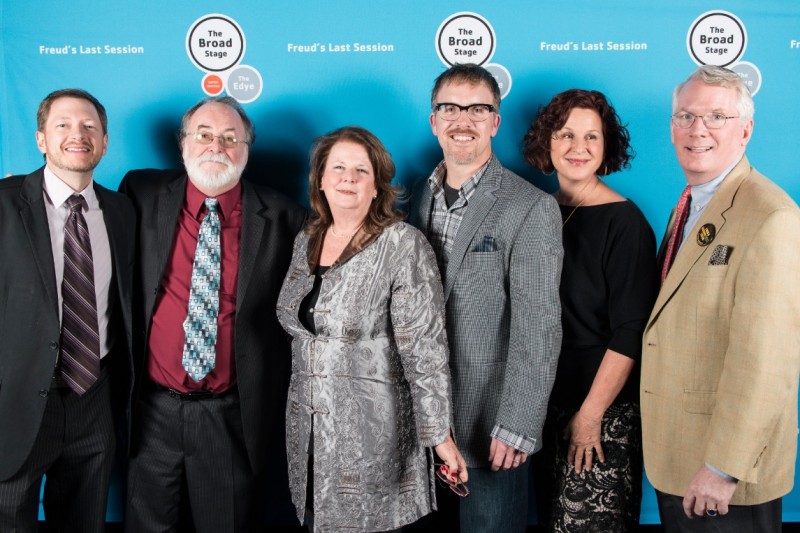 Tyler Marchant, Mark St. Germain, Carolyn Rossi Copeland, Robert Stillman, Broad Stage director Dale Franzen, Jack Thomas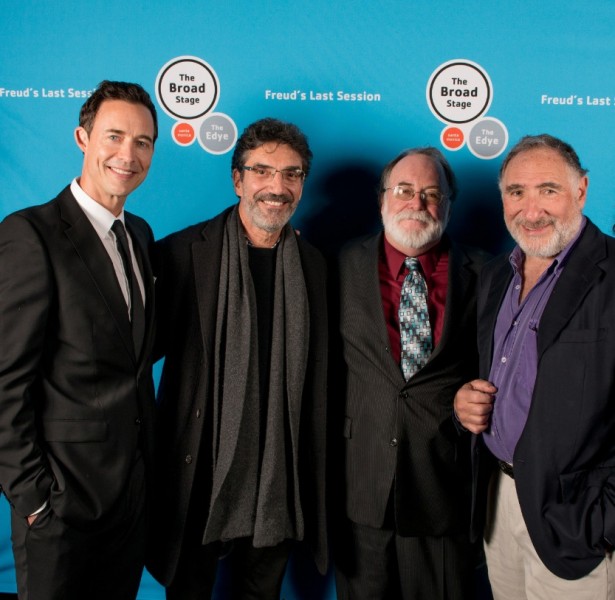 Tom Cavanagh, Chuck Lorre, Mark St. Germain, Judd Hirsch