Photo Flash: Actors Co-op Theatre Company's A MAN FOR ALL SEASONS
Actors Co-op Theatre Company (Ovation Award-Winner 2017 Best Play, Intimate Theatre for 33 Variations) is proud to present the 1962 Tony Award-winner for Best Play, Robert Bolt's A Man for All Seasons, directed by Thom Babbes, produced by Carly Lopez. This tragic historical drama offers a brilliant portrait of Sir Thomas More in his last years as Lord Chancellor of England during the reign of Henry VIII. A Man for All Seasons opens tonight, Friday, March 2 at 8:00 pm, and will run through Sunday, April 15 at the Actors Co-op David Schall Theatre, 1760 N. Gower Street, 90028 (on the campus of the First Presbyterian Church of Hollywood) in Hollywood.
When Henry VIII failed to obtain papal approval for a divorce from Catherine of Aragon to marry Anne Boleyn, King Henry VIII mandated his subjects to sign an "Act of Supremacy" making him both spiritual and temporal leader of England. Sir Thomas More could not in good conscience comply. Cromwell, Cardinal Wolsey, his family, and the King himself were all unable to convince Sir Thomas More otherwise, as he maintained his integrity and belief in silence, placing ethics before power. Ultimately accused of high treason, More's very silence lead the man to his execution, and later his canonization in 1935.
To stand up to his country's sovereign authority cost him everything, but today it offers us one of the most inspiring stories ever staged.
About the Playwright
"Robert Oxton Bolt (Playwright) was born Aug. 15, 1924, near Manchester, England. An English screenwriter and dramatist noted for his epic screenplays. Bolt began work in 1941 for an insurance company, attended Victoria University of Manchester in 1943, and then served in the Royal Air Force and the army during World War II. After earning a B.A. in history at Manchester University in 1949, he worked as a schoolteacher until 1958, when the success of his play Flowering Cherry (London, 1957), enabled him to leave teaching. Bolt's most successful play was A Man for All Seasons, which drew intense acclaim in productions at London (1960) and New York City (1961). Bolt wrote the screenplays for director David Lean's epic films Lawrence of Arabia (1962) and Doctor Zhivago (1965) and then adapted A Man for All Seasons for director Fred Zinnemann's motion-picture version of the play in 1966. Both Doctor Zhivago and A Man for All Seasons, won Bolt the Academy Award for Best Adapted Screenplay. Other screenplays included Ryan's Daughter (1970), which was directed by Lean; Lady Caroline Lamb (1972), which Bolt himself directed; The Bounty (1984); and The Mission (1986). The most successful of Bolt's later plays was Vivat! Vivat Regina! (1970)." Robert Bolt died February 20, 1995 at the age of 70 (Petersfield, Hampshire, England).
About the Director
THOM BABBES (Director) past directing Actors Co-op credits include Summer and Smoke, Ah, Wilderness (Best Director - Stage Scene L.A.), The Miracle Worker and Wait Until Dark. He has directed workshop productions of new works, Dietrich (based on Dietrich Bonhoeffer) by John Martins III, The Real Real Thing by Frank Higgins and Washington Irvine's Sketchbook by Frank Higgins and Southhamton County (based on Nat Turner's slave rebellion) which Mr. Babbes wrote. Other credits: Sun City by Jim Geoghan at Stella Adler Theater in Hollywood. A writer as well, Mr. Babbes recently adapted William Saroyan's novel The Human Comedy for the stage. His screenplays include Deadly Dreams (Concorde New Horizons) Body Chemistry (Concorde New Horizons), The Audition - A Short Film (Co-Writer - Winner Best Screenplay & Best Comedy 2008 - 168 Hour Film Festival) X-treme Weekend - A Short Film (Co-Writer which has screened at multiple festivals in the USA and Canada.) Insurrection (Samuelson Productions), Bleeding Writing and Arithmetic (Kings Road Entertainment), The Substutute (Apollo Pictures), Island of Lonely Men (Sotela Pictures).
Carly Lopez (Producer) is thrilled to enter the producing world through this stellar piece with such a talented and creative team. A member of the Co-op since December 2016, Carly is an actor when not producing, most recently seen as a Clown in The 39 Steps here at the Co-op. In addition, she is a member of Playback Theatre Troupe in Pasadena, a producer for short documentaries, An Origin Story, Pilgrimage to Puerto Rico, and a proud member of Contemporary artist Makoto Fujimura's Fellowship program.
Actors Co-op Theatre Company's production of A Man for All Seasons features the talents of John Allee, Elsa Gay, Isaac Jay, Mitchell Lam Hau, Bruce Ladd, Deborah Marlowe, Greg Martin, Sean McHugh, Ian Michaels, Treva Tegtmeier and Vito Viscuso.
The Design and Production Team includes Rich Rose (Scenic Design), Shon LeBlanc (Costume Design), Lisa D. Katz (Lighting Design), Juan Sanson (Sound Design), Adam Michael Rose (Dialect Coach), Eric White (Stage Manager), Thomas Zabilski (Assistant Stage Manager) and Selah Victor (Production Manager).
Recent Awards and Nominations for Actors Co-op Theatre Company: Actors Co-op recently received Four 2017 Ovation Awards for their Critics Pick production of 33 Variations: Best Production of a Play, Intimate Theatre, Best Lighting, Intimate Theatre - Andrew Schmedake, Best Scenic Design, Intimate Theatre - Nicholas Acciani, and Best Direction of a Play - Thomas James O'Leary; Two Robby Awards for 33 Variations, the Nan Martin Award Best Production and the Sally Kemp Award Best Actress Drama - Nan McNamara. In addition, the Actors Co-op Theatre Company has garnered Five 2017 Los Angeles Drama Critics Circle nominations, for 33 Variations.
About Show Times and Tickets: Opens March 2 at 8:00 pm. Runs March 2 - April 15, 2018. Fridays and Saturdays at 8:00 pm, Sunday matinees at 2:30 pm. Additional Saturday Matinees: March 10 and March 17 at 2:30 pm. Free Preview Thursday, March 1 at 8:00 pm. No Shows March 30 - April 1. Tickets: $30.00. Seniors (60+): $25.00. Students: $20.00. Group rates available for parties of 6 or more. To buy tickets or make reservations please visit www.ActorsCo-op.org or call (323) 462-8460. Actors Co-op David Schall Theatre, 1760 N. Gower St. 90028 (on the campus of the First Presbyterian Church of Hollywood) in Hollywood 90028.
Photo credit: Matthew Gilmore


Bruce Ladd

Bruce Ladd, John Allee, Mitchell Lam Hau

Deborah Marlowe

Sean McHugh, Greg Martin, Mitchell Lam Hau, John Allee, Bruce Ladd, Deborah Marlowe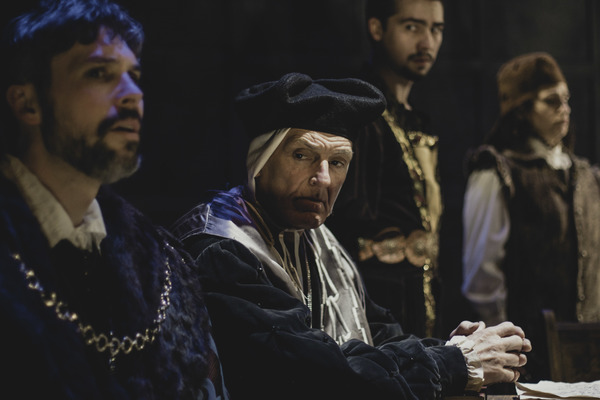 Sean McHugh, Greg Martin, Mitchell Lam Hau, Deborah Marlowe
Related Articles View More Los Angeles

Stories

Shows
More Hot Stories For You