Pepperdine Alumna Wins Metropolitan Opera Competition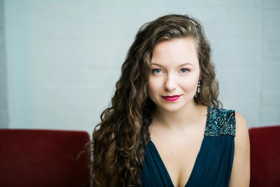 Madison Leonard, a 2014 graduate of the Pepperdine University's Seaver College and the Flora L. Thornton Opera Program, was recently named as one of the five winners of the Metropolitan Opera National Council (MONC) Auditions, one of the most prestigious competitions in opera.
The MONC Auditions, established in 1954, is a program designed to discover promising young opera singers and assist in the development of their careers. The MONC Auditions feature competition at the district, regional and national levels throughout the US and Canada, and each level is judged by a panel of representatives from the Metropolitan Opera. Winners from the national level of the competition are awarded a trip to New York City, where they compete in the Grand Finals Concert on the stage of the Metropolitan Opera.
The MONC Auditions is considered the most prestigious competition for singers seeking to launch an operatic career; the audience for the Grand Finals Concert includes artistic directors of leading opera companies, artist managers, important teachers and coaches, music critics, and many other industry professionals, and over 100 singers who participated in the MONC Auditions early in their careers are on the Met's roster in the current season.
In the Grand Finals Concert on Sunday, April 29, each of the nine finalists sang two arias with the Met orchestra, conducted by Bertrand de Billy. Leonard, a soprano, sang an aria from Humperdinck's Hänsel und Gretel, and "Caro nome" from Verdi's Rigoletto. As part of her recognition, Leonard received a $15,000 cash prize. Leonard's win represents her third time participating in the competition; she is a 2017 winner of the Washington DC district of the MONC Auditions, and last year won the Idaho/Montana district of the same competition.
Leonard joined the Washington National Opera this season as a member of the Domingo-Cafritz Young Artist Program. She has also performed with the National Symphony Orchestra (Washington, DC), the Apollo Orchestra (Washington, DC), the Dallas Opera, Wolf Trap Opera (Virginia), and will be debuting at Seattle Opera this upcoming season. While preparing for the Grand Finals Concert last week, she also had the privilege of singing for French President Macron during the state dinner in Washington, DC.
"I feel so privileged to have been selected as a Grand Finalist. Singing on the Met stage was such an incredible experience and one I will never forget. My foundational knowledge and love of opera grew from my time in the Pepperdine music program, so I am immensely grateful for the guidance, mentorship, and support that my professors have always provided for me. I could not be doing what I am today without them." said Leonard.
After graduating from Pepperdine, Leonard received a full tuition scholarship to Northwestern University, where she studied with Karen Brunssen, and completed her Master's Degree in 2016. Henry Price, Director of the Flora Thornton Opera Program and the Heidelberg Summer Program, was Leonard's voice teacher during her four years at Pepperdine.
"Madison soaked up training like a sponge from the moment she arrived at Pepperdine. She was an accomplished performer who excelled in jazz and musical theatre when she got here, but she did not have a lot of exposure to classical music. Once she realized the scope of the characters her voice was suited for in opera, I think she was hooked," said Price.
For more information about the MONC Auditions, please visit metopera.org/about/auditions/nationalcouncil. For more information about the Flora L. Thornton Opera Program, visit seaver.pepperdine.edu.
Leonard is represented by Sempre Artists. For more information about Leonard, please visit madison-leonard.com or sempreartists.com/madison-leonard.
About the Flora L. Thornton Opera Program at Pepperdine University
The Flora L. Thornton Opera Program at Pepperdine University has developed a reputation as one of the nation's leading undergraduate vocal programs. It features an annual fully-staged opera, a biennial summer intensive in Heidelberg, Germany, and master classes with top industry professionals. A one-million-dollar endowment from Flora Laney Thornton, one of Southern California's most beloved and honored arts philanthropists, ensures high-quality productions and often contributes scholarship aid for the summer opera program abroad. Pepperdine graduates have won scholarships to many of the nation's most prestigious graduate programs, including The Juilliard School, Yale Graduate Opera Program, Cincinnati College Conservatory of Music, Northwestern University, Rice University, and USC. Pepperdine graduates are now gracing the rosters of America's leading opera companies, including The Metropolitan Opera, Chicago Lyric Opera, Los Angeles Opera, Santa Fe Opera, San Francisco Opera, and Seattle Opera.
About the Seaver College Fine Arts Division
The Seaver College Fine Arts Division offers students excellent training in the disciplines of studio art, art history, music, and theatre arts. A group of renowned faculty, who are revered in their fields as practicing scholars, artists and teachers, prepare students for careers in the arts and continued graduate study. With approximately 300 students in the division, the unique programs are designed to prepare and inspire students to develop critical thinking, nurture creativity, and create the highest level of art and scholarship.
Featured at the Theatre Shop
T-Shirts, Mugs, Phone Cases & More

More Hot Stories For You