Photo Flash: First Look at Kentwood Players' Kids Musical ROCKIN' ROBIN HOOD
Kentwood Players present their next Kentwood Kids Production, "Rockin' Robin Hood," a musical written by
Scott Martin
, directed by Samantha Barrios, produced by
Drew Fitzsimmons
and Melodie S. Rivers with
Martin Feldman
as musical director. Performances take place on Saturdays, October 6, 13, and 20 at 11:00am and 2:00pm at the Westchester Playhouse, located at 8301 Hindry Avenue in Westchester (LA 90045). Get a first look at the production in the photos below!Sideburns and ducktails invade Sherwood Forest as Robin Hood, his Merry Men, and the Sheriff of Nottingham, along with lots of assorted peasants and courtiers; meet the music of
Elvis Presley
. This musical melodrama promises to keep you cheering for the heroes and booing the villains as they sing song parodies from the 1950's in their own "Rockin' Robin Hood" style. Please note that an adult must accompany all children in the theater.Featured in the cast of Kentwood Kids ages 6-16 are
Liam Baker
,
Melissa Cruz
, Donovan Guiga,
Logan Hannig
,
Lucas Hannig
, Sarah V. Harnden,
Dillon Hensel
,
Kalani Hildebrand
,
Osric Holt
,
Stephanie Hotz
, Xander Karafin, Savannah Keown, Caroline Macou, Joe Olivas, Anthony Olivas, Gianna Pira,
Grace Rector
, Zoie Rivera, Claire Schaff,
Ethan Schyman
, Kira Sherman, Hollister Starrett,
Miller Vaughn
, Sarah Wall, Skylar Washington, Rolin Weber, Parker Weldon, Isabela Welsh, Caitlin Welsh, and Javon Willis.
All audience members are invited to meet the cast in the theater lobby after the performance. Parents are welcome to bring a camera for photo opportunities during the after performance reception only.Want to find our more about the Kentwood Kids program? Attend a Kentwood Players general membership meeting held at the Westchester Playhouse at 7:30pm on the third Wednesday of each month, which are free of charge and open to the public. Come meet the "Rockin' Robin Hood" production team and learn more about this remarkable community theatre group and our upcoming productions including our current main stage production of "Scream Queens – The Musical." And to learn more about Kentwood's current and future Kentwood Players productions, upcoming auditions, and our Kentwood Kids theatre classes and productions, visit the website at
www.kentwoodplayers.org
.Photo Credit: Samantha Barrios


Marian (Grace Rector) and Robin (Dillon Hensel) are engaged at last.

Javon Willis, Dillon Hensel, Logan Hannig, Joseph Olivas; Peasants: Stephanis Hotz, Savannah Keown, Melissa Cruz, Gianna Pira, Sarah V. Harnden, Caroline Macou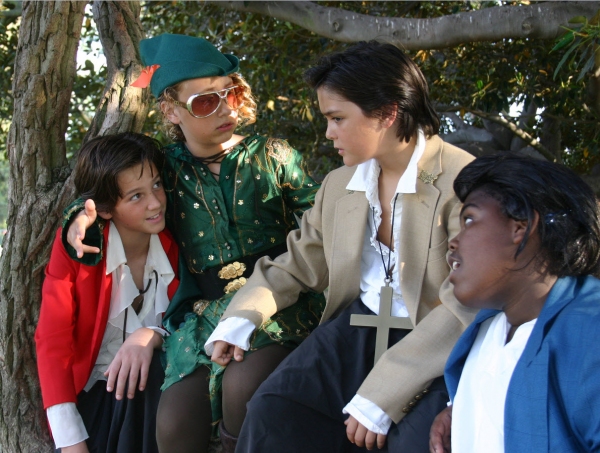 Joseph Olivas, Dillon Hensel, Logan Hannig, Javon Willis

Miller Vaughn, Lucas Hannig, Anthony Olivas, Rolin Weber, Grace Rector, Parker Weldon

Victoria (Kalani Hildebrand) and Robin (Dillon Hensel) face off to see who will be the better Champion of the Poor and Defender of Justice.

More Hot Stories For You