Neil Simon's BAREFOOT IN THE PARK Opens at Lyric Hyperion Theatre in Los Angeles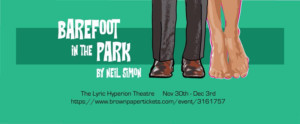 A new production of Playwright Neil Simon's beloved comedy BAREFOOT IN THE PARK, produced by Adrienne Visnic and directed by Brandon Baer strolls into LA's Lyric Hyperion Theatre with an all-star ensemble cast of five set for a limited run November 30 - December 3.
For Simon, a Pulitzer Prize, Tony Award and Oscar winner for his body of work on Broadway and in motion pictures, Barefoot in the Park was his longest running Broadway hit. He began writing his own plays beginning with Come Blow Your Horn (1961), followed by Barefoot in the Park (1963) and The Odd Couple (1965), for which he won a Tony Award. During one season, he had four successful plays running on Broadway at the same time, and in 1983 became the only living playwright to have a New York theatre, the Neil Simon Theatre, named in his honor.
ABOUT BAREFOOT IN THE PARK: It's February, 1963. Corie Bratter (Adrienne Visnic) is a free-spirited flower child and Paul Bratter (A.J. Helfet) is a buttoned-down new attorney. After six bliss-filled days at the Plaza Hotel, these two honeymooners move into a fifth-floor, cold-water flat with a busted radiator and a hole in the skylight. And then married life begins. Nearly everyone in town invades their love nest including a telephone repairman (*Steven C. Fisher), Corie's anxious mom Mrs. Banks (*Sandy Bainum), an aging next door neighbor and ladies' man Victor Velasco (Mark Arthur Miller)... even a snow storm! Will the newlyweds survive the freezing weather and each other's' mismatched temperaments? Or will they follow Corie's advice: "Let's not get divorced. Let's just kill each other." Hip versus square makes for a romantic comedy filled with Neil Simon's trademark witty repartee and hilarious reimagined characters. *Denotes members of Actors Equity Association.
ABOUT THE DIRECTOR: Directed by BRANDON BAER - An LA-based director of both theatre and film, Brandon is thrilled to be bringing this Neil Simon classic to the Lyric Hyperion. This past year, Brandon directed the stage adaptation of the cult classic, Harold and Maude, also penned by Colin Higgins, at the Morgan-Wixson Theatre. His work in theatre has earned him 5 StageSceneLA awards as Best Director for his productions of Little Shop of Horrors, Dirty Rotten Scoundrels, Merrily We Roll Along, Tick, Tick... BOOM!, and Steven Dietz's Private Eyes, for which Brandon also earned a Geoffrey Award in the Best Direction category. His film work has garnered Best Director Awards at the LA Short Awards and the Hollywood International Moving Pictures Festival, where his film also won the Grand Jury Award. His work has also been featured on Funny or Die and in numerous other festivals.
ABOUT THE CAST:
Adrienne Visnic - (Corie Bratter) Adrienne is thrilled to be making her producing debut, and to be acting alongside an incredible cast in Barefoot in the Park! TV & Film: Ten Days in the Valley, Switched at Birth, Six Degrees, lead of a Tribeca Film Festival selected short 'Girl Band', some commercials and Cruella de Vil in Disney Villains 'Counting Scars' music video (over 5 million views) Theatre: Real Housewives of Toluca Lake the Musical (Garry Marshall Theatre), 'Carnal Desire - A Satire' (Edinburgh Fringe Festival) and her solo cabaret 'Sunny Side Up' (Broadway World Nominated as Best Female Cabaret Artist). Proud BFA Acting alum of the University of Southern California School of Dramatic Arts! @adriennevisnic
A.J. HELFET - (Paul Bratter) Growing up on the Upper East Side of New York City, A.J. has been acting since the age of four when he cried in front of a policeman to get his mother out of a parking ticket. He struck gold his senior year of high school when, what could only have been a computer glitch, sent him an admission letter to the University of Southern California.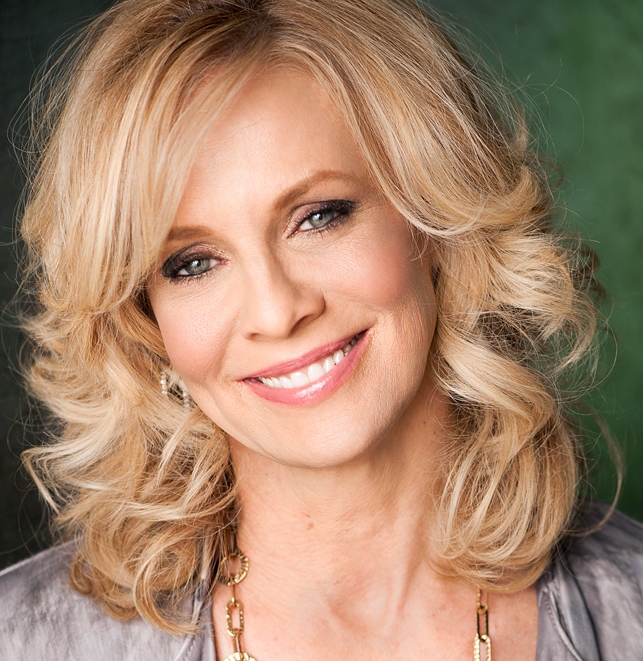 *Sandy Bainum - (Mrs. Banks) Sandy got her professional start when she was hired for the chorus of David Merrick's legendary production of "42nd Street" on Broadway and the National Tour, graduating quickly to the plum rule of Annie. Since her theatrical debut, Sandy has split her time between Washington, DC, where she regularly appears in the city's top theatrical venues, most recently as the title character in Mame, Tessie Tura in Gypsy and Susan in Signature Theatre's acclaimed production of Company; and Los Angeles, where she appears in musical productions, film and television including the role of Cindy McCain in the award-winning HBO film, Game Change starring E. Harris and Julianne Moore, and an appearance on the CBS hit show Criminal Minds. Sandy can also be seen in several web series including: Flacks, Damage Control (Amazon), and There's a Place in Hell for Fashion Bloggers; and short films including The Truth, Non-Disclosure and Iota. Sandy was also thrilled to appear in the upcoming Stronger than Pretty, a film project created to help stop domestic violence and to empower women. For music fans, Sandy has recorded four solo albums; Believe, This Christmas, Simply, (which was nominated for a NYC MAC Award for Best New Album) and It Might Be Fun. She has also performed her solo cabaret shows, including her latest, Ever Blondeward, in major venues in Washington, New York and Los Angeles.
MARK ARTHUR MILLER - (Victor Velasco) Mark Arthur Miller is a proud Chicago stage actor, happily calling LA home for over 25 years. Among his favorite roles are Jimmy in Look Back in Anger (Bailiwick Rep, CHI), Ed in Torch Song Trilogy (Reflections Theatre, CHI), Cliff in The Woolgatherer (Center Stage, NE), Fick in Balm in Gilead (The Road Theatre, LA), and Steve in Hellcab (Famous Door, CHI). TV credits include appearances on ER and Profiler. An accomplished singer and lyricist, Mark recently completed a CD, Soul Searching, and has created a cabaret show of the same name.
*STEVEN C FISHER - (Telephone Repair Man) Steven C Fisher is thrilled to be working on such an excellent play with such excellent people. Past credits include A Midsummer Night's Dream, Animal Farm, Much Ado About Nothing, As You Like It (Will Geer's Theatricum Botanicum), I Bought a Bunker, Bitch, The Big Exit (Williamstown Theatre Festival) and Tristan and Yseult (Oval Theater, London). TV: Birdscomb Community Radio, The Middle, Rock Botton. Steven is a graduate of USC's School of Dramatic Arts and has studied at Antaeus, Upright Citizen's Brigade, Actor's Comedy Studio and The British American Drama Academy. Proud member AEA, SAG-AFTRA. Follow him on twitter and instagram (@steve_c_fish) if semi-monthly is your preferred dosage interval for #content.
Stage Management is by CHRISTINA BRYAN. Ms. Bryan is a proud alum of the University of Southern California, where she majored in Stage Management and Technical Theatre Production. Some recent favorites include Solo Creation Festival (Son of Semele Ensemble), Wonder City (Visceral City Project), and The Hotel Play (Playwright's Arena). In her rare but precious free time, Christina enjoys dining out, making friends with neighborhood cats, and hula hooping. Technical Direction is by KATE HARROW.
Lyric Hyperion Theatre
2106 Hyperion Ave. Los Angeles, CA 90027
(323) 928-2299
BAREFOOT AND THE PARK - TICKETS, PERFORMANCE DATES and TIMES:
https://www.brownpapertickets.com/event/3161757
Also available by telephone at (800) 838-3006, Ext. 1 (24/6 Live Customer Service representatives)
Online and/or by telephone: $12.50
At the door: $15.00
Thursday, November 30th - 8pm
Friday, December 1st - 8pm
Saturday, December 2nd - 2:30pm & 8pm
Sunday, December 3rd - 3pm
BAREFOOT IN THE PARK is presented with the arrangement of Actors Equity Association and Samuel French *These Actors are appearing courtesy of Actors' Equity Association.
Café by Day - Theatre by Night. The Lyric Hyperion is a venue run by artists for artists who are focused on creating new works as well as nurturing and growing community in their space and their performances. They provide numerous house shows, weekly & monthly as well as full productions they create through the year. The space can be rented out for events, shows, and community gatherings. Since there are a limited number of events they can put up each night they do their best to curate their schedule to appeal to as many patrons a possible regardless of race, color, creed, sex, sexual orientation, gender identity, national origin, ancestry, age, veteran status, disability, or other protected status. The venue is ADA compliant throughout. Their patio ramp can be accessed from Lyric Avenue, all other seating areas and amenities can be accessed from the same floor except for their tech booth. There is always something new happening at The Lyric Hyperion. From their versatile menu featuring items made fresh in house to their exciting nightly line up of shows, workshops & special events! Like them on Facebook to see to see their shows and café specials.
Related Articles View More Los Angeles

Stories

Shows
More Hot Stories For You