Interview: Actress/Writer/Theatre Lover Kirsten Vangsness Stars as NIMROD
Theatre of NOTE world premieres Phinny Kiyomura's "Nimrod" February 10th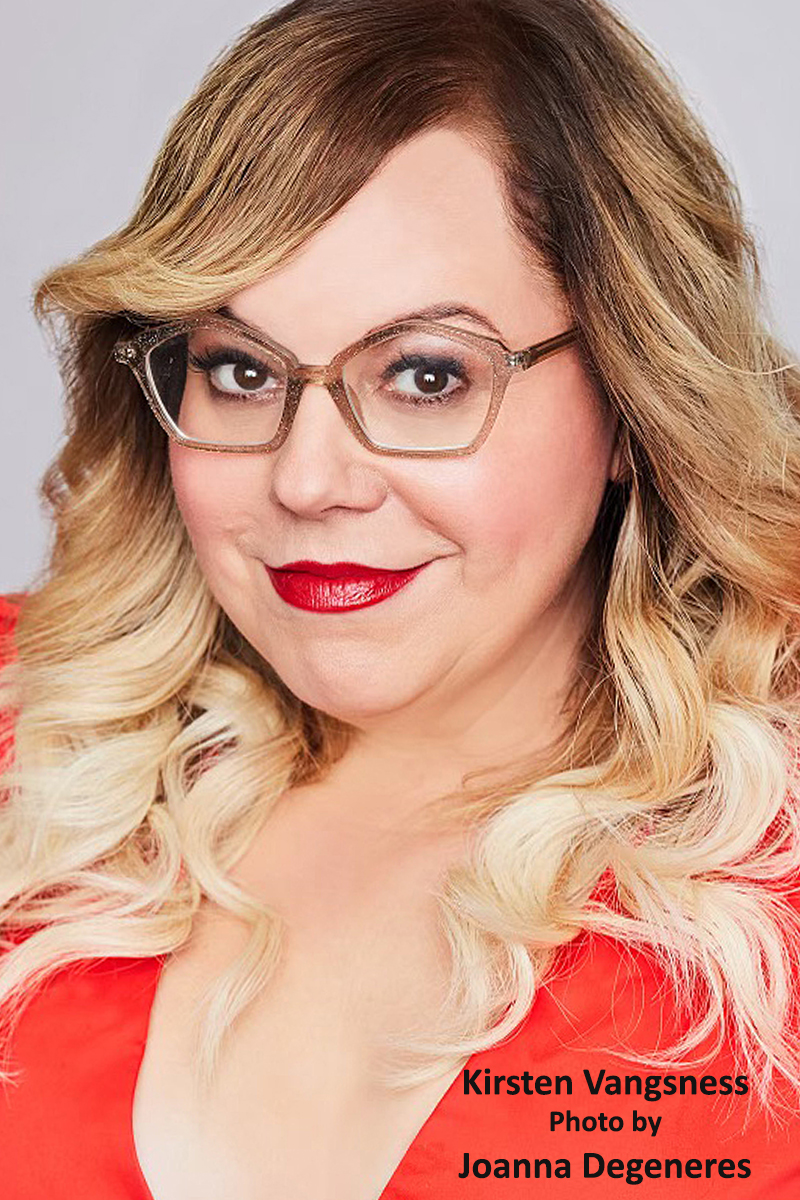 Theatre of Note world premieres Phinny Kiyomura's Nimrod February 10, 2023 (with previews February 8th & 9th). TV's "Criminal Minds" favorite Kirsten Vangsness stars as "Nimrod." Kirsten managed to find time in her hectic, busy schedule to answer a few of my queries.
Thank you for taking the time for this interview, Kirsten!
The last time I've seen you on the L.A. boards was at the Cavern Club at Casita del Campo in Lottie Platchett Took a Hatchet. You and the show were so zany and funny! Would you say your character Nimrod is on the same level of zany-ness as Lottie was?
Thank you for coming to see Lottie. You are a true theatre patron!
We did an encore performance of Lottie for the San Francisco Sketch Fest last week. Justin Elizabeth Sayers who both wrote and starred with me in the version of the play you saw, and our director of Lottie (Jessica Hanna), couldn't come to San Francisco as they were opening a new play of Sayers at the Public. So Drew Droege (who had just come back to California after doing a run of his show Happy Birthday Drew in NYC) performed with us in San Francisco. It was a happy Theatre family switcharoo.
Regarding Nimrod being on the same level on the zany-meter- a resounding yes! Nimrod is irreverent and very cathartic to perform and watch. The subject matter is incredibly provocative and directed by Alina Phelan so creatively. Art is inherently political, and this play explores the absurdity of politics in a way that is entertaining as much as it is uncomfortable. While we have been creating the "Nimrod" world, I am consistently reminded of James Baldwin, "I love America more than any other country in the world and, exactly for this reason, I insist on the right to criticize her perpetually."
What would your three-line pitch for Nimrod be?
I can do it in one:
A Tragically (Un)Presidential Comedy in verse
but longer...
One year out from the election, President Nimrod sits the throne and for beleaguered First Lady Lani, the only good news is that her husband doesn't even really seem to want a second term.
But something is rotten in the States of America. A new age is here: An age of un-fake fake news, novel illnesses, and radioactive boars. Welcome to the White House!
If you were to submit Nimrod on a dating site, what qualities of hers would you list?
I would list that He, I mean, ME. That I am AHEM, A BIG DEAL! I never had small hands. I am into being a sexy leader. I like TV and eagles.
What character flaws would you definitely omit?
Chicken breath. And tax returns.
You have been a member of Theatre of Note for 20 years. What cosmic forces first joined you together?
In 2002 I auditioned for NOTE and worked in the box office and ran lights and watched other great actors from the booth - and then started to audition and get cast. I fell in love with the mission of creating and producing original works. I fell in love with the dedication of his company and I fell in love with this 48-seat black box in the middle of Hollywood surrounded by nothing like it - and I've stayed because it's so important that a space like this exists in the middle of Hollywood, a place where above the glass ceiling and below the glass ceiling they are equal amounts of talent and drive. It's just some people can pay the rent better. I believe in small theatre very deeply. It is one of the first place's important conversations about justice and society and culture happens and I like to be involved in art that talks about those things. Being a theater nerd is something I am very proud of - in the 16 seasons I was on "Criminal Minds," I've been in at least one play a year and the production team and my fellow classmates understood how valuable that is as they would always try to get me out of work in time. Of course, I always needed an understudy, just in case, but I appreciate that they know the value of art even if it's not art that you can press the remote or go to a movie theater and see.
What attracted you to star in this world premiere?
My best friend Phinny Kiyomura wrote this, and I immediately said that I would help produce it (with a lot of assistance from Misha Riley my production manager). We pitched it to NOTE, the entire company had to approve of the production because NOTE is democratically run, and the response to this play, when it was first pitched was lukewarm at best. The play wasn't completely written, and we described we wanted to do a play about a president who believes in fake news and isn't paying attention to the pandemic. It wasn't appealing to anyone. It's hard to explain until we had a reading that this was going to be an empowering heart-centered, and yes, political show and that it wasn't going to dredge up any feelings of powerlessness. I knew it was something special, so I volunteered to produce it since Theatre of NOTE is a democratically run, completely volunteer situation, and nobody else has stepped up here. Originally, I thought I could not audition because I was in the middle of filming the new season of "Criminal Minds," but then a bunch of stuff happened that made the production dates push back and I realized I could audition and so audition I did. It wasn't my decision to play this role and even though I was producing when I auditioned, that took me out of any decision-making in casting so when I got the offer to play "Nimrod," I was so very happy because Hiwa Chow Elms playing the First Lady is one of my favorite actors in L.A. and the rest of this cast is really incredible.
Is everyone involved in Nimrod a member of the Theatre of NOTE family?
Yes! Well, now they are. Phinny Kiyomura, the playwright, and myself really wanted to make sure that the cast and crew of Nimrod was diverse because this show is meant to be a balm to that kind of sickening feeling that comes up when you can look at a room full of politicians, and you see nothing but white men. We do in fact have white men in our show, and we love them very much, but we also have all different other kinds of people and some of those people we cast from outside the company, but each of them were already friends of NOTE. And something happens when you have decent snacks and appropriate breaks and really good material and put over 25 people in the same small space and make art. You become a weird wonderful little art family, so that's what we are now and I am quite positive that they will all be returning to NOTE from now on.
You first got into acting as a child to overcome your shyness. When did you decide to take up writing?
I couldn't find monologues to audition with that hadn't been done before so I started writing my own. My first imaginary crush was Harriet from "Harriet the Spy," so I had been doing journal writing since 5th grade as a result, and writing monologues felt like an extension. Then I stretched out to longer forms.
You write TV episodic, podcasts, plays, short stories, graphic novels. Do you need to get into a different mindset to create in all these different forms?
No, I have themes I am always writing about (included but not limited to the female sexual response cycle, the pull between love and limerence and time happening at the same time). I write about those themes that I find fascinating in whatever form is available to me in the moment.
Is there a favorite format you prefer writing in?
I love writing plays. I find a huge amount on creative freedom in it. I have co-written five television scripts for "Criminal Minds" and a handful of pilots. However, I'm still growing in that medium and I don't know if I'll ever grow up to know how to do it in the elegant way the others can structure in general. It's not something that comes easy to me. I love, love, love writing - but I don't always understand how to organize it appropriately and the thing that I understand the most is theater, so it's easier for me to organize my thoughts and feelings into a play.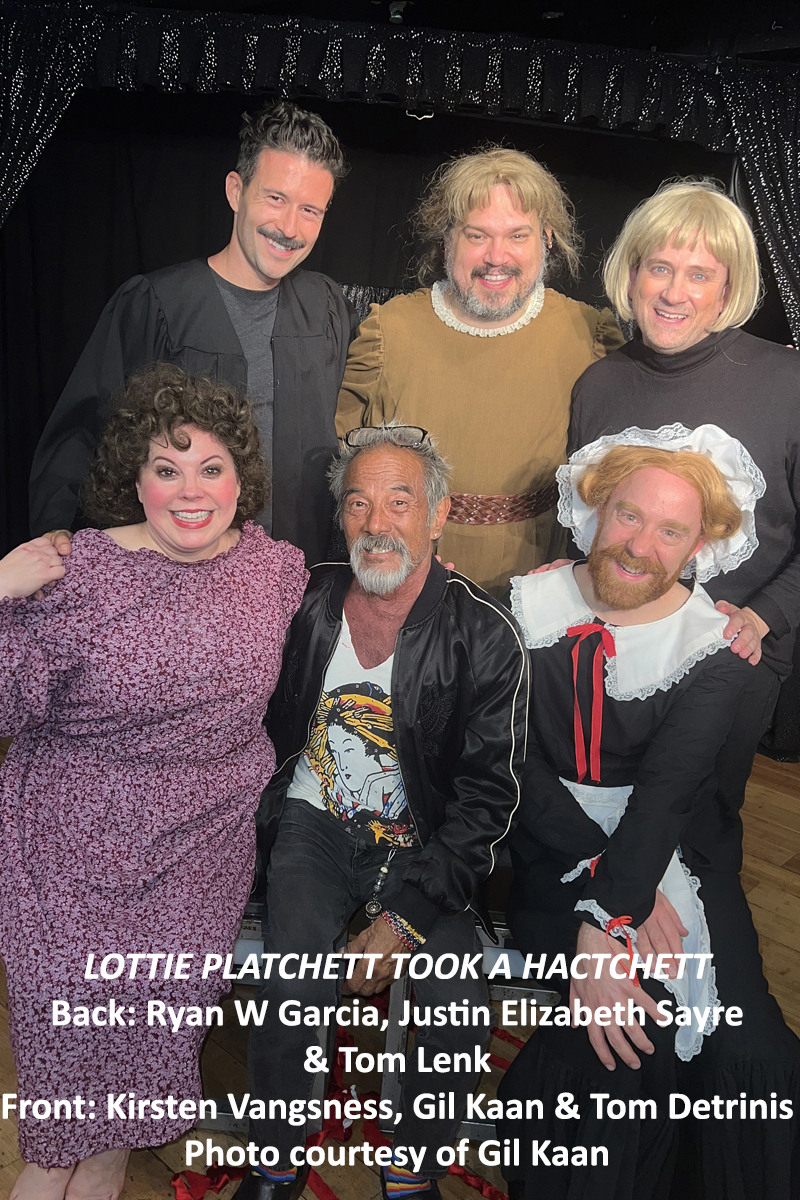 What was your very first role on the Los Angeles boards?
I had two lines in a seven-person Theresa Reback play for a Theatre Neo night of one-acts. I can't remember the name of the show, but I brought my copy of Spike Heels, and she signed it when she came and I treasure that.
What do you remember of your very first acting award? (How old were you? What role in what show? What theatre?)
Cerritos High School, a play called Juvie. I played a drug dealer, and I was in 10th grade for "Outstanding Cast Member." It's a little brass comedy and tragedy mask with a fake marble base and it's sitting in my living room. I love acting so much and feel so sparked up and appreciative that I get to do it and I still to this day find it delicious to get an award for something that I can't help but do because it's so freaking fun.
How did your weekly YouTube show Kirsten's Agenda come about?
We all came up with our own ways to survive the pandemic and mine was reading stories and sharing songs I wrote on Instagram. I pivoted that to Kirsten's Agenda which was first a show to raise awareness of timely in-the-moment stuff and then it pivoted to be about creativity and self-actualization. I had a beautiful team of people behind me and making it happen. If you ever have a free 15 minutes, I highly recommend checking out some episodes on YouTube. I'm really proud of the weird mess we made. It's sort of like adult Pee-wee's Playhouse going to therapy.
How do you juggle co-owning the Blinking Owl Distillery in Santa Ana with all your acting and writing commitments?
Robin and Brian Christenson who I co-own it with are the beating heart and guts of the place. I get to show up and do the fun bits entirely. It's now a restaurant and serve some of truly the best pizza in Orange County. If you live in Los Angeles, take the train down and you'll feel like you've gone to adult Charlie and the Chocolate Factory.
What's next in the near future for Kirsten Vangsness?
This weekend yes, the weekend just before Nimrod is opening. I am going back to the San Francisco Sketchfest to be in a reading of The Medievals, a new play by Bill Corbett with Jason, Ritter, Jane Kaczmarek, and James Ubaniak. I'm going to go back to my acting class that I haven't had time for because of the play. I've just started writing a new thing that I will be workshopping in the spring and "Criminal Minds" has just been picked up for its second season on Paramount Plus, which if you're doing the math, means the 17th season. And that is a huge thrill to me because this most recent season of the show I've gotten to do much deeper work and I am very much looking forward to more of that. And I'm quite positive there are other adventures in store for me in the near future and you can learn about them by looking at my Instagram or going to kirstenvangsness.com.
Thank you again, Kirsten! I look forward to meeting your Nimrod.
For tickets to the live performances of Nimrod through March 19, 2023; click on the button below: