HONKY TONK LAUNDRY Extends Its Hours at Hudson Mainstage Theatre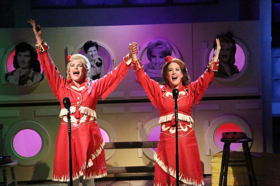 YEE-HAW! CAZADOR ENTERTAINMENT and HONKY TONK PRODUCTIONS are pleased as pickins to announce that their smash-hit, critically-acclaimed Los Angeles premiere of HONKY TONK LAUNDRY, a new musical written and directed by Roger Bean (The Marvelous Wonderettes, Life Could Be A Dream, The Andrews Brothers), with choreography by James Vásquez, is EXTENDING through SUNDAY, OCTOBER 1 at the Hudson Mainstage, 6539 Santa Monica Blvd. in Hollywood.
Move over, Thelma and Louise! When Lana Mae Hopkins, owner and proprietress of the Wishy Washy Washateria, hires Katie Lane Murphy to help out in the Laundromat, they soon find themselves up to their elbows in soap, suds, and cheatin' hearts. Take a ride to Nashville heaven as you watch these two country angels join forces to turn their good ol' Laundromat into a boot-scootin' honky-tonk, exacting a touch of revenge against those that done 'em wrong, and all while guaranteeing each and every customer a good, clean time! HONKY TONK LAUNDRY is chock-full of your favorite songs including "These Boots Were Made For Walkin'," "Stand By Your Man," "Before He Cheats," "Independence Day" and many more!
Roger Bean (Creator/Director) created the worldwide and off-Broadway hit The Marvelous Wonderettes, along with the sequels Wonderettes: Caps & Gowns, Winter Wonderettes, andWonderettes: Dream On. Original cast albums for all Wonderettes shows are available from iTunes and Amazon. The Marvelous Wonderettes received the 2007 LA Ovation Award for Best Musical for its record-breaking Los Angeles run, and continues to be an audience favorite in theater companies throughout the country. Another audience favorite is Bean'sLife Could Be A Dream, which received the Los Angeles Drama Critics Circle Award, the LA Weekly Theatre Award and the Backstage Garland Award for Outstanding Musical. He also created the popular jukebox musicals The Andrews Brothers, Route 66, Summer of Love, Why Do Fools Fall In Love?, Don't Touch That Dial!, That's Amoré and Beach Blanket Bash. Roger Bean is currently the president of Steele Spring Stage Rights, one of the foremost independent theatrical publishers in the United States, which will administer the future Stock & Amateur licensing of Honky Tonk Laundry. Roger Bean has a proven track record in creating enduring, audience-pleasing franchises: The Andrews Brothers has seen over 200 productions, Route 66 has seen over 250 productions and two national tours, and the four shows comprising The Marvelous Wonderettes series have seen a combined 1,000 productions worldwide in five different languages.
James Vásquez (Choreographer) Previously with The Old Globe/USD M.F.A Program, Mr. Vásquez directed Clybourne Park and last year's world premiere of Keith Reddin'sAcquainted with the Night. At The Old Globe he's directed Rich Girl, Dr. Seuss' How the Grinch Stole Christmas!, and Richard O'Brien's The Rocky Horror Show and provided musical staging for The Comedy of Errors directed by Scott Ellis, Boeing-Boeing, and the 2013 Shakespeare Festival production of A Midsummer Night's Dream. He received Craig Noel Award nominations for Outstanding Direction of a Musical for the world premiere ofHarmony, Kansas and the West Coast premiere of [title of show] (Diversionary Theatre) and won the award in 2010 for Sweeney Todd (Cygnet Theatre Company). His other recent directing/choreography credits include The Addams Family (Moonlight Stage Productions),West Side Story and Cats (San Diego Musical Theatre), Tell Me On A Sunday (Broadway Theater), Pippin, the west coast premiere of Birds of a Feather and Next Fall (Diversionary), and Hedwig and the Angry Inch and Pageant (Cygnet), as well as developmental workshops at La Jolla Playhouse and Goodspeed Musicals. In 2004, Mr. Vásquez founded Daisy 3 Pictures with Mark Holmes and Carrie Preston. Their first two feature films, 29th and Gay andReady? OK!, played national and international film festivals, with Ready? OK! winning Best Feature Film awards in Seattle, North Carolina, and San Diego. Their latest feature film,That's What She Said, made its world premiere at the 2012 Sundance Film Festival. Mr. Vásquez is a graduate of The Juilliard School.
Bets Malone (Lana Mae Hopkins) originated the role of Suzy Simpson in The New York production of The Marvelous Wonderettes, also written by Roger Bean, and can be heard on three Wonderettes cast recordings: The Marvelous Wonderettes, Winter Wonderettes andWonderettes: Caps & Gowns. Regional: Seussical, Titanic, Big Fish, Pride and Prejudice, Mary Poppins, How the Grinch Stole Christmas, Sweeney Todd, 1776, Ragtime, On the Town, Evita, Children of Eden, Annie Get Your Gun, Once Upon a Mattress, and Love, Loss and What I Wore. Her vocal talents can be heard as Tallulah the Monkey in Barbie as the Island Princess and the singing voice of Velma in Scooby Doo and the Music of the Vampire, both available on DVD. Most impressive credit: wife to Moonlight Stage Productions artistic director Steve Glaudini and mom to Sami the Wonder Dog!
Misty Cotton (Katie Lane Murphy) Broadway/National Tours: Miss Saigon (Ellen); Les Miserables (Eponine); Joseph... Dreamcoat (Narrator) w/Donny Osmond. Off-Broadway: The Marvelous Wonderettes (Missy). Regional: Into the Woods (Witch) Utah Shakespeare Festival; Carrie (Margaret), La Mirada & Los Angeles; Tell Me On a Sunday, ETC; Tommy(Mrs. Walker), Peter Pan (Peter), Moonlight Amphitheatre; White Christmas (Betty), San Diego Musical Theatre; Side Show (Violet), Los Angeles Premiere; A Little Night Music (Petra), South Coast Rep; The Last Five Years, Pasadena Playhouse; Winter Wonderettes (Missy), Milwaukee Rep; Wonderettes: Caps & Gowns (Missy), Laguna Playhouse; Annie Get Your Gun (Annie), Spitfire Grill (Percy), Utah Shakespeare & Laguna Playhouse. Recordings:Winter Wonderettes and Wonderettes: Caps & Gowns.
HONKY TONK LAUNDRY is EXTENDING through SUNDAY, OCTOBER 1 at the Hudson Mainstage Theatre, 6539 Santa Monica Blvd. in Hollywood.
Performances are Fridays & Saturdays at 8:00pm & Sundays at 3:00pm & 7:00pm.
Ticket prices are $45.00 for Friday & Sunday evenings; $55.00 for Saturday evening and Sunday Matinee;
with new VIP PREMIUM SEATING added -
Fridays at 8pm and Sundays at 7pm: $57.50 for VIP PREMIUM SEATS;
Saturdays at 8pm and Sundays at 3pm: $67.50 for VIP PREMIUM SEATS.
PREMIUM SEATS ARE: Reserved Aisle Seats in the first four rows (in pairs), and will include a signed program from the cast and author!