Review: Tom Lenk IS Tilda Swinton in Byron Lane's Hysterical TILDA SWINTON ANSWERS AN AD ON CRAIGSLIST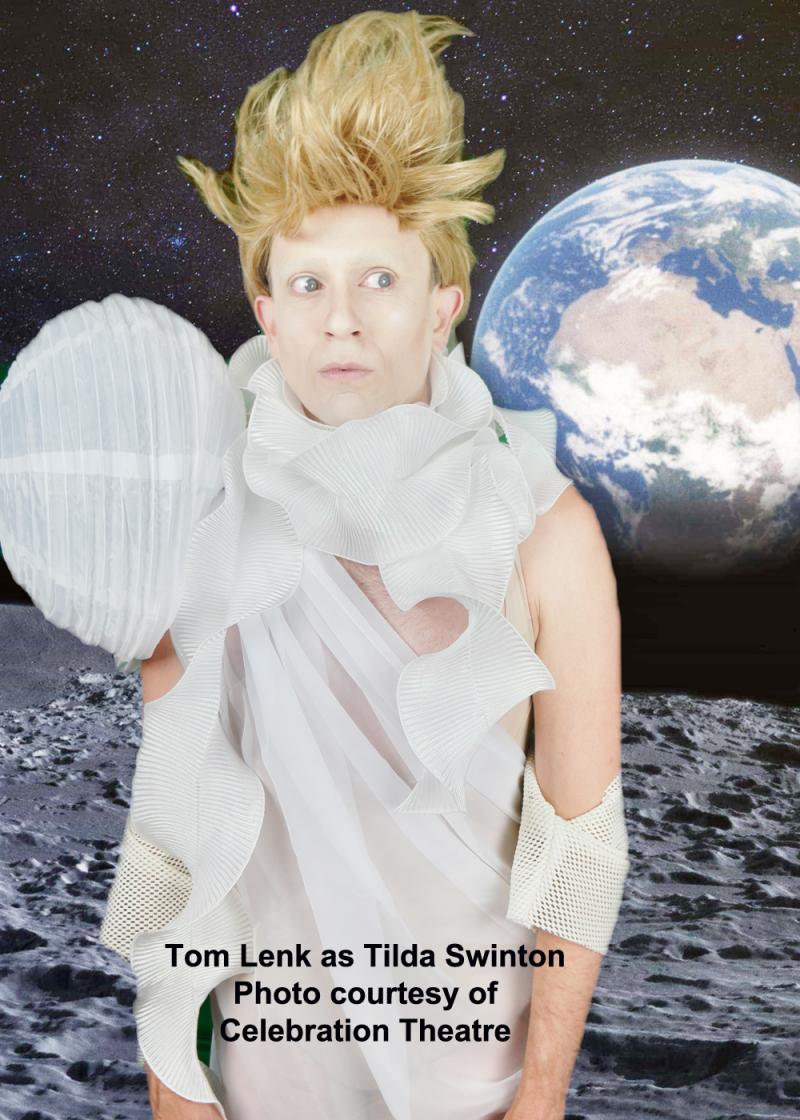 TILDA SWINTON ANSWERS AN AD ON CRAIGSLIST/by Byron Lane/directed by Tom Detrinis/Celebration Theatre @ the Lex/through September 2, 2017.
Byron Lane has written a brilliant tour de force for Tom Lenk as Oscar-winner Tilda Swinton. As cleverly written by Lane, sharply directed by Tom Detrinis, and played to perfection by Lenk; the heightened reality of Tilda Swinton graces the Celebration Theatre (landing from her home Jupiter) to research for her upcoming role that's sure to win Tilda her next Oscar. (How could she only have one? Even Monique has one!) Through some cosmic forces, Tilda comes to Walt's apartment answering a rental ad on "the List of Craig." Seems Walt's ex has placed the listing after moving out, but not before Walt has vacated. Playwright Lane effectively underplays the sad sack Walt as the perfect counterpoint to the deliciously, over-the-top Ms. Swinton.
The play opens with Walt reprimanding an unseen Wanda over the phone for including distinctly-to-not-be-included pickles on his take-out burger. Walt's rant quickly evolves into an over sharing of his losing his ex, his gloomy outlook on his life, and his intentions of killing himself that night.
Enter Tilda, in a most grand entrance. (Kudos to the uncredited costume genius who designed Tilda's bubble-wrap cloak over her flowing pants ensemble.) Playing the part of the depressed, suicidal Walt will surely earn her another golden statuette. Delaying Walt's suicide for 20 minutes in order for her to have enough time to 'study' Walt, Tilda mimics Walt's every move, every gesture. Lenk's Tilda adds vocalizing and grunts, prepping each initial aping with breathing and stretching exercises. Too funny! Lenk has nailed Tilda's toss of the head, her accent, her hyper self-awareness, her divaness. Bravo, Tom Lenk!
As more characters enter Walt's place, Walt seizes on their input/their impressions of him to convince Tilda of his validity/his importance in life. Mark Jude Sullivan quite ably takes on two totally different roles. The first, Walt's preening, gym-carved ex who's constantly fixing his stray locks or taking selfies. Sullivan also transforms into Walt's tentative, button-downed father Herman. Jayne Entwistle readily makes her
mark in three distinct roles - Walt's The Bodyguard-loving mom, Tilda's at-her-beck-and-call Suri, and the compassionate Wanda.
A melodramatic soundtrack (in sync with designer Matthew Brian Denman's spotlighting) enhances the more supernatural incidents, of which much laughter follows.
So many wonderfully, witty lines and throw-aways from the mouth of Tilda, from the pen of Lane (i.e., director Tim Bur-TON, Tilda's self-description of "hooker ghost," the already mentioned reference to Monique).
With only a few performances left and a small house that sits 60, grab a ticket to this if you can.