Review: THE MAGIC FLUTE at the El Portal Theatre in North Hollywood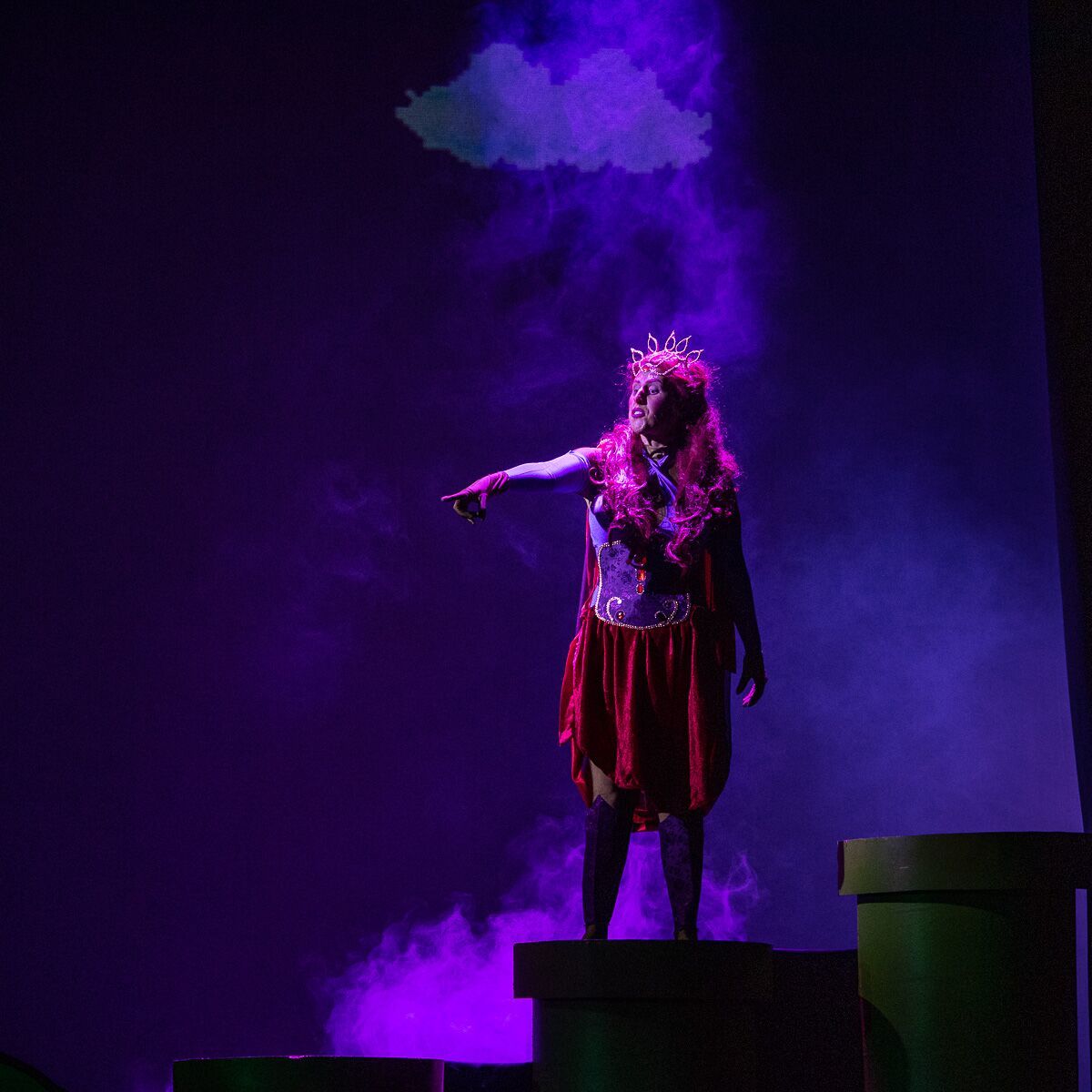 On March 3, 2019, Pacific Opera Project (POP) presented its more-than-a-little-bit-zany version of Wolfgang Amadeus Mozart's THE MAGIC FLUTE (DIE ZAUBERFLÖTE) at Los Angeles's El Portal Theatre. POP Director and Designer Josh Shaw and Baritone E. Scott Levin premiered a new English version of Emanuel Schikaneder's German libretto in which the characters resembled those of a 1990s video game.
The cast sang Mozart's music just as it is sung on any other opera stage, but some spoken lines and the translation seen above the singers' heads put everyone in video game land. Papageno was a plumber with a huge mustache instead of a bird catcher, but Tamino was still a prince. Sarastro, a bit of a gorilla, revealed that he and the scantily clad Queen of the Night had once been married. Pamina was the child over whose custody they fought. Monostatos, who caught and chained Pamina in his tiny dungeon, was a mini plumber.
Musically, however, it was a very creditable FLUTE sung in English by young artists who work in United States regional opera houses. The Tamino, Arnold Livingston Geis, started off slowly but eventually came into his own with sweet lyric tenor sounds. Alexandra Schoeny was a strong voiced Pamina who sang with beautiful silver tones. She will soon be heard in the Reno (NV) Philharmonic's performance of the Mozart Requiem Mass.
Co-librettist E. Scott Levin was an energetic Papageno/Plumber who dramatized his lines and never missed a note as he hopped, skipped, and jumped around the stage. A jack of all theater trades and a POP regular, he also helped change the scenery that was held in place by audible velcro. That was part of the fun.
Michelle Drever was the spectacular Queen of the Night about whom Sarastro had once gone bananas. She had turned on him, however, and all he had left was inflated artificial fruit. Drever had crystal clear coloratura and perfect runs with which to fascinate listeners even if she did portray an evil character. Six-foot-ten-inch Andrew Potter was an imposing Sarastro who towered over the other singers. He had a full range of deep bass notes as well, and that made him a fine Sarastro. With this libretto, Sarastro was no longer an annoying male chauvinist and we learned that he cared for his adult daughter.
Robert Norman was a fine character tenor who made Monostatos a memorable villain. The Three Ladies, Tara Wheeker, Ariel Pisturino, and Megan Potter, sang with beauteous harmony and excellent precision. I can foresee hearing them in larger parts in the near future. In parts often sung by boys, Emily Rosenberg, Amanda Benjamin, and Christine Marie Li portrayed Three Spirits who sang with pizzazz as they cavorted around the stage in huge hats.
As Priests and Armed Men, Joshua Alarcon and Jonathan Matthews added some stability to the production. Matthews has actually worked on music for video games. Laura Broscow was a bubbly Papagena with whom the Plumber could expect a happy future. Since we last saw the Queen of the Night lying desolate on the stage floor, her daughter and Tamino could be expected to lead to a life free of her threats.
Conductor Edward Benyas led the twenty-one piece orchestra in a fine reading of Mozart's score along with a few interpolations of the composer's divertimento music that covered some scene changes. The video game FLUTE is a great change of pace and lots of fun for those who love opera with a flair. There are more performances of THE MAGIC FLUTE at the El Portal Theatre on March 8, 9, and 10.
Photos by Martha Benedict