Review: RAGTIME Proves Its Valor as a Musical Once More at Candlelight Pavilion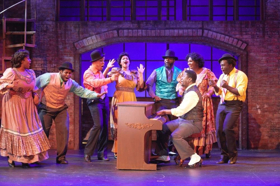 Ragtime/book by Terrence McNally/music by Stephen Flaherty; lyrics by Lynn Ahrens/based on the book Ragtime by E.L. Doctorow/directed by Greg Hinrichsen/Candlelight Pavilion Dinner Theare, Claremont/through February 24
I have seen Ragtime the Musical a half dozen times since it premiered in LA in 1997 prior to Broadway and...have never tired of it. Why? First, its simply gorgeous almost opera-like musical score by Stephen Flaherty and Lynn Ahrens moves me to tears. Secondly, it presents elements of pop culture mixed in with the meaningful historical content of America at the turn of the 20th century, making it the most relevant show in the last 25 years. Now by means of Candlelight's revival production, onstage in Claremont through February 24, Ragtime continues to enlighten and enchant simultaneously.
Ragtime has a cast of 29 and this is the largest size ensemble to fit on the Candlelight stage. Thanks to skilled director Greg Hinrichsen, the staging is meticulously perfect and the pacing brisk, never sacrificing clarity, humor or substantial storyline.
The basic plot involves the Family and the intrusion into it of two blacks Sarah (Jessica Mason) and her piano-playing boyfriend Coalhouse Walker Jr. (Trance Thompson). Sarah tries to get rid of her child by burying it in the Family's garden. Good samaritan Mother (Christanna Rowader) takes in Sarah and the baby to the dismay of Father (John LaLonde) who would prefer to go exploring with Admiral Byrd than stay home and take care of his family. Thank goodness for Evelyn Nesbit (Cheyene Omani), the girl on the swing whose husband shot and killed her lover. Pop culture element "Crime of the Century" has a tongue-in-cheek dubious appraisal of crime does not pay. Mother's Younger Brother (John McGavin) falls hard for Nesbit, going to the theatre nightly to watch her onstage, and when she brushes him off, he forces himself into more serious endeavors with a dream to 'make a difference' in the world. Harry Houdini (Orlando Montes), the other pop culture celebrity, is an immigrant who came to America to make it big and he did, setting the example for Tateh (Allen Everman), who eventually goes from cutting silhouettes to making movies. He and his little daughter (Carolina Flores) can barely survive. Emma Goldman (Lisa Dyson), political activist/anarchist of the time, is around as an observer to show that Henry Ford may have had expertise as a shrewd businessman but he made immigrants starve in the process.
Coalhouse, a black man with next to no rights, watches as Sarah dies at the hand of a government guard. She was only trying to make a plea for justice. Coalhouse takes his revenge and strikes out against the government, putting the Family and everyone else in extreme danger. In the end, Coalhouse is betrayed and shot by those who offer to help him. Father and Mother split, as Mother falls in love with Tateh, now a rising movie director. Her son (Andrew Bar) and she start a new family with Tateh, his daughter and Little Coalhouse (Isaac James Dawson). They follow a new path which may or may not take them to the peace and happiness they so cherish.
Under director Hinrichsen's careful guidance and with John Vaughan's perky choreography, the entire ensemble excel. Thompson makes a steadily driven Coalhouse. Mason makes a lovely Sarah but at times sings a bit too low key to be heard. Christanna Rowader is sensational as Mother; her "Back to Before" stops the show. LaLonde is perfectly self-absorbed as Father. Everman makes a vibrant Tateh, so devoted to his child, and Dyson is thoroughly dynamic as Emma Goldman. McGavin makes a passionate Younger Brother in his very difficult transition to independance. The entire chorus sing beautifully together under Julie Lamoureux's exceptional musical direction.
Memorable tunes include: Mother's aforementioned "Back to Before" conveying the true meaning of change, "New Music" - stunning!..., "Wheels of a Dream", "Gliding", "Our Children", "Sarah Brown Eyes", "He Wanted to Say", and "Make Them Hear You". Ahrens and Flaherty may not be Rodgers and Hammerstein, but little by little they are climbing the ladder to greatness, currently on Broadway with Anastasia.
Set design by Chuck Ketter, on two levels, is appropriate and functional and period uncredited costumes serve the piece perfectly.
Kudos to Candlelight for a rich and powerful production. Ragtime is a great musical to be appreciated by audience of all ages.
---
As always, Act One is the best. The food and service at Candlelight are impeccable. Of the entree choices I highly recommend the tilapia with mini shrimp and scallops and in the specialty drink category for a mere $6, order the Ragtime, made with vanilla vodka, apple pie liqueur and laced with carmel sauce. It's delicious.