BWW Review: BELLA GAIA - A Poetic Vision of Earth From Space

For years we've been taught how important it is to take care of the planet. In rural areas, that was especially true because farming the land and managing the earth's resources meant there was food to eat and water to drink. Those whose parents lived through the Great Depression were schooled in the art of stretching a dollar, recycling and repurposing everyday items, and making do with what you had. You built community and cared about what happened to those around you because you understood that everyone needs help at one point or another.
But little by little, in the hundred years since, we've become a much more self-centered throwaway society. Advances in technology and industry have increased our creature comforts but they have also isolated us and built a different kind of dependence, one focused not on community but on the machinery and virtual world of the future. In some ways, we've lost sight of our own humanity.
BELLA GAIA - A Poetic Vision of Earth From Space is a multi-dimensional musical and visual concert experience created by Kenji Williams that emotionally reconnects us - to each other and to our planet - by offering an extraordinary view of earth as one people, one world. The opening scenes take us through the chemical composition of the planets in our solar system and are a reminder that Earth is the only one that has an atmosphere able to sustain human life. Every other planet is uninhabitable.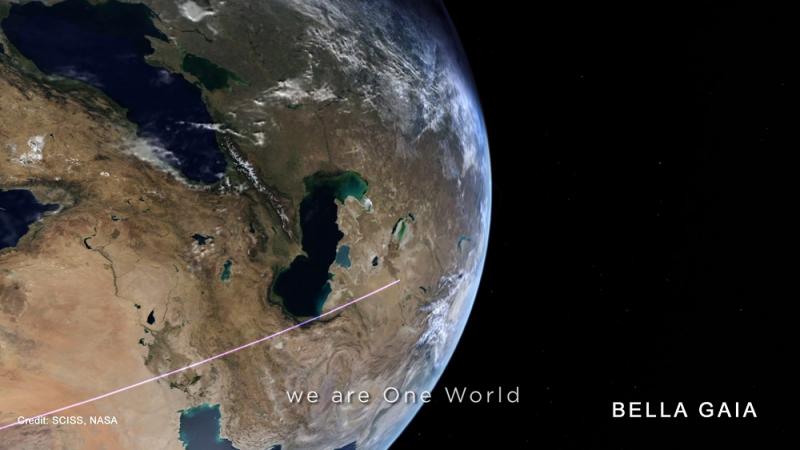 Most of us will never circle the globe in a space capsule but in BELLA GAIA we get to see the next best thing: images of earth from outer space by astronauts who made the journey. We also get to hear their incredible thoughts about what those experiences taught them. They talk about oceans that touch countries separated by borders that don't exist when you see them from space, and how fragile the thin line of earth's atmosphere appears from this God-like vantage point.
One astronaut aboard the International Space Station shared that on the first day of his round-the-globe adventure, they all focused on their own countries. After two or three days, on their own continent. By the fifth day, their perspective had shifted and they only saw one planet. That's the "overview effect" - a psychological change in awareness that happens to astronauts when they experience what earth looks like suspended in space for the first time.
The footage in BELLA GAIA is breathtaking and when you add the musicians - Williams on violin, Yumi Kurosawa on Japanese 20-string Koto, and vocalist Kristin Hoffmann, the resulting artistry takes on the allure of the mystical.

Exotic dancers join the group for several mesmerizing sequences with imagery from Egypt and India, the fiery sun, and the infinite cosmos. The negative effect of climate change on the Ganges River, without which the people of India could not survive, becomes a sobering reality as the message that the Ganges could run dry in our lifetime scrolls across a photograph of parched earth.
Beauty, and the global influences that threaten it, are interwoven throughout the piece. Cherry blossoms in Japan, Tokyo's city lights, and the happy faces of children playing in water plumes from neighborhood fire hydrants contrast with visuals of oil consumption, population growth, and the effects of deforestation.
Nothing is heavy-handed but the message is clear. What affects one affects all. Perhaps the most unforgettable example shown was of a dust storm in the Sahara desert, photographed swirling in the air in Russia, that finally settled to the ground in the Philippines.
BELLA GAIA = mind blown, in a glorious collision of science and art. It is an explosion of color, sound, and light that will restore your faith in the almighty and remind you that the beauty of our planet is enough to take your breath away. Deeply meaningful. Meditatively heartfelt. It was a perfect way to celebrate Earth Day at Caltech's Beckman Auditorium before the weekend. The next time it comes to Southern California, it goes on your calendar.
For more about the performance, visit www.bellagaia.com.