Review: Arthur Miller's ALL MY SONS Is Still A Timeless Piece of American Theater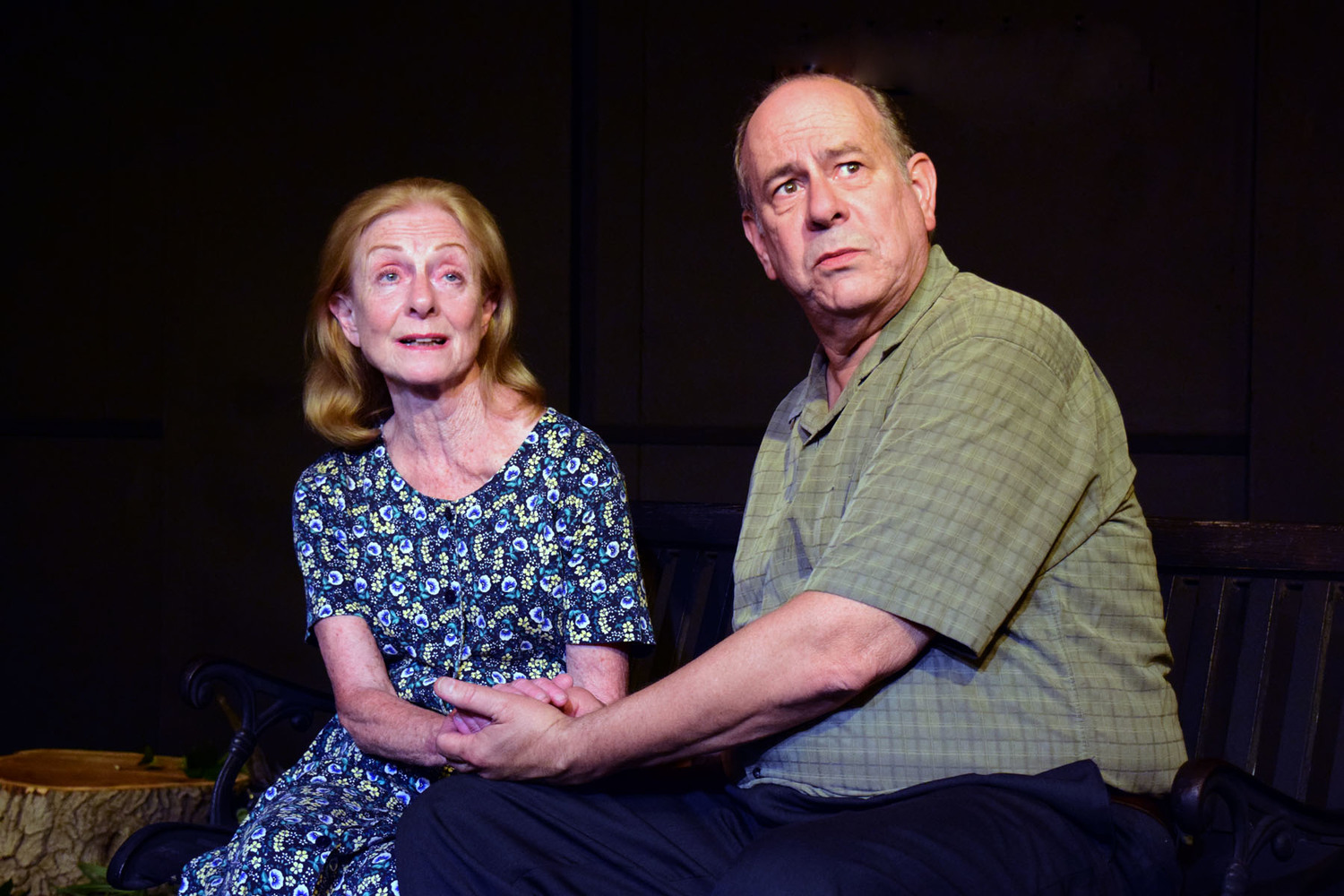 What sounded like a gramophone played Christmas Island as the audience shuffled inside the second-story stage of the Lonny Chapman Theatre. Wind-blown debris and leaves adorned the entire stage and a tree snapped in half sat upstage. Patio furniture, newspapers and pipes helped set the scene of the Keller Family's backyard in August 1947. This was Arthur Miller's ALL MY SONS.
Directed by Linda Alznauer and produced by Diane Frank and Alznauer for The Group Rep, the story is incredibly emotional and deals with themes quintessential to understanding what post-war life was like in America in the 1940s. America came out on top and therefore men were viewed as strong and able-bodied who were never seen displaying sorrow and other deep-seated emotions that surrounded death and loss. Arthur Miller used the dehumanizing factor war created to bring to light that sensationalist idea and displayed it with ALL MY SONS.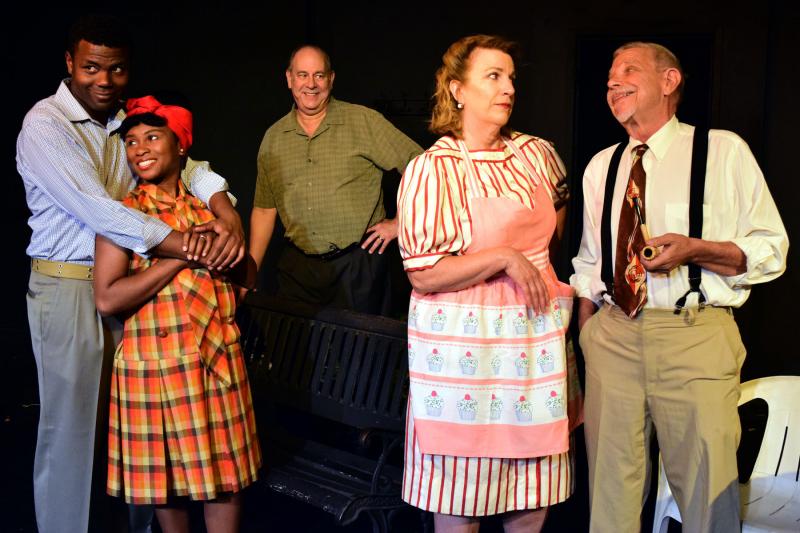 The head of the small, 10-character cast was John Combs, who played the sardonic Joe Keller. As one of the most grounded players on the stage, Combs' representation of the Keller patriarch used his sarcastic sense of humor and cynical behavior to cover up the sadness surrounding his son's (Larry) death. In turn, the audience responded to that sarcasm.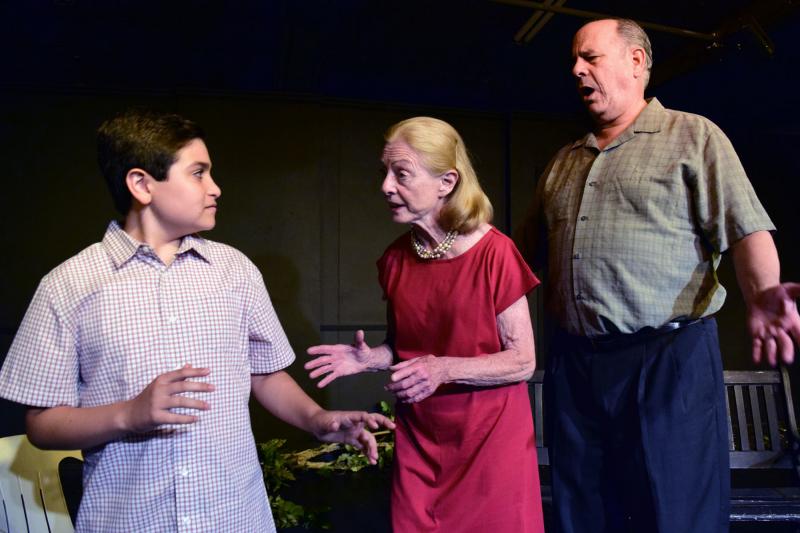 It might have been due to opening weekend jitters, but there were times Combs was not sure of his lines. This lead to jumbling letters, stuttering and loss in articulation; but I did not think that took anything away from his character and who Combs was illustrating.
Mikel Parraga-Wills played Joe Keller's rational son Chris. Throughout the entire show, Parraga-Wills had an extremely established grasp of his character. His understanding of who Chris was and how he portrayed Chris to the audience blew me away. Chris, a realist at heart who survived the draft and the war, had pent-up guilt and resentment from his time overseas. That - plus his mother's grief and denial toward Larry's death - made it hard for him to move on, though he desperately tried to.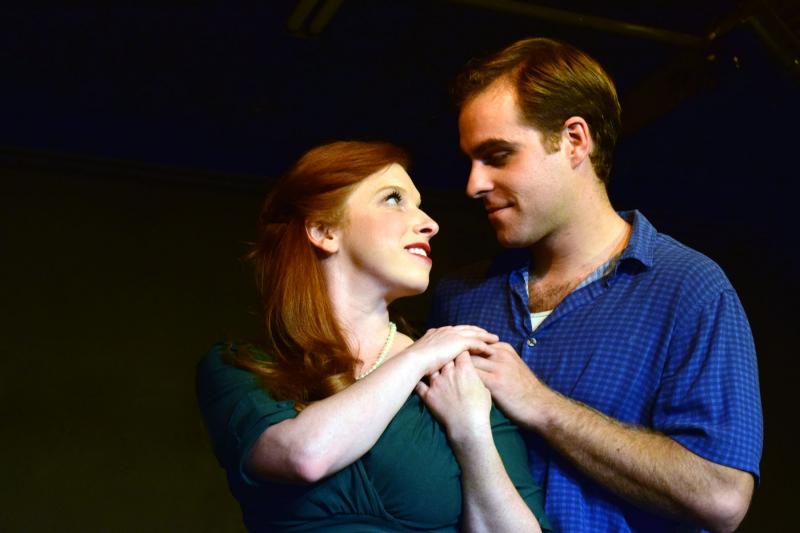 These two actors, though strong from the beginning, really shone in the second act when Joe and Chris viciously argued. The brutality and intensity of a father and son yelling at each other was heartbreaking and difficult to watch. The audience started to see the unraveling of the Keller family and how the war truly took a toll on them. I also viewed it as a sister and a daughter. I'd look over at my brother (who attended the show with me) and imagine him in Chris' place and my own father in Joe's place. I can honestly say I've never seen my brother and dad yell as powerfully and deeply at each other as Chris and Joe did, but picturing them made that scene even harder to watch.
It was the most well done scene in the entire performance.
I initially thought the casting of Kate Keller (played by Diane Frank) was an interesting choice. From an outward perspective, I thought she seemed too mature to play the mother of a 20-something. However, after much thought, I realized I was too superficial. I had to remember the pain and trauma this woman experienced over the last three years, and how grief, agony and the like can truly age a human being.
The choices Frank made to portray Kate were a bit ostentatious. For instance, I found her (and Kristin Towers-Rowles, who played Ann Deever) to be a bit over the top when expressing emotion. Facial expressions and physical gestures didn't feel natural or come off as sincere. But I truly enjoyed seeing Frank's growth from Act 1 to Act 2. In all honesty, I found her depiction of Kate to be bland and boring throughout the first act. Some of her lines sounded rushed and unintelligible, but Frank proved me wrong in Act 2. When she and Towers-Rowles also engaged in an argument, I saw raw, genuine emotion. I gained a lot of respect for her from that interaction.
Yet, I never saw any growth in Towers-Rowles. Unlike watching Combs and Parraga-Wills, I didn't feel a connection to Ann. It was hard to sympathize with her because, as said previously, Tower-Rowles' performance was too exaggerated. It felt like she was trying too hard to gain reactions from the audience instead of playing her role with authenticity.
And despite a few flip-flops in blocking and upstaging, I enjoyed GRT's production of ALL MY SONS. It's a coveted piece of American theater with a story many can unfortunately relate to. To witness this Arthur Miller classic, buy your tickets at www.thegrouprep.com or by calling 818-763-5990. General admission tickets are $20; seniors and students (with valid ID) are $17. It runs now until Aug. 5 at Upstairs at the Group Rep at the Lonny Chapman Theatre (10900 Burbank Blvd.) in North Hollywood. Show times are 2 p.m. Saturdays and 7 p.m. Sundays with a talkback July 7 and July 21 (immediately following the matinee).
Photo credit: Doug Engalla