Ilana Lifshitz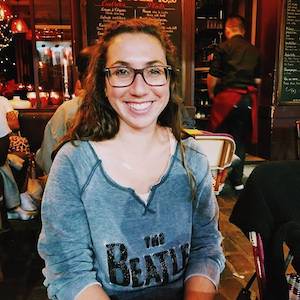 Ilana Lifshitz is a University of Florida alumna who hails from Wellington, Fla. but resides in Los Angeles. She moved to LA after her college graduation to pursue her dream as a journalist. She interned at The Hollywood Reporter during the summer of 2014. Ilana's family is completely and utterly obsessed with the arts, especially theatre. Her father has his own production company in South Florida, and her brother's been a working actor since he was 6 years old. Ilana, who enjoys the behind-the-scenes work more than being in front of an audience, worked as the prop mistress for several shows in South Florida during high school and college. Show tunes are avidly played on her Spotify, and Sirius XM Channel 72 On Broadway is a preset in her car. Her favorite musical is HAIR, which she has no problem singing at the top of her lungs.
MOST POPULAR ARTICLES
LAST 365 DAYS
BWW Review: City Garage Revives Comedic THE BOURGEOIS GENTLEMAN With Uproarious Results

March 5, 2019

When you live anywhere that isn't the Westside, going to Santa Monica is a chore; but it was worth the drive Friday night to see City Garage Theatre's production of THE BOURGEOIS GENTLEMAN.
---
BWW Review: A PERMANENT IMAGE Is A Poignant Yet Eye-Opening View On Death

January 16, 2019

I wasn't sure what I was getting myself into Friday night when I went and saw the opening night of A PERMANENT IMAGE (written by Samuel D. Hunter) at Skiptown Playhouse in Hollywood. I read the small synopsis I found online where it said, 'A PERMANENT IMAGE is a darkly comedic look at fraught family dynamics that dares to ask the question, 'Can death actually bring life together?'' Mind you, I had realized 12 hours prior to curtain it was the fifth anniversary of my grandmother's death. 'Was this the best thing sit through?' I asked myself. And you know what? The play may have started off a bit rocky but it blossomed into a beautiful representation of death.
---
BWW Review: FIRE IN A DARK HOUSE Is More Timely Than Ever

November 3, 2018

The year was 1918. We were four years into World War 1. Anti-German notions swept across the country and preyed upon German-Americans, calling them spies, traitors, and as President Wilson once said, "hyphenated Americans" because their loyalty was divided.
---
BWW Review: Arthur Miller's ALL MY SONS Is Still A Timeless Piece of American Theater

July 5, 2018

What sounded like a gramophone played Christmas Island as the audience shuffled inside the second-story stage of the Lonny Chapman Theatre. Wind-blown debris and leaves adorned the entire stage and a tree snapped in half sat upstage. Patio furniture, newspapers and pipes helped set the scene of the Keller Family's backyard in August 1947. This was Arthur Miller's ALL MY SONS.
---
BWW Review: It's No Rumor… Neil Simon's RUMORS Is A Rollicking Good Time

June 18, 2018

North Hollywood's Lonny Chapman Theatre was packed Friday night for the opening of Neil Simon's RUMORS. This classic farce followed five couples that had all been invited to a dinner party to celebrate a sixth couple's 10th anniversary. However, everything changed when the couples discover the host (Charlie) had shot himself, his servants and hostess were missing, and dinner hadn't been prepared. What divulged was utter nonsense and hilarity.
---
BWW Interview: DOG SEES GOD Director Jesse LeNoir Talks About The Production, Why Simplicity Shouldn't Be Discounted And Why Live Theater Is Still Important

June 6, 2018

If you are an active viewer of Project Runway, Jesse LeNoir's name probably sounds familiar. The former contestant from Season 7 now resides in Los Angeles where he's an active actor and director. I caught up with LeNoir to talk about his current directorial work, Snyder Street Presents' debut production of DOG SEES GOD at The Sherry Theater in North Hollywood.
---
BWW Review: DON'T HUG ME, WE'RE FAMILY Has World Premiere in North Hollywood

February 19, 2018

The small house at T.U. Studios quickly filled as 8 p.m. ticked closer. The set was reminiscent of a small-town restaurant and bar set in the Midwest: Minnesota Viking banners adorned the walls and bar, a mounted deer head peered over the coat rack, and beer propaganda took up all other open spaces. A small table with a few chairs set center stage, and a bowl of mini pretzels sat on top of the table. It felt homey, warm and strangely inviting.
---
BWW Review: LEVI! A NEW MUSICAL Gives A One-Of-A-Kind Look Into The Life Of A Well-Known Name

November 20, 2017

Look in your closet. How many pairs of jeans have the renowned Levi Strauss patch sewn above the back right pocket? I have quite a few pairs but neglected to wear a single one to the premiere of LEVI! A NEW MUSICAL. Although I was disappointed in myself for this missed opportunity, I was not disappointed by this endearing, yet educational, show.
---
BWW Review: Impactful COLLECTED STORIES Is Cunning, Clever And A Delight To Watch

October 22, 2017

I sat down inside the 55-seat Dorie Theater at the Complex and started bopping along to the music, Gin Blossom's Hey Jealousy. I admired the set: It was made up of furniture with warm maroons and browns. It felt homey and inviting. A few other people trickled in while New Radicals' You Get What You Give played through the speakers. I thought to myself, Both of these songs are from the '90s. This is no coincidence. So I opened the program and noticed COLLECTED STORIES took place from 1990 to 1996.
---
BWW Review: West Coast Premiere Of MARION BRIDGE Shines To A Sold-Out Crowd

September 10, 2017

The neon blue Son of Semele sign casts faint light on to the outdoor lobby where the audience gathers until the house opened. As you walk inside the theatre, it is as if you were entering your high school's black box building. Thirty-five seats rest in front of the stage, and all but one were filled by the time MARION BRIDGE premiered Saturday night in Rampart Village.
---
BWW Interview: Clarke Peters, Creator of FIVE GUYS NAMED MOE, Talks About the Production at ERT, Louis Jordan and Whether LA Will Ever Become A "Theatre City"

May 22, 2017

Actor/singer/writer/director Clarke Peters first debuted FIVE GUYS NAMED MOE in the United Kingdom in 1990. Two years later it premiered on Broadway and ran for 445 performances. Over the last several years, FIVE GUYS NAMED MOE has been produced across the United States and the United Kingdom. On May 19, a refreshed version of FIVE GUYS NAMED MOE premiered at the Ebony Repertory Theatre in Los Angeles. I caught up with Peters to talk about the production, Louis Jordan and whether LA will ever become a "theatre city."
---
BWW Review: This play within a play will have you questioning, MURDER, ANYONE?

May 5, 2017

I entered the comforting lobby of the Whitefire Theatre in Sherman Oaks, received my press kit and took a seat near the window. The house opened in about 20 minutes, so I struck up a conversation with the man sitting a couple chairs away. He asked me where I was from. "South Florida," I told him. He went on to tell me how he lived in Miami for many years but eventually settled in Los Angeles. Unbeknownst to me at the time, I was talking to Gordon Bressack, the writer/director/producer of MURDER, ANYONE?, the show I was about to watch. He mentioned his son always questioned him about doing plays in L.A. when the bigger theater scene was on the east coast. Bressack always felt L.A. was more than just a city for film.
---
BWW Review: Powerful and Talented Musical Revue Will Make You ROAR

March 31, 2017

ROAR, standing for "Rock On American Resurrection," roared to life Thursday at its opening night at the Crown City Theatre Company in North Hollywood. In contrast to the intimate, quaint setting of a lobby no larger than my living room and a house whose maximum capacity has to be close to 100, ROAR made me (and probably the rest of the audience) feel like I was at a protest concert during the '60s (Act I) and '80s (Act II).
---