BWW Review: A Thought-Provoking LETTERS TO EVE Stamped With Melodious Vocal Talents
LETTERS TO EVE/music, book, lyrics by Daniel Sugimoto/directed by Julia Lisa/musical direction by Daniel Sugimoto/The Miles Playhouse/thru June 18, 2017
LETTERS TO EVE's creator Daniel Sugimoto has cast a stage-full of vocal knock-outs to more than ably assist in communicating his loving ode to his grandmother Midori, who was incarcerated in the American concentration camps during WWII. Sugimoto not only details interned life for the imprisoned Japanese-Americans, but cleverly counterpoints with innocents jailed under Nazi rule.
Sugimoto succeeds in introducing the realistic human relationships peppering his politically-charged story - the two boyhood friends Maki and Ray, Ray and the girl of his dreams Eve, Ray's mother Chinatsu and father Ken, the Nazi prisoners Eden and Archie.
Maki seems to be always advising his little buddy Ray what to do, but in moments of import, Maki needs Ray's advice/support more. Arvin Lee embodies Maki, the Big Brother/Best Friend every kid wish they had growing up. "Fighting Type" quite effectively shows off Maki and Ray's camaraderie and the vocal pipes of Lee and Melvin Biteng as Ray. Biteng completely charms in his innocence,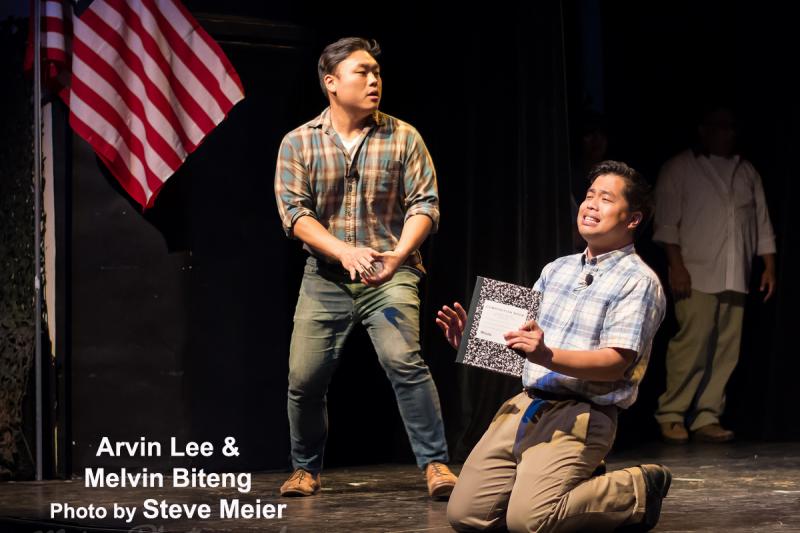 his naivety and his complete insecurity in asking Eve for a date, let alone just say hello to her. The 'seduction' scene (or rather the first time Ray actually says 'Hello' to Eve) features Maki feeding lines to Ray á la Cyrano de Bergerac. Too funny due to all three actors involved. Andrea Somera's powerful vocals soar as Eve. Somebody please give her all the lead roles Lea Salonga doesn't have time for!
April Lam and John Brougher, as Ray's parents Chinatsu and Ken, receive their moments to shine in the spotlight in Ken's "Melody for the Ages" and in Chinatsu and Ray's duet "No You."
As the Nazi-captured negro musician Archie, John F. Thomas makes maximum use of his dulcet tones initially leading the entire ensemble in "Lonely Heart." In an interesting, unexpected twist, Archie's German commandant Dierk has taken an interest in Archie's musicality, asking him for guitar lessons. Austin Schumacher sternly maintains Dierk's formal German military posing and facade until his inner love for music avails itself to Archie, revealing the possibility of a real human being underneath the monster he acts on and presents to his troops.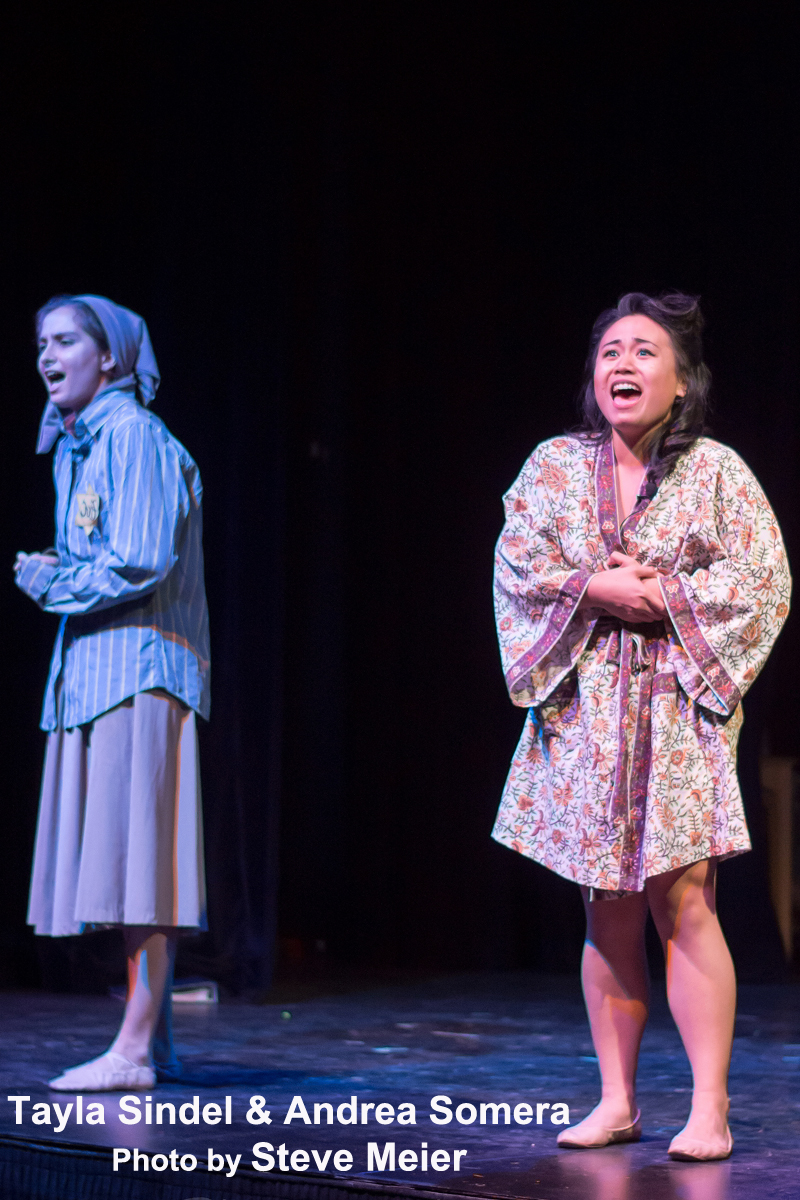 Talya Sindel inhabits the cautious, inhibited Jewish Eden who reluctantly starts a kinship with fellow inmate Archie. Eden and Archie's fantasy sequence in "Eden's Waltz," in a literal blink of the eye changes from prison cell to ballroom with costumes to match (á la CINDERELLA). Very nicely done!
Sindel and Somera share a lovely "split-screen" duet in "I Know" singing about Eden and Eve's respective lovers.
Sugimoto has his own solo moments to grab centerstage in his two characters: as Lieutenant Craft ordering his new Japanese recruits in "Man With No Name" and as Nazi officer Volker lording over Archie in "Where's Your Music Now?"
Others integral in this production include: Karen Takahashi, Derek Mateo, Shervin Biteng, Saki Miata, Marcel Licera, Coppélia Morris, with Felicity Morris, Abigail Somera, Elise Zell, Hanna Sturgeon, Linda Gohata and Cindy Tsai.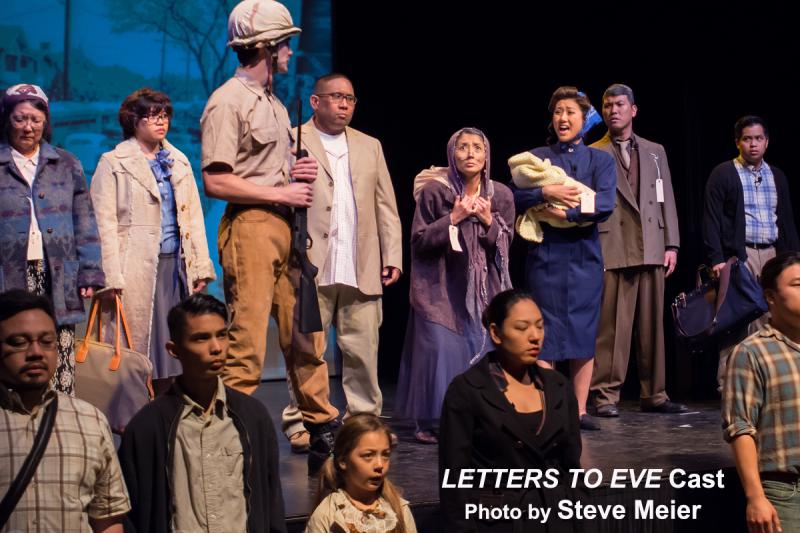 Another talented multi-tasker of LETTERS TO EVE, director Julia Lisa production designed, choreographed the performers (as well as the set changes), and compiled the slide show backdrop invaluably depicting the various camp sites, prison cells, and front lawns of the play's subjects.
The sound system in the Miles Playhouse with the piped instrumentals seemed a bit low on volume. But that being said, the instrumentals never overshadowed the vocals.
With a little judicious editing, this two-and-a-half hour production could be tightened and trimmed into an even more effective message against intolerance. (While one principal's death scene's staged so quickly, his actual cause of death's left in question. Another's death scene went unrealistically long, even for a musical, in spite of the actors'capabilities.)
But grandmother Midori certainly has lots to be proud of her grandson's efforts.