BWW Review: A Deceptively Devilish MAN OF GOD
MAN OF GOD/by Anna Moench/directed by Jesca Prudencio/David Henry Hwang Theater at the Union Center of the Arts/thru February 24, 2019
East West Players solidly world premieres playwright Anna Moench's MAN OF GOD, a witty, biting account of four teenage Korean girls on a prayer mission to Thailand under the guidance of their male pastor. With the intent to spread the word of God to the residents of Bangkok's Red Light district, these four youngsters (of varying sophistication and
religious fervors) share a hotel room and the recent discovery of an item hidden in their bathroom. What starts off as a mish-mash of teenage bickering and clashing personalities smoothly morphs into a serious depiction of sexual tragedies and their responses.
The uniformly talented ladies of this cast quite believably portray their respective teenage angst as they each deal with this finding in their individual, distinctive imaginations, revealed oh, so vividly on stage for the viewing pleasure of the audience.
SunHee Seo's so passionate and innocent as Samantha, the true believer in the words of God and the lessons of her Pastor, who can do no wrong in her eyes. Katherine Ko's so heartbreaking as the rationalizing Kyung-Hwa, almost robotically differentiating the levels of questionable behaviors. Her defense of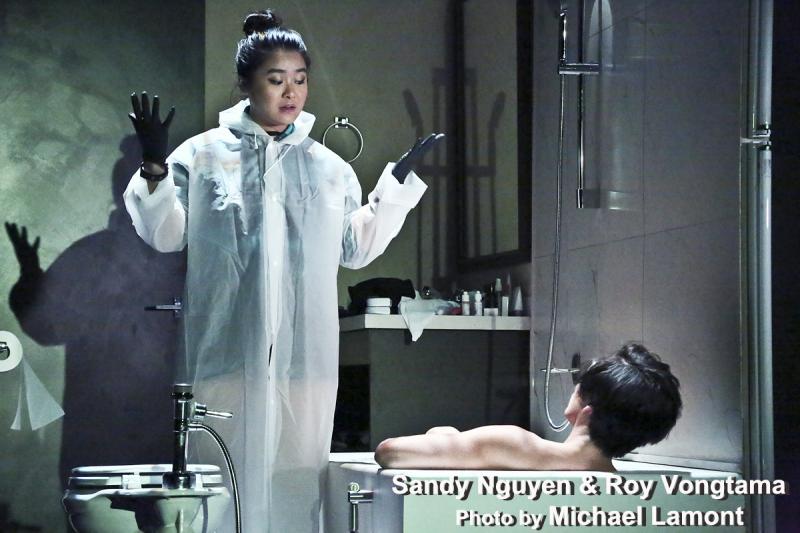 the perceived actions of Pastor's will unexpectedly tug your heartstrings. Michele Selene Ang's most mature as the sensible Jen as she regularly weighs the pros and cons of their given circumstances. Sandy Nguyen's wonderfully blunt as the westernized Mimi, who keeps taking God's (and others') name in vain.
Roy Vongtama, purposely unsympathetic, rounds out the cast as Pastor, the object/target of these girls attention.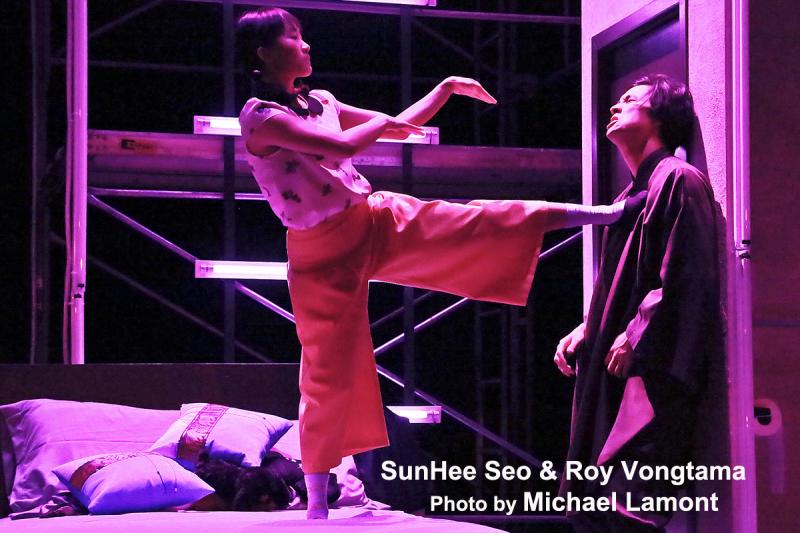 Director Jesca Prudencio keeps the pacing fluid and smartly paced as the real life situation turns into each girl's imagination sequence, then back to the unpleasantness at hand.
A most inventive imagination scene features Samantha and the Pastor dueling in a sword fight (brilliantly choreographed by fight director Andy Lowe) with great unhidden assist from the head-to-toe, black-clad kurokos (kabuki stagehands), and expertly executed by Seo, Vongtama and the hooded stagehands. Kudos to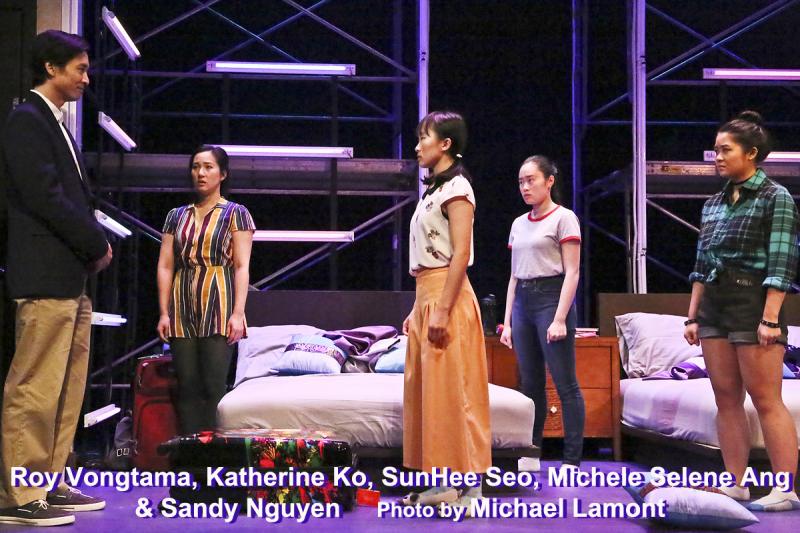 scenic designer Justin Humphres' multi-leveled scaffolding backing the hotel room/bathroom, complemented by lighting designer Rebecca Bonebrake's colored fluorescents and effective mood lighting.
The ending might not be as satisfying for some. As I would prefer, unusually in this particular case, the conclusion less definite and left more open to audience interpretation.
Related Articles View More Los Angeles

Stories

Shows
From This Author Gil Kaan