Review: 3-D Theatricals Replicates a Sizzling MILLION DOLLAR QUARTET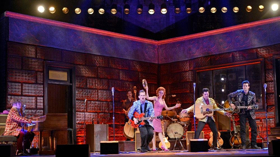 Million Dollar Quartet/book by Colin Escott and Floyd Mutrux/original concept and direction by Floyd Mutrux/inspired by Elvis Presley, Johnny Cash, Carl Perkins and Jerry Lee Lewis/3-D Theatricals at Redondo Performing Arts Center through February 18/Cerritos Center for the Performing Arts: February 23 - March 4/musical direction by David Lamoureux/original direction recreated by David Lober
New York critics gave many unfavorable reviews to Million Dollar Quartet for what they called a dearth of dramatic tension onstage, but it went on to receive a Tony nomination for Book of a Musical in 2010 anyway, and based on the overly passionate delivery of the sizzling artists recreating the show for 3-D Theatricals, there's enough fervor to bring audiences to their feet and shakin' in Redondo through February 18 and then in Cerritos until March 4. On opening night there was indeed an extra long standing - and swaying - ovation to "Whole Lotta Shakin' Goin' On".
The story is based on a true event that occurred in 1956 in Memphis Tennessee at the small studio of the Sun Record Company where Jerry Lee Lewis (John Countryman), Carl Perkins (Michael Monroe Goodman), Johnny Cash (David Elkins) and Elvis Presley (Cole) unexpectedly came together. Sam Phillips (Zachary Ford), known as the Father of Rock and Roll, owned the studio and had requested Cash come by to sign a new contract. The brash country boy Jerry Lee Lewis was a new client that Phillips was trying to groom. Perkins' only hit song "Blue Suede Shoes" had been taken away from him by Elvis and became a chart-topper ... and that pitted the two against each other. Strangely, Elvis felt insecure at RCA and wanted back with Phillips where he felt more comfortable, whereas Cash had just signed with Columbia. He had a hard time relaying his decision to Phillips. who had given him his start, but he desperately wanted to segue from country to gospel. Phillips thought it unwise; Columbia guaranteed him success with this change of direction. Both Perkins and Cash bowed out of Sun Records, and Elvis decided to stay with RCA. Phillips initially felt betrayed and was left to catapult Lewis to stardom. The only female in the ensemble Dyanne (Adrienne Visnic) came as Elvis's date and sang a couple of solos including "Fever". Phillips recorded the session, but because of the rights to various studios, the recording was never released. This particular session with its joy and pain, is the core of the storyline for Million Dollar Quartet.
The entire cast is electric under David Lober's flashy direction. As with Sondheim's Follies, it is character that counts more than plot and each real life character is portrayed with a unique style down to the smallest detail, especially when they sing...which is a lot. Cole does well with the suave, sexy but boylike Elvis in looks and voice; Elkins remarkably reproduces Cash's deep velvety vocal sounds; Goodman plays a mean guitar, recreating Perkins as the dynamic musician that he was and Countryman is literally a 'Great Ball of Fire' as the redneck, rambunctious spitfire Jerry Lee Lewis. Each has a quiet moment or two, and slight, subtle reactions speak volumes. A few words about Zachary Ford as Sam Phillips: he has the big dramatic nonsinging role and shows remarkable skill bringing out the inner turmoil of his character. Visnic is stunning and supportive towards the boys and holds her own with a song. Musical director David Lamoureux (drummer) and Omar D. Brancato (bass player) complete the electrifying ensemble.
Songs, apart from those already mentioned, include: "Memories Are Made of This", "Down By the Riverside", "Sixteen Tons", "Long Tall Sally", a stunning "Peace in the Valley", "I Walk the Line", "I Hear You Knocking", "Hound Dog", "Ghostriders in the Sky", and "Who Do You Love?"
For fans, it's heaven; for the younger generation, what a way to experience 50s music! Derek McLane's original set of the studio is simple but appropriate to time and place, as are the costumes based on Jane Greenwood's original design. What stand out here, first and foremost, are the trail-blazing musical performances of four true legends. It's nostalgia plus, a replica of our culture that should never die.
(photo credit: Caught in the Moment Photography)