BWW Interview: Tracy Nicole Chapman Rehearsing SHOUT SISTER SHOUT! at Pasadena Playhouse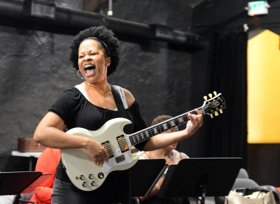 Actress/singer Tracy Nicole Chapman is best known for originating the role of Shenzi in the Broadway production of The Lion King. She also appeared on Broadway in The Who's Tommy, Caroline, or Change and Cy Coleman's The Life. Other theatre credits include the Broadway revivals of How to Succeed in Business Without Really Trying, The Music Man, and Into the Woods. She also toured with Jelly's Last Jam, Dreamgirls and Once on This Island. She is about to star in a world premiere musical Shout, Sister, Shout! about the life of gospel singer Rosetta Tharpe. Chapman took time out of her busy schedule to chat with us about the musical and playing Rosetta Tharpe.
Tell us about Shout, Sister, Shout and what in your opinion makes it different from other musical biographies.
I think the biggest difference is that Sister Rosetta Tharpe is not a "household name" and what she accomplished is somewhat unknown to most people. A lot of people can identify with a story about the Four Seasons or Billie Holiday, but Sister Rosetta Tharpe was an African American woman who is considered the "Godmother of Rock and Roll" which makes it sad and interesting that she hasn't been widely recognized as such. She was a "Hidden Figure." She influenced Elvis, Johnny Cash, Little Richard and more. However, RAndy Johnson and Cheryl L. West have managed to create a universal story that should appeal to a wide variety of audiences while still capturing the essence of who Sister Rosetta Tharpe was and why she needs to be recognized and honored.
The Lion King
Musically, the life of Rosetta Tharpe covered a lot of territory with rock, blues and gospel. Tell us about her background and what propelled her into show business.
What I discovered was that she was a child prodigy. She played guitar and piano at the age of six years old. Her mother was an evangelist and she took her across the country to spread the gospel in the 1920s. Not much is know about her father, but we do know that he was also a singer as well. Her mother Katie Bell Nubin left her father to preach and perform with Rosetta in various churches and on street corners.
What challenges are you experiencing as an actor in preparing to play her?
Cheryl L. West has created a very compelling character with what we do know about Sister Rosetta which is somewhat limited in regards to what her personality was really like. The challenge I face is capturing all of the nuances that make her whole and not just the typical story of a musician who rose to fame with a background in the church. She was a pioneer and we really want to convey that she had her own special relationship with the Church and God and a trailblazing style of performing as well as unexpected personality. We do also cover a lot of musical styles which makes for an good vocal workout. She sang secular music as well as gospel and jazz and we also have some popular music added to the mix courtesy of the fantastic Melissa Manchester.
Did you have a mentor in show business? Or who are some of the other female singers who influenced you and your style?
I didn't have a mentor necessarily, but I grew up listening to all styles of music from Gospel, to Rock to Pop. R&B, Alternative Rock, Broadway. I am huge fan of folk and roots music. Odetta, Joan Armatrading, and I love Led Zeppelin and Pink Floyd. When I was little I wanted to sing like Patti LaBelle and Chaka Khan and Julie Andrews and Bjork. HA! And I love hip hop! I am a little schizophrenic in my musical tastes, it depends on my mood. I used to perform on Broadway and then head downtown to play with my band back in the day. Being a musician, I can appreciate all music and can usually find something in anything that strikes my ears.
Caroline, or Change
Which Broadway show(s) - of those you have done - is (are) your favorite(s)?
That's a hard one! As far as music and story I think I would have to say Caroline or Change. It's just beautifully written and a joy to sing every night. I really like emotional shows, the contrast between dark and light. I also loved The Who's Tommy, that cast and music was phenomenal and it didn't hurt that Pete Townshend was hanging around. The Lion King is definitely an all time favorite, I have made some of my best friends from that cast and it was an honor to work with that creative team. Jelly's Last Jam... George Wolfe is a master! Into the Woods, working with Stephen Sondhein was a dream. Too hard to choose! :)
Is there one role you are really yearning to play?
Hmm, I heard that Black Orpheus was coming to Broadway. I love that movie and have seen it a million times. I don't have to play a role in it, I can be the third lady from the left and I would be happy hearing that music and telling that story every night :)
How is it like working with director RAndy Johnson and your fellow cast mates?
RAndy Johnson is a very giving director. I really appreciate that he is open to suggestions and considers the journey a team effort. He definitely has his vision, but is flexible and I think that is an exciting working environment to know that the director values his actors opinions. Even though we have only been working together a short period of time, the cast feels like family. I am amazed at how talented and professional this group is. They are performing multiple roles to perfection and jumping in with abandon. The band and Muscial Director Rahn Coleman are exceptional as well as the crew making sure everything runs smoothly. Working at Pasadena Playhouse has been a wonderful experience.
Anything else about the show you care to add?
I just hope that people will attend our show with an open mind and open heart and leave with a feeling of compassion for the story we are telling and a sense that we are all connected in ways that we couldn't begin to imagine as well as an understanding of what this woman Sister Rosetta Tharpe was able to accomplish in her lifetime under incredible circumstances.
Chapman in The Music Man
SHOUT SISTER SHOUT! will begin performances on Wednesday, July 26, 2017 and run through Sunday, August 20, 2017, with the official press opening on July 30, 2017 at 5 p.m. Performance schedule is Wednesday - Friday evenings at 8:00 p.m.; Saturday at 4:00 p.m. and 8:00 p.m. and Sunday at 2:00 p.m. and 7:00 p.m. Note that there will be one Tuesday performance on August 15 at 8:00 p.m. and no Sunday night performance at 7:00 p.m. on August 20. Tickets range from $25 - $115.
Tickets for SHOUT SISTER SHOUT! are available online at PasadenaPlayhouse.org, by phone at 626-356-7529 or by visiting the Pasadena Playhouse Box Office, located at 39 South El Molino Avenue, Pasadena, CA 91101. For more information on all productions at Pasadena Playhouse visit PasadenaPlayhouse.org.

Related Articles View More Los Angeles

Stories

Shows