Interview: Tommy Faragher, Musical Jack Of All Trades, Playing For John Lloyd Young Is SOLID GOLD
Tommy Faragher will next be onstage playing live for JOHN LLOYD YOUNG: SOLID GOLD at Feinstein's at Vitello's October 22nd and 23rd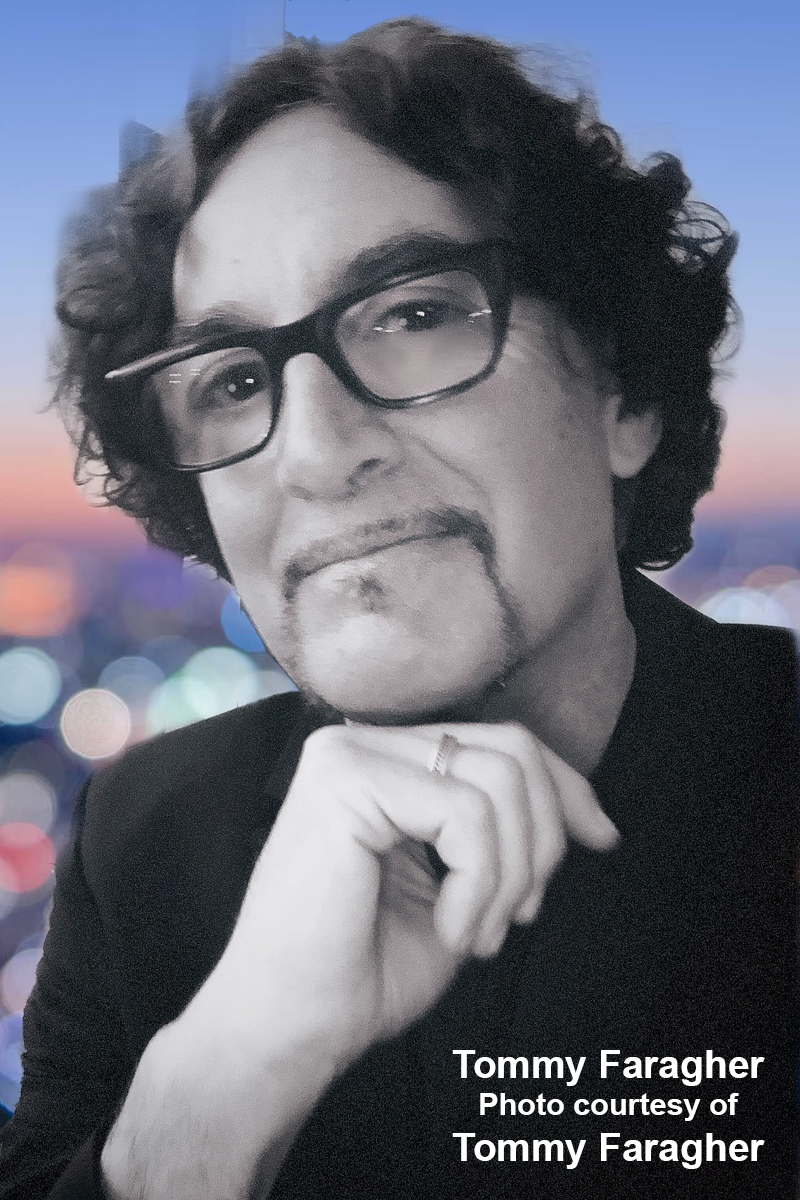 Tommy Faragher, a long-time denizen of the entertainment industry, will next be onstage playing live for John Lloyd Young: SOLID GOLD at Feinstein's at Vitello's October 22nd and 23rd. Had the chance to delve into Tommy's storied resume as a producer, composer, songwriter, arranger, and musician.
Thank you for taking the time for this interview, Tommy!
Thank you, Gil! It's my pleasure.
I have seen and heard you many times playing ever so brilliantly with John Lloyd Young at Feinstein's at Vitello's. What can you share of the very first time you and John met at his gallery showing in 2012?
Well, actually John was exhibiting his art at a gallery in South Florida owned by the stepmother of a musical collaborator of mine. John was also performing at the event and my friend suggested that John should get back in the studio to record. I had just recently moved back to Los Angeles to work on the TV show Glee, so he recommended that I work with John since John lived in the L.A. area and gave him my contact info. Shortly after, John reached out to me, and we went into the studio to record. I was blown away by his voice and passion and we developed a creative bond.
Do you two have a shorthand in communication when you're talking music?
We tend not to talk too much about the music. It's more about the music itself and how it feels. We try things out and see how it communicates, if it's not working, we move on. It's very instinctive and we pay attention to our vibes which prove to be an accurate guide.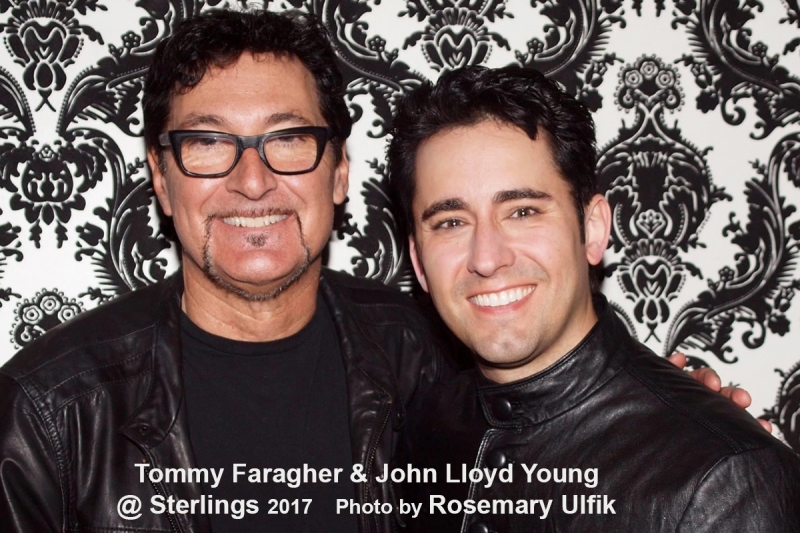 Does John keep you too busy to play with others? Or do you carve out time to play for other singers?
I must say we are very busy. In the twelve months prior to the pandemic, we did dozens of shows, of course that all changed. I love working and have been lucky to write, produce and score for multiple projects. I just recently produced two songs for the Ryan Murphy TV series Pose finale.
You've performed alone with John on a number of Zoom shows during these pandemic months. How did it feel to finally perform live onstage with your re-united L.A. band (Davey Faragher on bass, Pete Thomas on drums and Marcus Watkins on guitar) on the recent hybrid Zoom/live REUNIONS?
It was such a relief to get back on stage with the band. We had a blast!
How did it feel to have Davey sharing the stage with you after all these years since The Faragher Brothers disbanded?
Davey is the best bass player in the business, and I'm not just saying that because he happens to be my brother. He is the best and can bring me to tears of joy with his brilliant sense of humor.
You guys have been busy since your REUNIONS show at Feinstein's at Vitello's. How have the gigs since gone (View Center for the Performing Arts, White Plains Performing Arts Center, the Feinstein's at Nikko gig in San Francisco)? Any unexpected audience reactions take you by surprise?
The shows have been going great! The crowds have been much larger than I expected and there is an aura of excitement and enthusiasm in the air. Once this pandemic is contained, I think we will see record-breaking audiences. We need to be human again and live music is one of the missing elements we are all starving for.
In all the years you're performed, what's the most outrageous audience reaction you've experienced? Fans storming the stage? Underwear thrown? A streaker running across?
Back when I was promoting my single from the Staying Alive soundtrack, it was common to have spandex-clad dancers on stage with you. I was shooting a live video performance and one of the dancers did a twirl and his fist smacked me in the eye. I was wearing contacts at the time and the contact flew across the stage. The director thought it was so funny and played the video back over and over in slow motion and everyone on the set thought it was hysterical. Meanwhile I couldn't see, and I had this huge black eye, so I had to do the performance with my head turned to the side. Sorry no underwear story.
You must have John's musical director for a while now. How much rehearsal do you have John do with the band before each gig in the various venues?
It depends on the set list and the location of the gig. We have an L.A. band, a Las Vegas band, a South Florida band, and a New York band so they will know our basic set of songs. If we add new songs or drastically change the set, we might have a rehearsal otherwise we use our sound check to practice.
The set list for the next show SOLID GOLD will be fairly similar to the set John did in your Las Vegas Zoom show earlier this year. How would you define the SOLID GOLD years?
The 70's are an amazing period of music to mine from. There were a lot of changes going on in the world, but music was still the uniting force coming out of the 60's. The big Motown artists were doing remarkable solo albums like Stevie Wonder, Marvin Gaye, Smokey Robinson etc. and they were exploring new areas of expression. You had all of the Philly stuff from Thom Bell and Gamble and Huff as well as other regional musical explosions from Memphis like Al Green and TK Records in Miami. We also had Chicago's Curtis Mayfield and the recording studios in New York and Los Angeles cranking out hit after hit. It was such a gold mine of great music!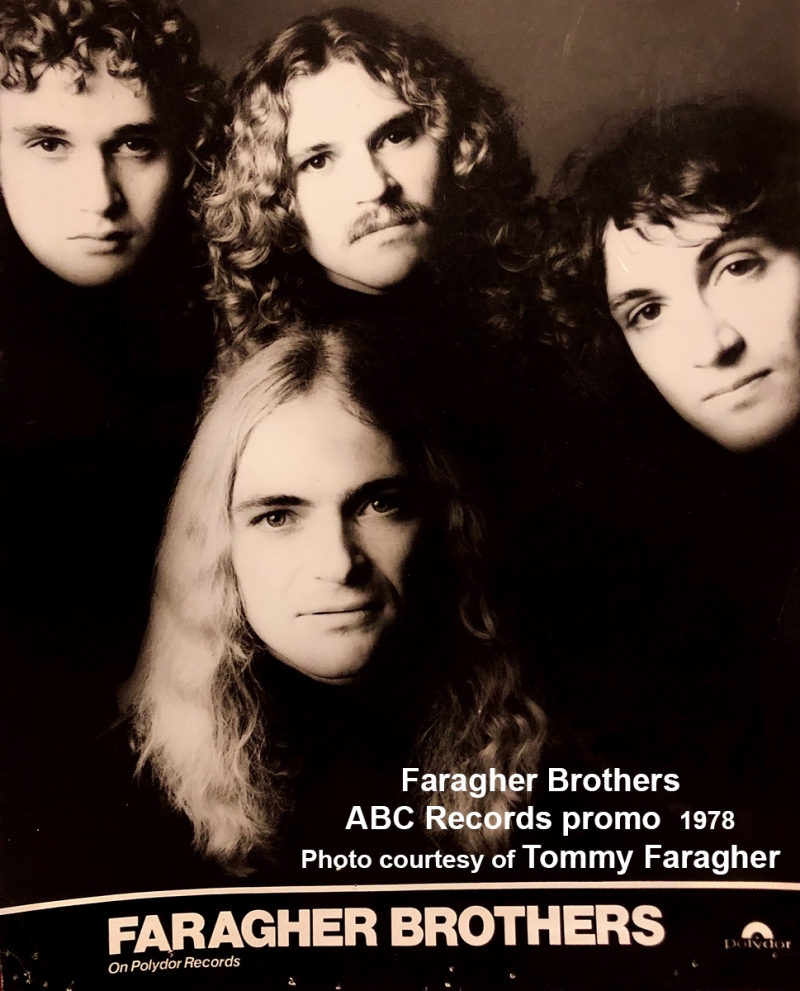 What artists will the audience be hearing John cover?
The Stylistics, Stevie Wonder, Earth Wind and Fire, Olivia Newton John, Luther Vandross to name a few.
You started your musical career as a singer and keyboardist for your family group The Faragher Brothers. What initially drew you to study piano?
Music was just an everyday part of my family's existence. My older brothers had band rehearsals in our living room every Sunday afternoon as far back as I can remember. Our mom was a wonderful singer and played the piano well, and she made sure that all eight of us kids took piano lessons at some point.
The Faragher Brothers was the first all-white band to appear on Soul Train. What do you remember of that experience?
We were being managed by Diana Ross's husband at the time Bob Ellis, he also managed Rufus and Billy Preston. The record company wasn't sure how to market us because we looked like a rock band, but we sounded more like The Spinners. We started doing live shows with Rufus and groups like Tower of Power and Willie Hutch. We appeared on Soul Train along with Rufus and other great artists. The set was small, and the dancers were amazing. Don Cornelius was in total control. No one made a move without his approval. It was over before we knew and the whole experience felt like a dream.
What gives you more gratification: playing and singing live onstage? Or hearing that a song you've written or produced made the top of the Billboard charts? Those are two totally different forms of gratification. Each providing important musical feedback that makes it all worthwhile. Getting on stage gives you a much-needed opportunity to see how your music is being received first-hand. You can see what works and what doesn't and make necessary tweaks either in your performance or arrangements. Hearing your music on the radio and having a hit is an awesome feeling because you realize that you are reaching a massive audience and they are liking your music which buys you more time and opportunity to continue to make more music in the future.
Do you frequently jolt down notes on daily observations that can eventually develop into song?
There are great song titles everywhere and I always keep a pad for jotting down ideas.
You had a very lengthy resume of projects and songs you either wrote, produced, or sang backing vocals for. If we covered all of them in depth, we'd be writing a book instead of conducting this short interview. Sooo... how about I name an artist, a song or a project and you say the first word or a sentence that comes to mind.
Kiss: Not while wearing a mask.
Al Green: He sat on my couch with his guitar and played me "I'm So Tired Of Being Alone." I was in awe!
Ringo Starr: The best pop drummer ever. He didn't have a work visa at the time we recorded background vocals, so everything was secretive and incognito. Staying Alive: Headbands and loin cloth brought me a Grammy Nomination. Dusty Springfield: A mentor and friend that I miss. She taught me a lot about recording vocals and perfecting performances.
Vanity: My first big music production for Motown. She was a good soul and we had a blast making her album. Under The Influence went Top 10 RnB and opened many doors for me.
Kelly Clarkson: A total professional with an exceptional voice and wonderful attitude.
BB King: I got chills when I heard his voice singing my song.
Josh Grobin: Amazing vocal instrument! Enjoyed recording him and working on the set of Robin William's The Crazy Ones together.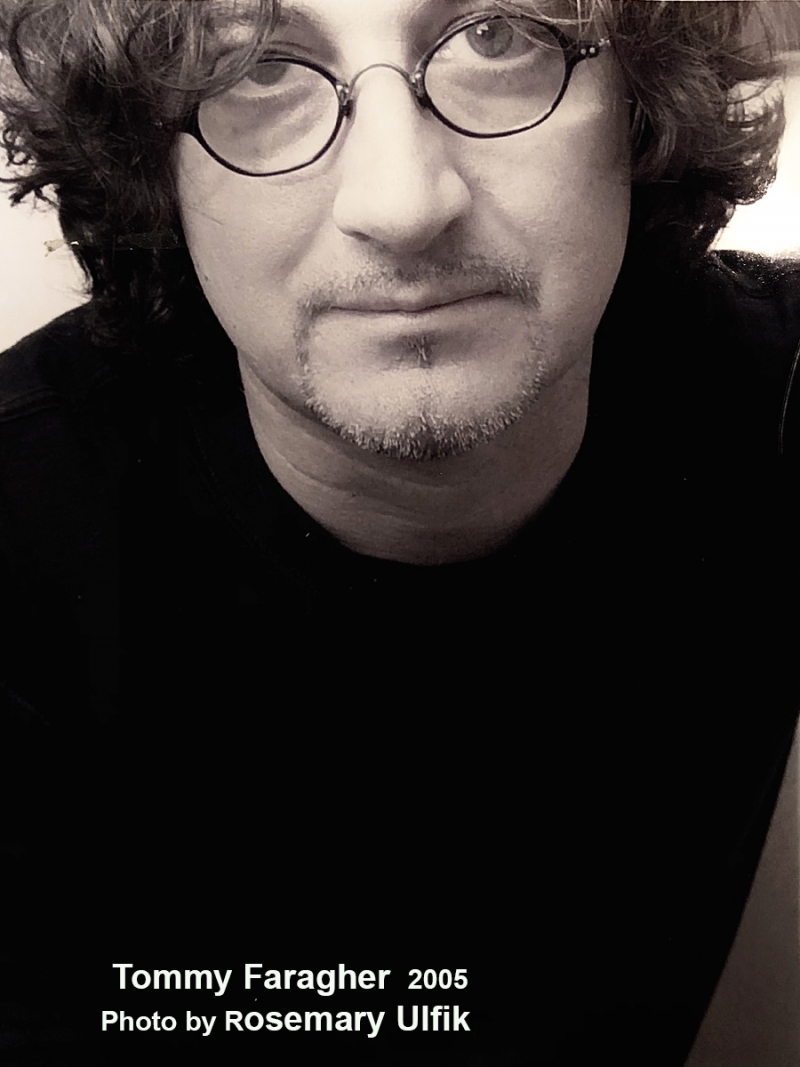 Celine Dion: Very professional, learned the vocal and sang it exactly right the first time, one of a kind.
Taylor Dayne's "With Every Beat of My Heart": Something that could have easily not happened but did and resulted in a Top 5 hit. I am forever grateful.
Paul Young's "What Becomes of the Brokenhearted": Love Paul's voice and worked hard on this one but we ended up with a #1 hit.
Australian hit TV show Pop Stars: Flew 24 hours to Sydney, got picked up from the airport and went straight to the recording studio. Went into the studio surrounded by cameras and met the group Bardot who were playing pool in the lounge. Then I abruptly hear someone call out, "Cut! Now Tommy go back outside and come back into the studio door and pretend like you never met the group. We need to change the lighting!" That became my life for the next few months, every session and every moment of the group and my life was being recorded for a TV show. The show went to #1 and the album and first single went to #1. All in all, it was a great experience, and it was the show that spawned American Idol here in the U.S.
Glee: Working on Glee was a huge challenge and required a 24/7 approach. Ryan Murphy wouldn't hesitate to ask for multiple changes at the last minute and I had to work hard to meet each deadline. "Teenage Dream" was the first recording we did and it surprised everyone when it became such a huge hit that launched Darren Criss into super stardom. After "Teenage Dream," Ryan just kept coming up with more and more songs for me to produce, it was definitely a career milestone moment.
Jeremy Jordan's "The Right Kind Of Love" in Beverly Hills, 90210: We made a great demo of this song with Robbie Nevil singing the lead vocal We pitched it to Color Me Bad and the record company wanted it for the 90210 soundtrack but Color Me Bad wanted to write their own songs for the soundtrack. Irving Azzoff who was the label head at the time decided to give it to a young singer he had found that had never worked in the studio before, Jeremy Jordan. We spent hours working with him going line by line to match Robbie's demo vocal and we were quite happy with the results. The song took off when he became the #1video on MTV's request show and we ended up with a big hit record.
TV movie The Normal Heart: I have always loved the Gershwin song "The Man I Love" and when Ryan Murphy asked me to do an acapella version with the Gay Men's Choir I loved the idea. When I saw the finished version in the movie, I was very moved by it, and I think we properly captured the emotion of the moment. Your publishing deal with 20th Century Fox in 1980: I decided that I needed a publishing deal, but I had no idea of how to get one. So I recorded very rough tracks on a cassette tape from one cassette recorder to another, first a piano, then a synthesizer stacking up a little track for playback. I got the names of all of these song managers for a bunch of publishing companies and set up appointments. I would walk in the door, hand them the cassette and they would press play. At that point I would start singing across the desk from them because the demos didn't have vocals so I would sing live. This would always surprise them but out of respect they would mostly let me sing up to the chorus. When I went into 20th, Andre Fischer, who had been the drummer for Rufus, had just started working as an in-house producer for the company and he remembered me from our shows together in The Faragher Bros. When he heard my demos, he wanted to sign me and take me into the studio to record.
Your publishing deal with MCA Music in 1986: Carol Ware who was the wife of the famous writer, producer, artist Leon Ware wanted to sign me to a pub deal when she was at a different publisher in 1980 but her boss rejected the idea. Now she was working at MCA, and I had been nominated for a Grammy and was producing albums and getting cuts, so she signed me to MCA. It was the beginning of a long and fruitful relationship, and I made a lot of great friends and met many musical collaborators.
Your publishing deal as staff writer for Warner Chappell Music in 1996: I was having a lot of success in the UK with groups like Eternal that gave me a Top 5 record with "Oh Baby, I..." as well as many other productions and writing assignments, so I signed a deal through the London office with Warner Chappell Music. The UK became my second home in 90's as I was flying back and forth working with many top artists there. Once again, it's really about the people you know and the connections you develop that keep you going.
What's in the near future of your publishing company Remote Access Music Incorporated?
I just built a new recording studio in the Palm Springs area, and I am launching my new record label "Coachella Records" shortly. I will be focusing on honest from the heart music with believable vocals and instrumentations.
What else is in the near future for Tommy Faragher?
John and I just finished recording two CD's worth of material and I have been completing and editing the mixes in my new studio. It's been going great and I'm excited for everyone to hear the results.
Thank you again, Tommy! I look forward to seeing and hearing your SOLID GOLD playing in October 22nd.
Thank you, Gil for the opportunity to speak to the world!
For tickets to both the live performances October 22nd and 23rd of John Lloyd Young: SOLID GOLD, as well as the livestreaming October 23, 2021; log onto www.feinsteinsatvitellos.com
To check out my interview with John Lloyd Young, click here.