BWW Interview: Stewart Copeland POLICE-ing The ORCHESTRA For All
Stewart Copeland brings his touring show STEWART COPELAND: POLICE DERANGED FOR ORCHESTRA to The Soraya November 4th
Stewart Copeland brings his touring show STEWART COPELAND: POLICE DERANGED FOR ORCHESTRA to The Soraya November 4, 2021. The much-lauded drummer (hailed by Rolling Stone Magazine as "one of the greatest drummers of all time"), now also composer; Stewart performs his compositions of his dearrangements of songs he'd played while in the very popular band The Police.
Thank you for taking the time for this interview, Stewart!
The Soraya is the fourth stop of your STEWART COPELAND: POLICE DERANGED FOR ORCHESTRA tour. Was your U.S. premiere at San Diego's Shell in August, the first time you've performed live since the lockdown?
There was an Oysterhead show at the Peach Festival last July. It was everyone's first show. All the bands killed it, even the jazz jam bands.
How did it feel to be working your drumsticks live for a live audience again?
Very exciting. And a relief to know that the gear still works.
POLICE DERANGED was birthed from your 1978 Super 8 film of behind the scenes of the Police which you released as the finished film Everyone Stares: The Police Inside Out in 2013. Was this current production of POLICE DERANGED always in the back of your mind all these years while you were working on other projects?
Actually no. The Derangements derived from making the music fit the movie. Years later there was pressure on me to do something Police-related as an orchestra show and the idea flashed to orchestrate all of those cool hidden parts, concepts and live improvisations that I had discovered on the multi-tracks while carving up the music for the movie.
I love your title using 'deranged.' It has quite a few interpretations. What was your light bulb moment to use 'deranged' instead of 're-arranged'?
"Deranged" gives a better impression of the wild liberties that I took with the music. A sane arranger/orchestrator might have been more timid and respectful but my sense of ownership allowed me to do stuff that would have gotten a professional fired. My connection with the songs had always been in the context of banging shit at the back of the stage, but getting into orchestrating the material deepened my admiration for my two colleagues.
Do you get at least one rehearsal with each orchestra accompanying you, like the L.A.-based Re-Collective Orchestra led by Cheche Alara?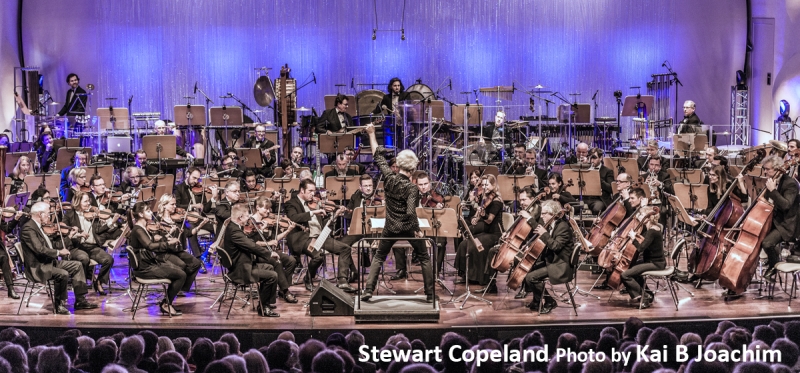 Yep, sometimes two rehearsals but with the likes of the Cleveland Orchestra one read is all they need. A rock band would need weeks to get this organized. In this world all you have to do is put it on the page and the orcs will nail it.
Have you worked with members of your POLICE DERANGED band before? (Rusty Anderson on the guitar, Armand Sabal- Lecco on bass and three singers-- Ashley Tamar, Carmel Helene and Amy Keys.)
The Derangettes are a new posse for me. They are all the most respected singers in L.A., and I'm blessed that they leapt at this show. The Riff Rockets - Rusty, Armand and I have been chuckle buddies for decades. We meet up every Sunday on the bike path and propound wild conspiracy theories, get rich schemes and idle bullshit but our real bond is that they are two of the world's deepest musicians. Rusty played in Animal Logic back when and his current day job is with Paul McCartney. Armand (between gigs with Paul Simon and Peter Gabriel) has been my boon bass in every manner of musical enterprise.
How cool for you to be performing 'deranged' versions of your Police hits. Is there any one particular song you never get tired of drumming for?
"Can't Stand Losing You / Regatta de Blanc" medley never gets old.
What's the craziest audience response you ever witnessed?
It's a miracle every time when folks respond the way they do when I aggress upon inanimate objects. But one standout would be the night Henry Padovani (Police's original guitarist) walked onstage at the Stade de France. He's French, they're French and the sudden explosion from eighty thousand screaming Gauls was the loudest thing I've ever heard. Emotional as heck too.
Your tour of POLICE DERANGED is booked through March 2022 for the U.S with a stint at The Royal Concertgebouw in Amsterdam in August 2022. Is there time for composing a new ballet or opera or film score in between performances?
Yes, two operas actually. One of them THE ELECTRIC SAINT opened at the Deutsch National Theatre in September and the other WITCHES SEED opens at Tones In the Stones in Italy next summer. Composed previously but still running is SATAN'S FALL with shows coming up at Pepperdine University, Minneapolis and Huddersfield.
Is there a venue that you've never played at that you would still love to jam in?
Well, the Albert Hall in London is a long-held aspiration, as well as seeing one of my operas go up at ENO or ROH in London. OK, the Met would be cool too.
Is there a particular subject you would still like to tackle as a ballet or an opera or a film?
Finnegans Wake is still out there...
Thank you again, Stewart! I look forward to hearing your deranged versions of my favorite Police hits at the Soraya.
For tickets for the live one-nighter of STEWART COPELAND: POLICE DERANGED FOR ORCHESTRA November 4, 2021; log onto www.thesoraya.org