BWW Interview: Lea Salonga - A Tony's First Comes Full-Circle in Hollywood Bowl's ANNIE
ANNIE, this year's Hollywood Bowl Summer Musical, will be performed by an all-star cast July 27, 28 and 29. Each year, a condensed version of a full-length Broadway musical corrals name performers from theatre, television and music with crazy, busy schedules that normally wouldn't be available for a full musical schedule commitment. Previous Hollywood Bowl Summer Musicals have included MAMMA MIA!, A CHORUS LINE, SPAMALOT.
We have the opportunity to chat with Tony Award winner Lea Salonga, who will be playing Grace Farrell in this production.
Thank you for taking the time for this interview, Lea!
You will be playing Grace Farrell in this Hollywood Bowl production of ANNIE. When you played the title role of Annie in 1980 in your hometown Manila, did you ever imagine you'd revisit ANNIE in a grown-up role?
Never. I never thought I'd ever get to revisit this show once my stint as Annie was done. So when Michael asked me if I'd be interested in playing Grace for the Hollywood Bowl production, I was thrilled! This is a show that has great sentimental, professional and personal value for me., So to say I'm excited is a huge understatement.
Does being in ANNIE again feel like coming full circle in any context of your career?
Yes, it absolutely does. It hit me when I was singing along to "I Think I'm Gonna Like It Here" in my car as part of my preparation, and I started bawling! I couldn't continue singing! That's when I realized how big of a deal this was going to be, so I have a feeling, I'll start bawling at some point in rehearsal.
Have you seen any other productions of ANNIE since your starring role in 1980? The only other ANNIE I ever got to see was when Lilla Crawford played the titular role at the Palace Theater in 2013 after we had worked together in RAGTIME (2013, Avery Fisher Hall). I brought my daughter Nicole along to watch as well.
Michael Arden, who directed you in last year's ONCE ON THIS ISLAND will be directing ANNIE. Have you two developed a shorthand now in your actor/director relationship?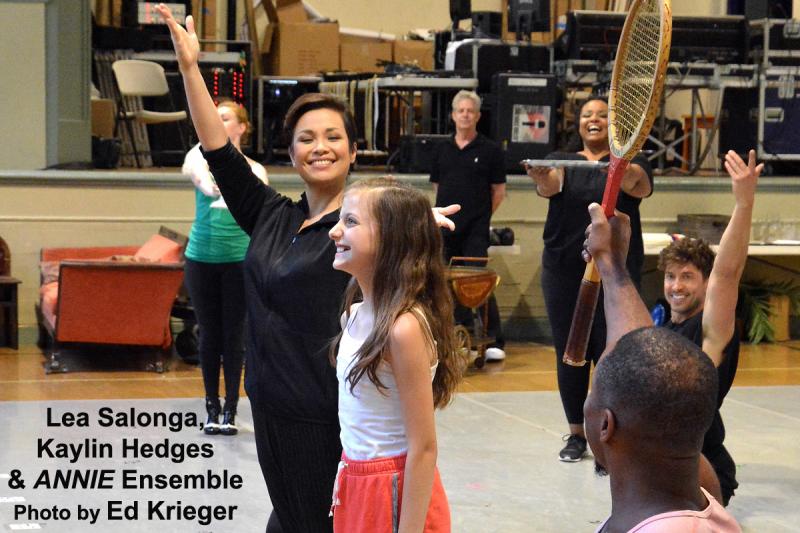 We have become such good friends. Our shorthand has developed not only out of having worked together on ISLAND, but also from our personal relationship. For ANNIE, I started asking questions early, so that when I got to L.A., I could hit the ground running knowing more or less what he wants. I'm sure I'll be bothering him over the course of the next week and a half.
How long, (or how short) is your rehearsal period for this Bowl production?
Extremely short. I arrived on July 18, and will perform 11 days later. Sheesh!
You are one of the lucky few that have been cast not only in Asian roles (Kei Kimura in ALLEGIANCE, MISS SAIGON, Mei-Li in FLOWER DRUM SONG), but in non-Asian ones (Fantine and Eponine in LES MISERABLES, Erzulie in ONCE ON THIS ISLAND, and now, Grace in ANNIE). When did you first realize the significance of being the first Asian woman to win a Tony?
I feel very fortunate to have been able to play both Asian and traditionally non-Asian roles (side note: if race isn't integral to the plot, then whoever has the chops should play the role). As for my Tony's significance, it's when I started hearing of more Asian actors wanting to do theater too. Perhaps after my (and B.D. Wong's) Tony wins, it gave people hope that they could be next. Never mind that "next" was 25 years later with Ruthie Ann Miles' own Tony win.
What do you remember of that night in 1991 waiting for your category to be announced?
Sitting beside my brother Gerard, feeling my heart start to race, and getting very nervous., Running the other nominees' names in my head, so I wouldn't be too disappointed if my name wasn't announced.
You just performed on the Tony Awards this year in a piece from ONCE ON THIS ISLAND. I believe you performed the year you won for MISS SAIGON. How many other times have you performed on the Tony Awards? It must be a special excitement to perform on the Tonys, right?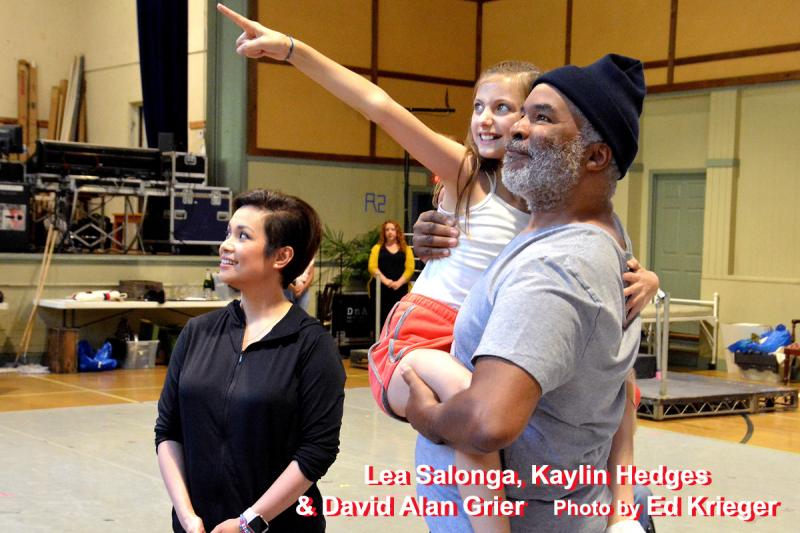 To be honest, I've only performed live at the Tonys twice, and both times at Radio City: in 2002 for the opening number, and in 2018 as part of the company of ONCE ON THIS ISLAND. For MISS SAIGON, my bits were pre-recorded at our theater. On Tony night in 1991, I sat in the audience at the Minskoff Theatre the whole time until I went up on stage to accept my award. It's always special to represent your cast and your show at the Tonys. I remember being very nervous while waiting for OOTI to perform its presentation.
In your early theatre days in the Philippines, you and your fellow Asian actors played all the non-Asian roles. How was the 20-year-old you affected by the casting controversy of MISS SAIGON's The Engineer?
I guess it didn't hit me. Because I spent much of my career playing roles I wouldn't have been cast in on Broadway. It wasn't that big of a deal. However, very quickly I realized how few roles there are for Asian actors, hence having to fight tooth and nail for each one. To Cameron's credit, after Jonathan Pryce's departure from the Broadway production, every actor that played The Engineer since has been of Asian descent, including Raul Aranas, Thom Sesma, Luoyong Wang, Alan Muraoka, Francis Ruivivar, Kevin Gray, Jon Jon Briones, and Joseph Foronda.
How would you describe the progress that has been made since, regarding that casting controversy?
I'd like to think that it's getting better, but given that it took 25 years for another Asian actor to win a Tony after me, that should be enough indication of the glacial pace of progress. But I guess Rome wasn't built in a day.
How would you describe the progress in color-blind casting in the 30+ years you've been in professional theatre?
For all people of color, yes, for sure it's improving (the Tonys of 2015, and even the Tonys of 2018 should be proof of that). Roles that normally go to Caucasian actors are going to actors of color, because - and we go back to this - whoever has the chops should play the role, and casting a wider net can only be beneficial for everyone.
Any particular theatrical role you'd love to take on and give your unique spin to?
I'd love to do more Sondheim. The older I get, the more interesting his shows become.
What's in the near future for Lea Salonga?
Lots and lots of touring!!!!! Watch out for me in your neck of the woods.
Thank you again, Lea! I look forward to watching you matching up orphans with Daddy Warbucks.
For ticket availability for the three performances July 27, 28 and 29, 2018; log onto hollywoodbowl.com
Related Articles View More Los Angeles

Stories

Shows
From This Author Gil Kaan