Interview: Joe Tippett On His Upward HIGHWAY From WAITRESSing to Coaching CARLIN
Amanda Peet's sophomore playwrighting effort OUR VERY OWN CARLIN McCULLOUGH has already been garnering rave reviews in its current world premiere at The Geffen Playhouse. Focusing on a ten-year-old tennis phenom and her close relationships with her tennis coach and single mom, kudos has been generously spread around the cast and the creatives. We had the opportunity to verbally volley with Joe Tippett, who completely embodies the role of Carlin's coach Jay.
Thanks for agreeing to this interview, Joe!
My pleasure.
How did you first become involved with OUR VERY OWN CARLIN McCULLOUGH?
Amanda Peet saw me in a play by the wonderful and talented writer and director Erica Schmidt called ALL THE FINE BOYS for The New Group (at the Pershing Square Signature Center). Erica and Amanda became friends on the Game of Thrones set, and I suppose Amanda wasn't offended by my acting when she saw the play. Schmidt said that if nothing else, I showed up when I was scheduled to, and my hygiene wasn't terrible; so the Geffen offered me the part.
Have you worked with any of the cast or creatives of this project before?
I have not worked with the cast or creatives before. However, Mamie Gummer and I have been pals for a while, going back to the Williamstown Theatre Festival in 2007. Tyee Tilghman and I attended undergrad at West Virginia University at the same time. He was a senior when I came in as a freshman many moons ago.
How would you describe Jay, your character, in this world premiere?
Jay is someone who never quite accomplished the things he set out to do, and he has created a narrative as to why that is. He is sort of unconsciously, or perhaps consciously, trying to make up for it and succeed with this young girl where he failed. I shouldn't say too much as I don't want to spoil anything, but he's a complicated and driven guy with a pretty narrow focus.
How would you rate yourself on the tennis court?
I have never played a single match of tennis in my life. Roller hockey on a tennis court was the closest I ever came. I went on YouTube to learn tricks and how to spin a racket and so forth. Then, I basically just bullshit the rest.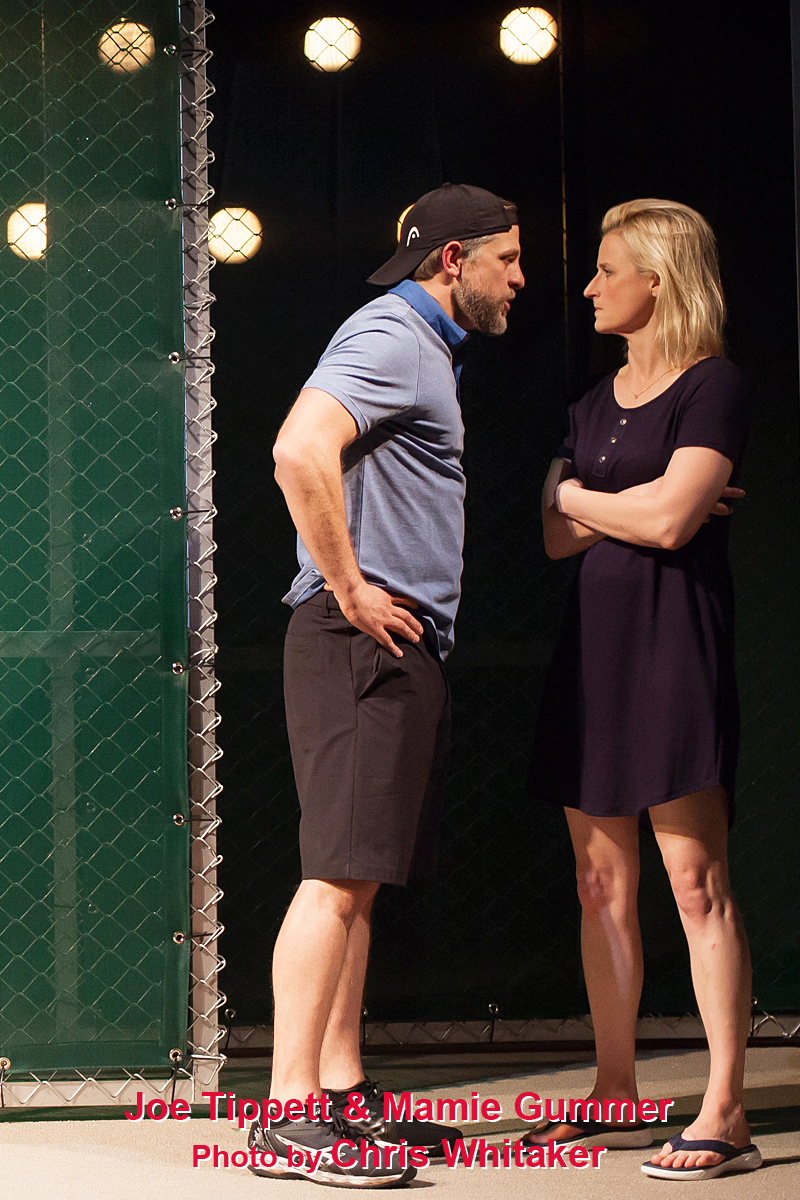 You made your Broadway debut in AIRLINE HIGHWAY in 2015 as 'Bait Boy.' What pieces of theatre wisdom did you absorb from your director Joe Mantello?
Joe didn't really bestow wisdom as much as he instilled confidence. He is incredibly smart and gifted as both an actor and director. He gives you the space to do your work, and when you get in trouble, he's there. So I'd say what I took from him was a sense that you know once you get the job that you just have to go out and do the damn thing.
How about from your co-star Julie White?
Julie White barely spoke to me during the process but I'll never forget that when she finally did, she called me over and said in a charming accent effected by southern upbringing and Pinot Grigio, "Jeff..." (She thought my name was Jeff.) "Jeff, you're really bad at this and you shouldn't be doing this for a living," and then she just kind of nodded off to sleep while standing. *
(* This story is totally untrue and Julie White is one of the funniest and quickest minds I have ever met. She is a National Treasure. I don't even know if she drinks Pinot Grigio.)
Is your character's name 'Bait Boy' ever fully explained?
Everyone has a theory...
What topics would Jay, Bait Boy and WAITRESS' Earl Hunterson share a brew over? Would any of these three be buddies?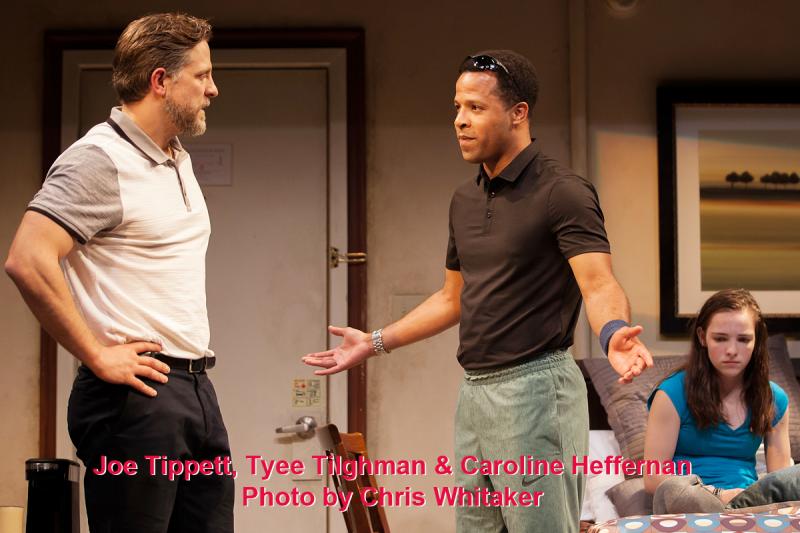 "Yanny or Laurel?"
Out of the six theatrical productions you've done, four have been world premieres and two have been Broadway originals. How cool is that that you have characters to start fresh with?
To be honest, I find it much cooler that I've had the opportunity to work with these really amazing writers on something that is wholly new and has never been done before. Particularly the women. As I said before, Amanda Peet and Erica Schmidt, but also Molly Smith Metzler, Danai Gurira and Lucy Thurber, to name a few.
In regards to WAITRESS (that you world premiered in Boston and then replaced Will Swenson on Broadway), was it like slipping on a comfortable pair of favorite slippers, stepping back into the role of Earl?
Well, the show had changed substantially from Boston, at least from the Earl perspective. In Cambridge, the show was a bit darker. I used to joke that Jessie Mueller and I were doing the Sam Shepard play in a musical about pie. But I think the guts of it were still there, so it wasn't totally foreign. Jessie Mueller, Betsy Wolf and Sara Bareilles are all so incredibly talented, and each have very different styles, so it was sort of different every time. But I had the good fortune to get to watch Nick Cordero, William Popp and Will Swenson before I went in, and those guys all were so good, so I got to just steal from them.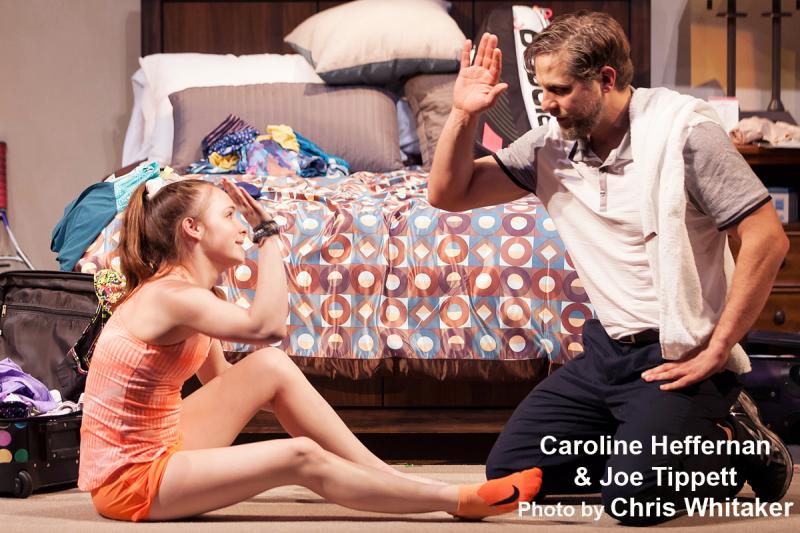 Any roles in already premiered shows that you'd love to tackle?
I'm probably due for some Tennessee Williams at some point. Also Biff in DEATH OF A SALEMAN.
If you had your choice, what city would you prefer doing live theatre in, and why?
New York is home now, and that's where I think the source of my theatrical pulse comes from. I've done shows and been hosted generously by cities all over the U.S. from Greensboro, NC; and Ames, IA; to Chicago and Los Angeles. On my bucket list is to do a show in London. But New York is home.
Can you share some of the highlights of this year's Tony Awards you experienced while sitting in the audience of Radio City Music Hall?
Well, there is the very obvious, but the Parkland students was a pretty powerful moment. I found Lindsay Mendez and Ari'el Stachel's speeches to be incredibly moving and humble, and their joy was infectious.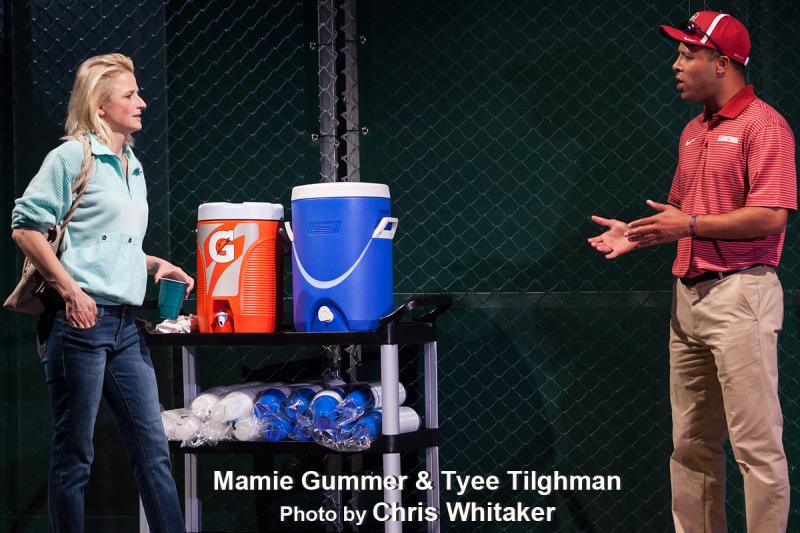 What's in the immediate theatrical future for Joe Tippett?
The immediate theatrical future for Joe Tippett is eight shows a week of Amanda Peet's brilliant new play at The Geffen Playhouse. Then after that, I'm just another unemployed gun for hire. I'll attach a headshot and resume if you know anyone hiring.
Thank you again, Joe!
For ticket availability and schedule through July 29, 2018 of OUR VERY OWN CARLIN McCULLOUGH, log onto www.geffenplayhouse.org