BWW Interview: Edward Gero On the Current State of the Arts, Judge Scalia, Nixon & Shakespeare Cohort Keach
Playwright John Strand's THE ORIGINALIST had its world premiere in 2015 at The Arena Stage in Washington, D.C. with the titular role of Supreme Court Associate Justice Antonin Scalia played by the critically acclaimed Edward Gero. Edward reprises his role in The Pasadena Playhouse's upcoming production starting April 11. I made the most out of the opportunity to put Edward on the stand to cross-examine him on what it means to portray one of the most polarizing judges in United States history.
Thank you, Sir, for taking the time for this interview with BroadwayWorld and myself.
You originally did this play in 2015 at the Arena Stage in Washington, D.C. What brought you and the role of Supreme Court Associate Justice Antonin Scalia together?
The playwright John Strand and I have worked in Washington, D.C. theater for decades. We had the opportunity to work together some 15 years ago on one of his plays. At a chance meeting, I quipped, "John, why don't you write a play with me in mind." He reminded me of that some years later when he said, "I have a play for you, and a great character - Antonin Scalia!" I was taken aback at first and said, "Wow, what a great character, John! Do you think anyone will want to see it?" Molly Smith, Artistic Director of Arena Stage and John already planned on launching into play development, so I joined the team at the first workshop reading in the fall of 2013. The rest is, as they say...
Did many note the physical resemble you had to the judge?
I get that a lot, since the play opened. But, years ago, I was walking into the George Mason University Law School building for a presentation. I was wearing my black overcoat, black beret, and carrying my briefcase. Passing a student, I was greeted with a nod, "Good morning, Mr. Justice." Once I regained my breath, I blurted out a stunned good morning. Clearly, we were both confused. At the conclusion of my first meeting with Justice Scalia, he took a long look at me, then said, "You do look like me a bit, but you don't have the Scalia unibrow." "I pluck," I said. "I don't pluck!" he rejoined. "Well, when I play you, I won't be plucking."
You met him in 2014 and had the opportunity to spend more than a couple of visits with him. What quality of Judge Scalia surprised you the most that was different from what you had researched on him?
Most of what I read in preparation was true: his intellect, his quick wit, his enormous command of the language. I suppose I expected someone of that stature and status to be a bit standoffish. But he was anything but that. He had disarming warmth that put me in mind of any of my Italian American family, and most striking was a humility that presented itself in a sincere curiosity. He was interested in me. That made him interesting.
Judge Scalia was very adamant and diplomatic about not seeing you perform as himself. One of his five sons did see you in THE ORIGINALIST and complimented your performance. As well as you got to know Judge Scalia, how do you think he would have reacted to your portrayal of him?
I hope he would have reacted favorably. I do know he was pleased to hear so many positive reactions from many of his colleagues and friends, including one from Justice Ginsburg. She sent me a lovely note saying, "You have captured the spirit of my dear colleague perfectly."
He wrote to me on several occasions about the good reports he was hearing about the performance. He might have taken issue with some plot points in the play, but, I think overall, he would have been, well, judicial in his reaction.
The Pasadena Playhouse production is being directed by Molly Smith who directed you in the 2015 version. Do you two have a short-hand in communicating now?
This project marks the first time that Molly and I have collaborated. It feels like we have worked together forever. She creates an incredible supportive and safe rehearsal room. She understands what I am doing and encourages me. We discovered a shared aesthetic, and in very short order, we were completing each other's sentences. In one of our many chats in her office during rehearsals, we shared an excitement about the power of projects like THE ORIGINALIST that dare to explore and challenge audiences (including those movers and shakers of government who nightly fill our theatres) with such thorny questions as civil discourse. We were thrilled at the chance to rise to a level of Citizen Artists and engage in the conversation about our democracy with those who wielded its power. Molly looked at me and said, "You are the brother I never had."
Any tweaks between this production and the last?
Yes. The lessons learned in performance have helped develop the text. We have trimmed it a bit, making it tauter. And John has added material to strengthen the arguments and to make the boxing match between Scalia and his clerk a more even bout.
How do you compare your preparation for tackling the role of Judge Scalia with that of the role of President Nixon in NIXON'S NIXON?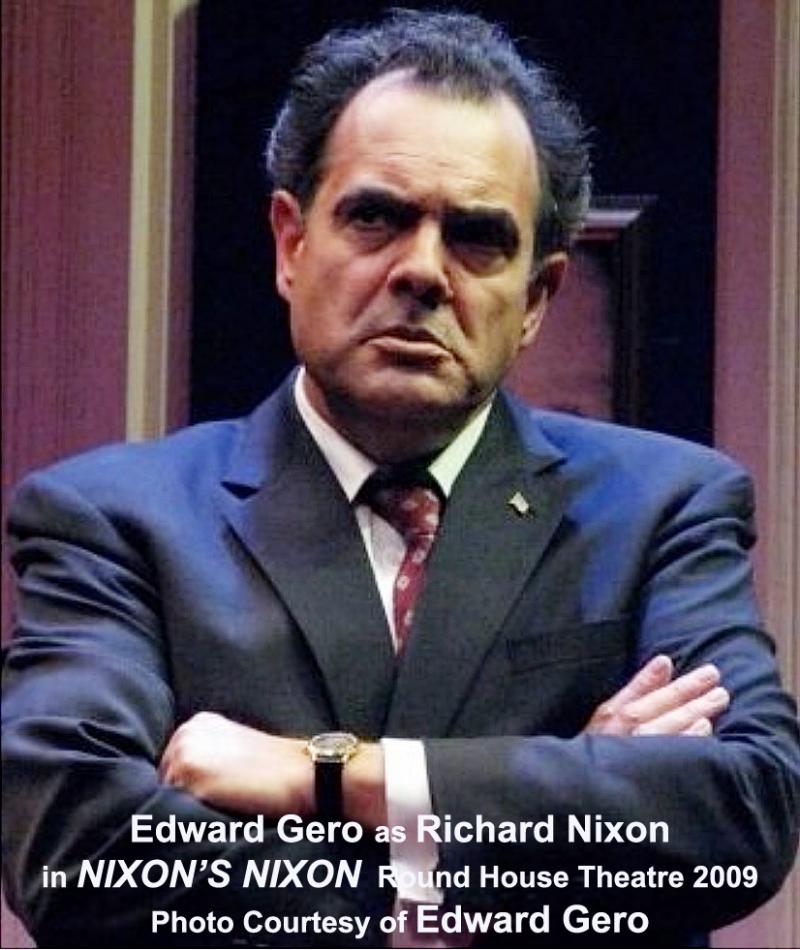 The approach is similar beginning with background biographies, political histories, and so forth. Gratefully, there is a ton of video archives to do observation of behavior. I watched all of the Nixon/Frost interviews. That was really helpful for close-up behaviors and to discern his way of thinking. Nixon had a really specific kind of syntax, and that revealed his thought process. With Scalia, there was an equal amount of material on the record: the confirmation hearings, speeches, interviews and so forth. I was in college during the Watergate hearings and I listened to them every day. Nixon was vice-president when I was born, so his career (and the anti-war and civil rights movements of the late 60's) was fundamental in the formation of my political awareness. With Scalia, I had to catch up on the workings of the court and to delve into his thought process: his ideas of textualist and originalist interpretation of the Constitution. I read and studied The Federalist Papers, listened to oral arguments on the Supreme Court website, and observed him in action on the bench. They were both performers, to be sure. Obviously, compared to Nixon, Scalia's thought process is straightforward and transparent. In the end, the process comes down to synthesizing the research into physicality through body language and vocal patterns.
You have played some villains throughout your decades' career. How do you wrap your head around being a murderer (SWEENEY TODD), or a thief (Macheath in THE BEGGAR's OPERA), or not a crook (NIXON'S NIXON), or a Scrooge? How do you fix your mind to not 'take sides,' to be unbiased, in agreeing or not agreeing with the characters you portray?
Noel Coward gave Laurence Olivier some advice when directing him during rehearsals of Shaw's ARMS AND THE MAN. Olivier was having a heck of a time with the character of Sergius. He hated him. Thought he was a buffoon. Coward said, "Larry, you must find something about the character that you love. You cannot play a character you do not love!"
Actors have to empathize with every character we play, regardless of their morality, politics, criminality, and so forth. We are empathy machines. We are all human beings. I don't think anyone considers themselves to be evil or bad or terrible people. I think they feel deeply misunderstood. That allows me to engage the character and give me something very active and positive to play. Get me! Understand me! And if they have a positive trait - wit, sense of humor, intelligence, or the like, I jump on that and play it for all it's worth. I've done many characters over my career, like those you mention, that audiences love to hate. Scalia is the first character I have played that audiences hate to love. My challenge is to change that feeling, to at least understand him better and sense his humanity, without relinquishing their political stance.
You were first inspired to pursue an acting career after seeing Stacy Keach in HAMLET. Did you ever meet him and get the chance to tell him of his impression on you?
Did I ever. We met some 20 years after I saw the HAMLET, when Stacy came to the Shakespeare Theatre Company in D.C. to play Richard III. I played his brother, Clarence. When I saw him the first time, I told him he was largely responsible for me pursuing the classics. We became fast friends, sharing a love of Shakespeare, a joy of work, supportive spouses, children the same age, and an avid passion for playing mediocre golf. I am particularly proud to say that since we met, we have collaborated on every Shakespeare play he has done: Banquo to his Macbeth, Gloucester to his King Lear in Robert Falls 2006 landmark production at Goodman Theater, and Henry IV to his Falstaff in 2013.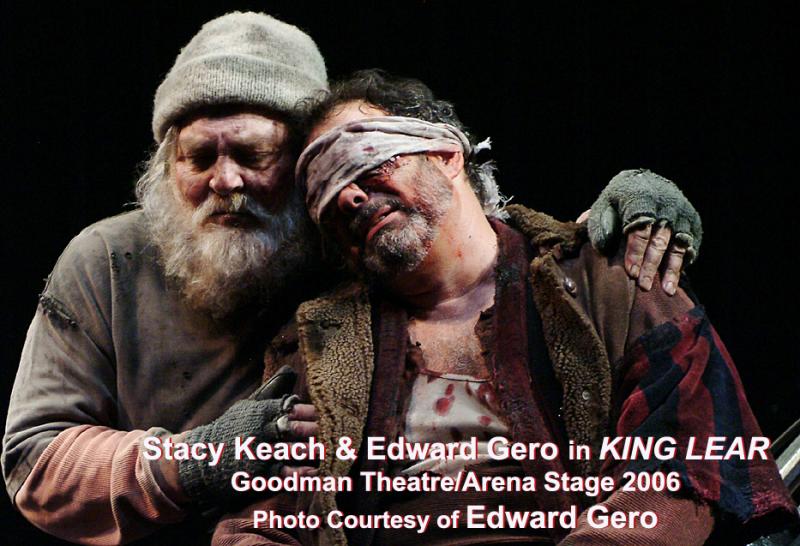 You're a man of many disciplines: teaching, voice-overs, theatre, film, television. Any preference?
I love it all, honestly. I always thought the perfect day would be total immersion in the craft with days in the classroom and rehearsals, and evenings on the stage. I love live performance for sure. Television and film is equally rewarding. I would love to do more, and thank goodness, there is a lot more production happening in the D.C. area. My career path led me elsewhere. I have had the pleasure of building a theatre community, living a full life with my wife, Marijke, raising our son Christian, owning a home. I've worked steadily for 40 years. But there is still life in it yet! Who knows where my path will lead from here.
What elements do you look for in a project in order for you to take it on (in any of your disciplines)?
I respond to projects that challenge me intellectually and emotionally, that entertain and inform. I love language plays from Shakespeare to Mamet, Miller, LaBute, Hellman or John Logan. I love complex characters that offer me an opportunity to dig deep and explore our common humanity.
What interesting person in history will you like to get under the skin of next?
I would love to take a crack at Teddy Roosevelt. He was a fascinating person and President. He was such a complex person and politician. He was one of the last great progressives; a statesman, author, explorer, soldier, naturalist and reformer with an enormous personality, who found himself President after McKinley's assassination and leading the country into the 20th Century.
As one who has been acting since the early 1980s, and teaching theatre since 1991; how important do you view the Arts in the growth of young minds?
I think the Arts are critical to the development of young minds. They provide training in collaboration, creative problem solving, critical thinking, and a way of engaging and embracing ambiguity; all perfect training for a vibrant workforce and encountering our complex world. The Arts open our minds by training us in empathy and connecting to our common humanity that transcends social, political and cultural boundaries. What could be more important for life in 21st Century America?
Can you share some specific examples of how some of your theatre students have had their lives affected/turned around by being taught an arts education?
There are any number of my students who, through their arts education, have discovered a part of their creative impulses that had been squelched in their early years. So many of my students are stuck in getting things right, finding the one solution. I think to some degree that is the downside to advent of technology. When I was growing up the phrase "left to your own devices" didn't mean playing with your smartphone or computer or game console. It meant using your own creative impulse to seek solutions. I have seen students flourish when they are freed of "getting it right," and acquiring self-confidence and sense of self that emboldens them to take risks without knowing the outcome. Some have gone on to careers as producers, actors, teachers, and many others to productive careers in arts administration or business. They know how to look someone in the eye, listen, and be flexible enough to learn or be moved by the person on the other side. It's transformational for them.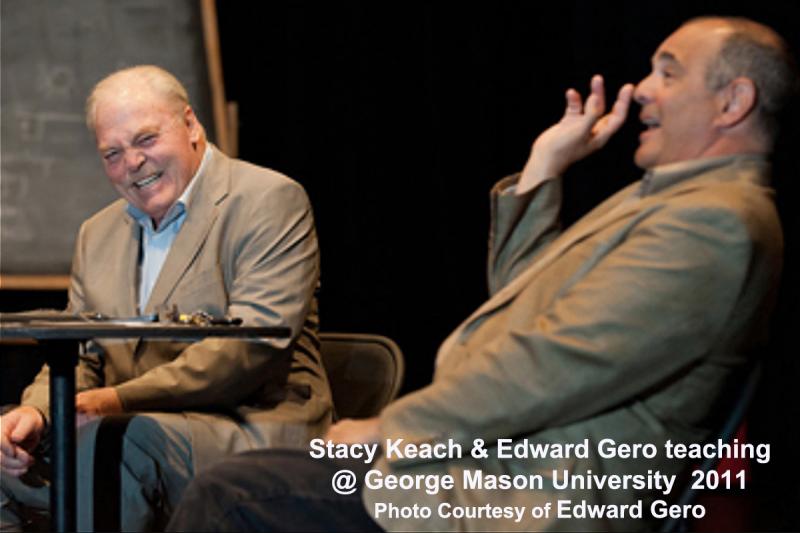 As one who's been involved with the National Committee for Standards in the Arts, National Assessment for Educational Progress Planning Committee, the Getty Center for the Arts, The Edison Project, and various panels for the National Endowment for the Arts; how do you feel about the proposed budget cuts to the arts programs?
This country has never had a tradition of governmental support for the Arts. In fact, in 1774, the First Continental Congress passed the Articles of Association declaring "we will discountenance and discourage every species of extravagance and dissipation, especially all horse-racing, all kinds of gaming, cock-fighting, exhibitions of shows, plays and other expensive diversions and entertainments." Clearly, an inauspicious start for the Arts in this country, and it hasn't improved much since. It's been noted recently that the entire yearly budget amounts to about $.47 per American, and much less than the annual security budget for Trump Tower. Will losing $.47 make a difference for arts organizations or artists in this country? I doubt it. We will act, sing songs, paint, sculpt, write and make art regardless, because we must. According to recent statistics the Arts contributed $704 billion in 2013, or about 4.2% of GDP. In 2016, the NEA and NEH each received a $148 million budget or about .003% of the federal budget. Here we artists are again, fighting over crumbs. As the argument goes, the NEA and NEH money acts as seed money to leverage the more important private funding crucial to the non-profit arts world. I suppose that is true. Cutting it won't help to balance the budget, obviously. I would prefer the funding to continue, of course, but the fight for it is more political than substantive.
IMDB states that you constantly wear a bulletproof vest. Is that 'fake news'? Any validity to that?
I used to wear a black sleeveless quilted vest in fall and spring a lot. A student posted that on IMDB with a tongue squarely planted in the cheek.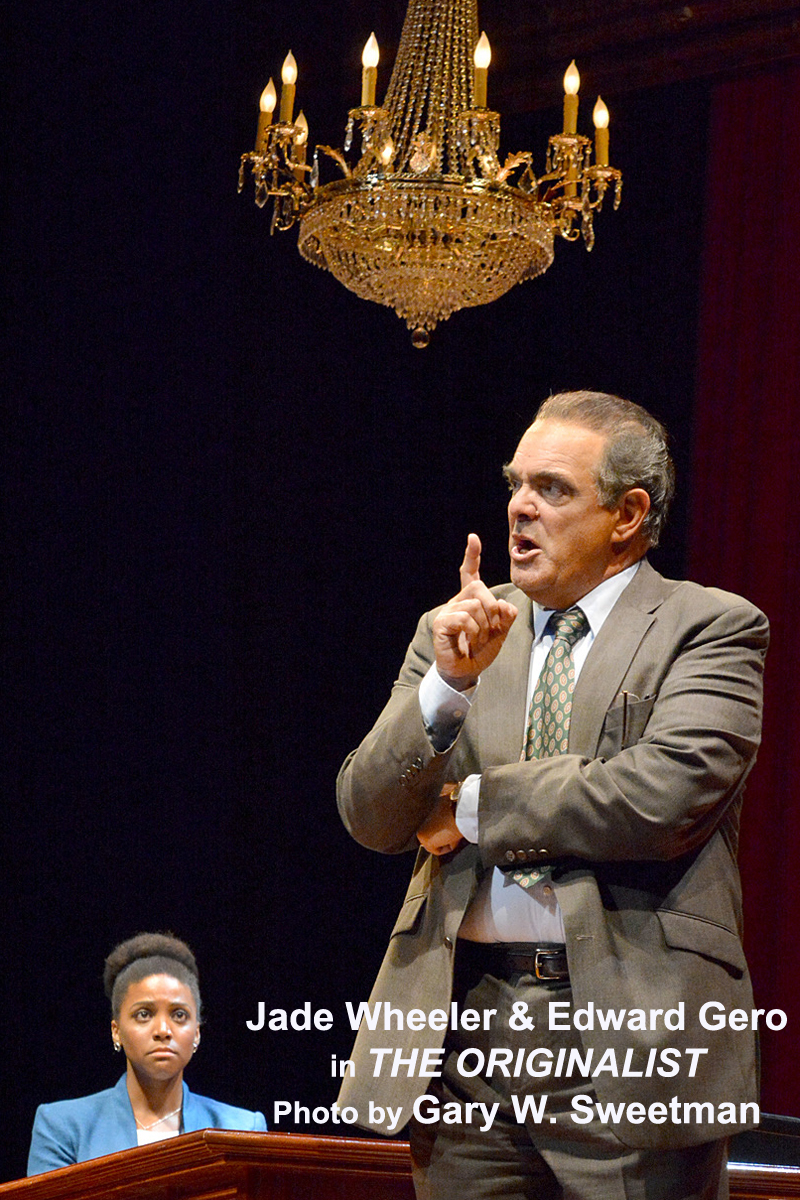 What was the most unexpected audience reaction you received during your Arena Stage run of THE ORIGINALIST?
There are lines in the play that elicit huge groans or huge laughs. I was taken back at times when there are laughs and groans at the same time. Sometimes, audience members are so provoked by an argument they shout out a response of agreement or disapproval. It's reminiscent of the accounts I've read of 19th century audiences, or more recently, certain State of the Union addresses. I have never been in a play where the audience's political petticoats are so visible.
What would you like the Pasadena Playhouse audiences to leave with after your curtain call?
I hope that audiences take away a sense of hope from the play about the possibility of engaging in a more civil discourse. That it is possible, actually essential for a successful democracy, to listen respectfully to someone with whom we disagree without having to vilify them. This is, after all, a democracy, which aspires to reconcile our differences peaceably. Isn't that the whole point of this experiment called the United States of America? Vote and carry on. If you don't like the results, there is always another election not far behind. And maybe, just maybe, we might recognize that we are each responsible for the quality of the state of the current political discourse. It's up to us to as individuals to improve our part of it and make it better.
Thank you again, Sir! I look forward to experiencing your supreme judgeship.
For further evidence to make your own verdict, log onto www.pasadenaplayhouse.org. This trial runs through May 7, 2017.

Related Articles View More Los Angeles

Stories

Shows
From This Author Gil Kaan