Interview: Bruce Davison's Dramatic & Funny in All His NATIVE Nomenclatures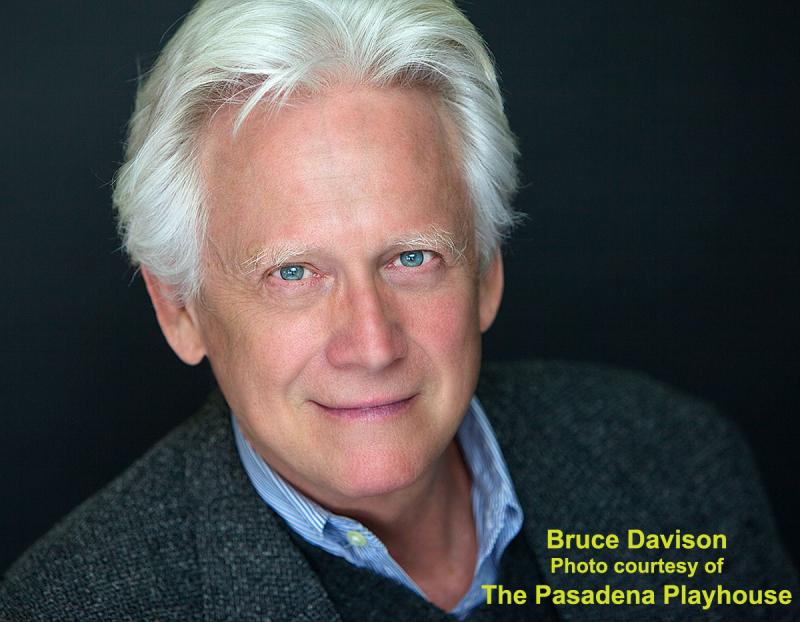 Known to generations of theatre aficionados, film enthusiasts and television devotees, Bruce Davison will be appearing at The Pasadena Playhouse beginning September 5, 2018 in playwright Karen Zacarías' NATIVE GARDENS. Directed by Seinfeld's Jason Alexander, this surprisingly topical tale of neighbors fighting over their shared fence features Frances Fisher as Virginia Butley (wife to Bruce's Frank Butley), with Christian Barillas and Jessica Meraz as Pablo and Tania Del Valle, the newbie couple on the block.
We had the opportunity to chat with Bruce after one of his long days at rehearsal.
Thank you for taking time for this interview, Bruce!
So, how are your rehearsals going?
Hell's a popping! We work 11 to 7 every day. It's been just exhausting for me. It's a broad comedy. It takes a lot of time, a lot of energy and a lot of timing. Everything is bigger than life. Going into it, it looked a lot easier than it's turned out to be.
What initially got you involved with NATIVE GARDENS?
Jason. I was playing poker with Jason and he said, "I have this play. You want to do it?" That's how easily it went. And Frances Fisher and I have been friends for many, many years. So it was chance to do that. I read the play and I thought it was so deceptively funny and light. It deals with something that really plugs into an archetypical human dilemma. And the fact that now the wall is up, it's bringing it all to a very human head. It's two neighbors fighting over 23 inches.
Your extensive resume lists heavy, dramatic roles.
Not always, I did three Seinfelds with Jason at one time. I did three years of 72 episodes of Harry and the Hendersons on TV as a sitcom. I've done a lot. People don't necessarily know me for the lighter stuff. Some do, some don't. Depends. If you're young, it's X-men. If you're older, it's Longtime Companion, going back to Willard. Sometimes, it's just people by their age group that identify me with one type or another.
Besides having acted with Jason and being friends with Frances, have you worked with any of the cast or behind the scenes creatives before?
No, I worked with some of the crew before when I did SONG AT TWILIGHT a couple years back at Pasadena Playhouse. It's all new. And Jessica and Christian are wonderful. They're the young couple and we get to work with them. It's a real badminton game... with a bowling ball.
What aspects do you look for in a theatrical project that makes you want to contribute your creative energies to?
That's too broad a question for me to really answer any accurately. If it appeals to me, if I identify with the character, if I like the journey the characters take and the play has some value and some meaning. This play has certainly a lot of value, especially now where we stand in this country. All of those things can be an influence.
Do you think there's more audience expectation taking on a well-known, classic character as you did (THE GLASS MENAGERIE's Tom Wingfield) than portraying on a new, modern character like your current Frank Butley?
Oh, boy! I was too young and dumb to figure that out when I did GLASS MENAGERIE. I was just a young kid then. I wish I would had the knowledge that I have now to go back and play Tom in his twenties at that age. You always go back and think, "I wish I could have done that." I had great help with Hume Cronyn. Hume was a dear friend over the years. I got to direct him in one of his last pictures. Working with Jessie and Hume there, Tennessee Williams' ghost loomed very heavy. They actually gave him his first break in creating GLASS MENAGERIE. They encouraged him and developed him as he created that play. He ended up writing STREETCAR for Jessie after that. They gave it (MENAGERIE) to Eddie Dowling and Eddie Dowling produced it on Broadway.
Before your long career in film and television, you started on the theatrical boards. How would you compare the various theatre communities you worked in?
It's hard to say. I'm trying to think how to compare it through one play that I took through. We did THE COCKTAIL HOUR, A.R. Gurney's play, for 400 performances. We built it in San Diego, took it into New York and played a year there. Then took it to the Kennedy Center, and then brought it into L.A. Audiences are pretty much the same. They're very hip audiences in New York. It's almost something that you expect. As you get further out, sometimes it's hard to pull in an audience. They're not quite sure how to react. Sometimes you're on the road and people think they're watching television and can talk on the phone. That can be distressing as hell. For the most part, if something is good, or something is worthwhile, it seems to affect people generally the same way.
Your acting career spans eons. So much to cover, so how about I mention a show in your theatrical resumé and you give me the first word or sentence that comes to your mind, ok?
Sure!
Debuting on the professional stage in 1966 as Jonathan in OH DAD, POOR DAD, MAMA'S HUNG YOU IN THE CLOSET AND I'M FEELING SO BAD at the Pennsylvania Festival Theatre: We didn't work out the costume change between the first scene where I had to wear short pants and the second scene where I had to wear long pants, that buttoned up in the fly (instead of a zip-up fly). I spent the whole 15 minutes of the second scene trying to surreptitiously button my fly and the audience just fell all over themselves. "Well, this is easy. Show business is easy. I just have to have my fly out."
Being 'Tom Wingfield' to Jessica Tandy's 'Amanda Wingfield' in THE GLASS MENAGERIE:
It was a great honor to be able to do that play working with her and Hume. My mother was dying during the time of GLASS MENAGERIE. She was dying in Philadelphia and I'd have to take the train on Sunday after the afternoon performance to Philly and play Tom for real back in Philadelphia. Then, get on the train to get back for Tuesday night performance. And I just couldn't touch it. Couldn't get near the play 'cause it was so close. My sister was taking care of my mother. So, Hume said, "You're very lucky with this play. It doesn't matter what you feel. It doesn't matter what's going on. All you got to do is find your light, and stand in the light, and say the lines. The lines are so beautiful. Just say them simply and truthfully, and everybody will be satisfied. That was great advice. Once my mother died, during the run of the play, I was able to let go. I was glad that she got an opportunity to see it.
Performing Tom must have been a good therapeutic release for you?
Once that had happened, it was like there's nothing else to worry about. There are all the feelings, all the emotions. When you're in that situation, you're trying to hold on and control everything It's uncontrollable, once it's gone, it's gone. Then there's a great relief in that.
Being cast by Joe Papp for KING RICHARD III:
That was great. David Alan Grier was one of the guys that killed me. In the middle of one of the shows, Diana Ross' Concert in the Park (was going on right next to us). I played Clarence and he has a 'Dream' speech, one of the great speeches in Shakespeare. In the middle of it, I could hear them all going across the backstage area, "Where are my people?" And Michael Jackson and everybody else all running through. And one night, my blood bag burst early, and the murderers had to come out and really stab me.
Nothing like live theatre!
Well, (critic) John Simon wasn't thrilled. He said I looked more at home around a college swimming pool than in a butt of Malmsey. I was a bit young for his Clarence.
Being directed by Henry Fonda in THE CAINE MUTINY COURT MARTIAL:
(in his Henry Fonda voice)"You're giving a little jewel of a performance but I just can't f*cking hear ya past the second row. Turn it up on your rheostat and set it there like you did it the other day. Made me wanna go home and kiss my wife."
Acting in Larry Kramer's NORMAL HEART with Richard Dreyfuss:
Wonderful experience! Wonderful - I don't know if that's the right word. It was very harrowing to do it. It was great to meet one of the great heroes of the our era because Larry was with us the whole time. It was just really arduous and exhilarating, frightening and despairing all at the same time. It was right at the height of it, 1987, when we were doing that play. We were performing with people sitting in wheelchairs and oxygen masks in the front row, so you can imagine what that was like. Tough! I also used to love to sit in the wings and watch Kathy Bates do her doctor. She just blew the lid off the house. Dreyfuss and I. It was really wonderful. It was a great production.
Your more recent L.A. theatrical gig - SONG AT TWILIGHT at The Pasadena Playhouse:
(Answering in an upper class British accent) Doing an upper class British accent, at the same time trying to reciting Noel Coward in the play that killed him basically was very difficult. "The capacity of the female mind. The convenient rationalization is unlimited."
As one with directing experience, how do you 'turn off' your directing duties/responsibilities when under another director?
Well, that's tough. The toughest thing ever. You just gotta put your ego in check. There have been times in my career when I have fought with a director, and there has been times when I have been wrong, and realized it after the fact. Lots of times, I'll feel sometimes is going against something that I think is instinctively right. I really got to step back and let it be the director's production. I may be uncomfortable for the wrong reasons. That's been the big lesson of working with other directors. The worst part of directing on film, when you're saying, "I love you, darling" to a girl. "Move over two inches, would you? You're in my light."
Even though we're focusing on your theatre works, I would be remiss if I didn't mention how much you as David in the 1989 Longtime Companion still resonates with me.
Oh! That was one of those great opportunities. We don't get many of those to share, archetypical moments in film that resonate forever. In seeing the film recently after twenty-five years, I think it's been, it holds today as if it were made yesterday. It still has the same power and the same effect.
I can still remember that scene where you tell your lover Sean to let go.
I couldn't have played that scene if I hadn't had lived it already with my mother. And everybody says "Wasn't that difficult?" No, that scene was easy. The script girl at my feet had just lost her brother. The hairdresser was crying on the front porch of the hotel because all of his people that he had shared a house with across the way had all died, and he had a few months left to live. The director himself was ill and keeping it to himself. It wasn't hard, It was hard to hold back.
Do you ever get tired of gay fans of a certain age coming up to you to compliment you on your portrayal of David?
Never! And it's not just gay fans that come up to me. They're people from all nomenclatures have come to me and basically said, "I've gone through that with my loved one. I've done that. It's really touched my heart." I have to give credit where credit is due. It is squarely in the lap of Craig Lucas who wrote beat-for-beat, word-for-word, comma-for-comma as it plays. And I also have to give great credit to Norman René, the great director who, when we were ready to shoot the scene, I said, "We should shoot this in a tight-two and never let the audience escape." He said, "OK, but remember it's not how you feel. It's about getting him to let go." He turned to Mark (Lamos) and said, "You're doing all the physical stuff great. Listen to him (Bruce). Do what he tells you to do. Action!" One take.
What empowered you and made it a non-issue for you to take on a gay role in Longtime Companion?
The script. Read a great script. During the course of that period of time, my commercial agent, my personal manager and my first agent all died of AIDS, just before the movie was finally released. It was the holocaust in the late 80s. It was something that had to be done. And at the time, we thought it would be something they're going to put on PBS television, if they could get it on. Probably not. But it was just the script that screamed it had to be done.
What feelings would you like The Pasadena Playhouse audience to leave with after your curtain calls?
Sore belly from laughing, I hope. And at the same time, identifying with these larger-than-life characters as their own, as people they know, people who they are. Feel how ludicrous things can get over a fence.
Too timely, unfortunately.
Exactly. This is the "wall" business.
Thank you again, Bruce. It's been a pleasure chatting with you.
For ticket availability and show schedule through September 30, 2018; log onto www.pasadenaplayhouse.org