Adam Rodriguez To Host Hero Theatre's THE SUPER SABADO SHOW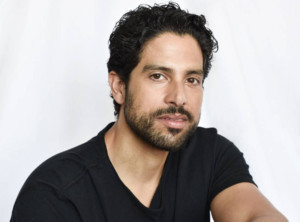 Hero Theatre announced today that Adam Rodriguez (Criminal Minds, Jane the Virgin) will host the The Super Sabado Show, a live comedy event. It will be presented on April 14, 2018 at 8pm at The Rosenthal Theater at Inner-City Arts in Los Angeles.
The Super Sabado Show is inspired by classic comedy favorites, Saturday Night Live and Univision's Sábado Gigante, the longest-running television variety series in history. The event will give a comedic look at the United States' support of Puerto Rico, post Hurricane Maria.
The evening includes live music by The Super Sabado Band, led by celebrated musicians Tylana Renga (of Grammy Award-winning Quetzal) and Gabriel Tenorio (Domingo Siete).
The roster of writers includes Justin Bonilla, Migdalia Cruz, Pulitzer-winner Quiara Alegria Hudes (In the Heights, Water By the Spoonful), Levi MacDougall (Conan), Mary Grace Maloney, In Living Color's Steve Park and Kelly Coffield Park, Michael Sturgis and Annie Weisman (co-executive producer of Hulu's The Path).
The Super Sabado Show will be directed by Hero Theatre artistic director Elisa Bocanegra. It will be performed by members of the company and surprise guest artists.
Ticket sales benefit Hero Theatre's efforts for Puerto Rico - including a new performing arts education program for children and youth on the island affected by the hurricane.
Visit herotheatre.org for tickets and more information.