2nd Annual LIVE LOVE THRIVE Conference Brings Together Leaders in Business and Entertainment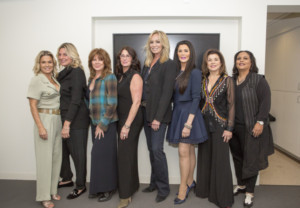 Following a highly successful inaugural year, the Live Love Thrive Women's Empowerment Conference kicked-off a second edition featuring expanded programming, including SHE Tank - female entrepreneurs pitching female investors for funding, motivational speakers, and a panel featuring financial experts, alongside musical performances and short films about extraordinary women with inspiring stories. The Conference was held at the West Hollywood Library City Council Chambers and was presented and co-sponsored by the City of West Hollywood, the Women's Advisory Board and Honda of Downtown Los Angeles.
Emceed by actress/entertainer Susan Anton, the SHE Tank panel heard business pitches by several female entrepreneurs vying for funding. The investor panel included co-founder of Wolfgang Puck Brand and designer Barbara Lazaroff; co-founder True Religion Jeans Kym Gold; award-winning producer Nicole Ehrlich; celebrity chef Cat Cora; co-founder Sovo Magazine Senyon Kelly; president Milano Italian Market, Montreal Celia Kahn; and co- founder Shane's Inspiration, Catherine Curry-Williams who after hearing detailed presentations and deliberation reached agreement on three of the women- owned and operated businesses. Shona Gutpa's Get Real Girl, an alternative and realistic doll emphasizing active, adventurous athleticism; Ardice Farrow's Net Effects Traders, who champions positive change for the disenfranchised of Cambodia while providing quality training, safe work environments, and good wages to the employees who manufacture a line of fully sustainable handbags and totes; Melissa Scott's Beafor, a digital and athletic apparel brand for women who dress modestly whether for cultural, religious, or traditional reasons. SHE Tank winners' progress will be taped throughout the year as part of a docu-web series.
Created and produced by author, filmmaker and talk show host Catherine Gray, the Live Love Thrive Conference brought together leaders from across the spectrum of the business, entertainment and self-empowerment fields including best-selling author Rhonda Britten, entertainer Susan Anton and thought leaders Jeffrey Van Dyke and Kathleen Ronald.
"I want to see more women rockin' a happy life by using their gifts to do what they love. As Mark Twain says, 'the two most important days in your life are the day you are born and the day you find out why,' commented Gray.
One of the most unique presentations at this year's Conference was the Forever Young Panel, six women who continue to be creative and make significant contributions to their communities and to society, well into their 80s and 90s. Authors Beverlye Hyman Fead, Jackie Goldberg and Harriet Rosetta, along with actress Gloria Stroock and Teen Line founder Elaine Leader offered personal insights on staying active and purposeful well into their 80s and 90s.
Emceed by entertainment reporter Michelle Pollino, the conference also included the presentation of four 360 Karma Trailblazer Awards. Recipients are Cat Cora, superstar chef, TV host, author, editor and noted humanitarian; Kym Gold, co-founder of True Religion Brand jeans and philanthropist; Julie Smolyansky, youngest female CEO of a U.S. public company and founder of Test 400K; and Carolyn Olavarria, GM of Honda of DTLA , the first female, Latin American GM for Honda in the U.S who moderated the Financial Gurus Panel in addition to being an award recipient.
With a strong emphasis on women in business and female entrepreneurs, the Conference also highlighted Entrepreneurs of the Year, Julie Case, founder of In The Clouds IT Consulting; radio show host Mary Giuliani; and Monique Romero, founder of One to Ten Productions. All three women utilized the mentoring, knowledge and support they gained attending the 360 Karma Live Love Thrive Conference and monthly workshops to launch their entrepreneurial ventures.
New and returning sponsors included Platinum Sponsor Honda of Downtown Los Angeles, City National Bank, Living Trust Express, Dr. Sherry Ross, The Financial Whisperer, Debra Smalley Luxury Real Estate, RTB Financial Group, Nolan/Heimann, KPL Mortgage, Cast Centers, Sunset Marquis Hotel & Spa, Hugo's Restaurant, Vander PUMP Restaurant, Sweet Dixie Kitchen, Pasquini Espresso Company, Angeleno Magazine, IPK Design Solutions, Milk Jar Cookies, Printing Palace, and Universal Broadcasting Network (UBN), who did a live broadcast from the event.
For more information please visit: www.360Karma.com
More Hot Stories For You