BWW Review: THE PRODUCERS at The Argyle Theatre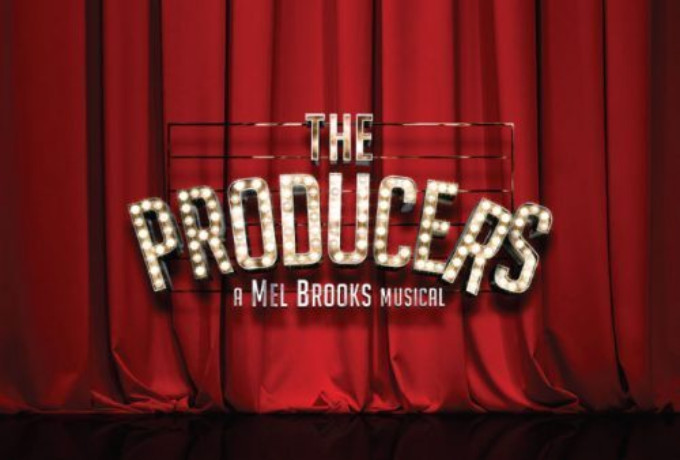 In the smash hit musical "The Producers," veteran producer Max Bialystock explains to his accountant/new producing partner Leo Bloom the step by step instructions of producing a Broadway show. He advised to find the worst play ever written, hire the worst actors in town, find the worst director in town, and finally open on Broadway. Luckily, the Argyle Theatre in Babylon Village did just the opposite. They chose one of the best musicals ever written by Mel Brooks as their season closer, gathered a troop of top notch professionals to perform it, and chose Broadway veteran Evan Pappas, the best in the business, to direct it.
After numerous Broadway flops, Max Bialystock's career is about to rebound when Leo his accountant discovers that a producer can make more money on a flop than a hit. Leo has always wanted to produce a Broadway show and eventually gets roped into a scheme that can't seem to fail. The dynamic duo of Max and Leo is hilarious and portrayed by Jason Simon and Richard Lafleur. The chemistry between them is just as phenomenal as Nathan Lane and Matthew Broderick who originated the musical roles and Zero Mostel and Gene Wilder who starred in the 1967 film. Mr. Simon, last seen as Edna in Argyle's "Hairspray," is again larger than life and expertly commands the Argyle stage with his powerful presence. Mr. LaFleur takes his Leo to new heights while delivering a warm and charming persona. Together they make theater magic!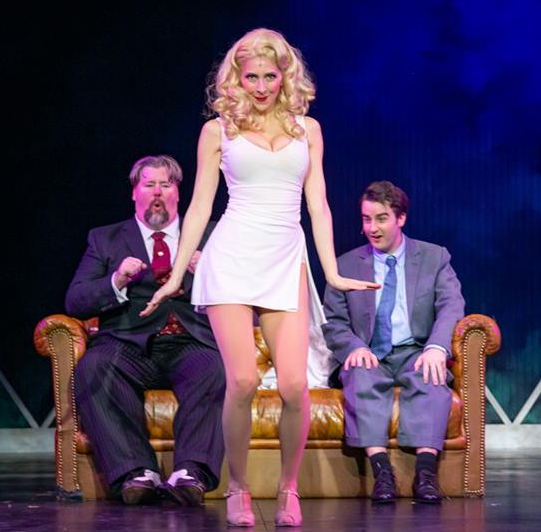 Finding the right flop was no easy task yet they eventually discover the musical "Springtime For Hitler" and its German author Franz Liebkind, played by the marvelous Cody Marcukaitis. Even his devoted birds, fashioned in swastikas, are just as hysterical as he is. With a show in place, Max and Leo venture to ask Roger Debris, a diva director to create the masterpiece on stage. Decked out in a Chrysler Building themed dress, John Salvatore as Roger brilliantly parades around making our cheeks ache from laughing with his humble assistant Carmen Ghia played by another gem, Jon J. Peterson. With a wacky creative team in place comprised of Robert Serrano, Gerard Lanzerotti, Ryan Koerber, and Erica Wilpon, and raising two million dollars from a bevy of little old ladies, Max and Leo set out to bring "Springtime For Hitler" to the great white way. What could possibly go wrong?
Every show needs a blonde bombshell to stir things up and Gina Milo's Ulla is a perfect hit. This triple threat innocently glides her way through the Brooks hilarity and into Leo's heart. Ulla is one of the stars of Broadway's sure-fire miss along with the great Jerome Doerger as the Lead Tenor. As showgirls dressed in German pretzels and sausages help introduce the flamboyant fuhrer, the audience does not know what to do with themselves and Max and Leo's profits start burning holes in their pockets until a totally unexpected turn of events comes to fruition causing mischief, mayhem, and of course in Broadway musical land, a happy ever after.
The entire cast of "The Producers" gives it everything they've got to maintain excellence as they present the musical that won more Tony Awards than any other show in Broadway history. This zany cast of outrageous singers and dancers stick faithful to the Broadway production and deliver the Mel Brooks schtick with panache.
Choreographer Antoinette DiPietropolo's sensational steps are gratifying and are inspired by Broadway's Susan Stroman. There's nothing like live music and the fabulous orchestra always bring every Argyle production to life.
Finally, the true star of this show is director Evan Pappas. With years of experience on the Broadway and London stage, starring in countless regional and touring productions, and living and breathing show business, Mr. Pappas conjured his theatrical experiences and wealth of talent to bring "The Producers" to the Argyle stage. Every theater on Long Island should be banging on his door and begging the real "King of Broadway" to rule their kingdom.
--------------------------------------------------------
Starring: Kyra Christopher, Jerome Doerger, Courtney Fekete, Carissa Fiorillo, Heather Klobukowski, Ryan Koerber, Richard Lafleur, Gerard Lanzerotti, Cody Marcukaitis, Gina Milo, Ashley Gale Munzek, Jon J. Peterson, Matthew Rafanelli, John Salvatore, Robert Serrano, Jason Simon, Ryan Gregory Thurman, and Erica Wilpon.
Executive Producers Mark Perlman & Dylan Perlman, Artistic Director Evan Pappas, Set Design Justin West, Costume Design Heather Stanley, Lighting Design Graham Kindred, Sound Design David Margolin Lawson, Hair Design Peter Fogel, Associate Director Amy Griffin, Casting Director Michael Cassara, CSA, Associate Choreographer Ashley Gale Munzek, Production Stage Manager Will Chaloner, Conductor Steven Altinel, Musical Director/Conductor Jeffrey Lodin, Choreographer Antoinette DiPietropolo and Directed by Evan Pappas.
For more information and tickets please call The Argyle Theatre Box Office at: 844-631-5483 or visit: www.argyletheatre.com
The Producers will play from March 14-April 27, 2019.