BWW Review: RAGTIME at the Noel S. Ruiz Theatre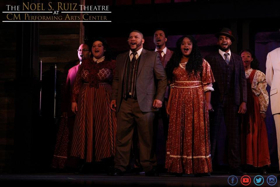 I had the honor of seeing the original Broadway cast of the Tony winning musical Ragtime as my very first Broadway show. So, as you can guess, I am absolutely ecstatic to see that the Noel S. Ruiz Theatre at CM Performing Arts Center has added it to their fantastic Spring/Summer schedule. This exciting and well done incarnation, kicking off their 42nd season, is excellently directed by Matthew W. Surico running through March 24th at the adorable Oakdale venue.
The moving story, based on the 1975 novel by E.L. Doctorow, centers on three groups of people in the United States -in New York City, specifically - around the the turn of the 20th century. We follow them as they each take us through their American experience; three different facets of society and three different perspectives. We first meet New Rochelle suburbanites headed up by Mother, then we meet African Americans headed up by musician Coalhouse Walker, Jr., and then we meet Eastern European immigrants headed up by Tateh, a Jewish man from Latvia. The gripping, well-crafted book for this show is done by Terrence McNally with a virtual masterpiece of a score by Lynn Ahrens (Lyrics) and Stephen Flaherty (Music) that includes marches, gospel and, of course, ragtime.
Among the large cast, Amanda-Camille wonderfully reprises the role of Sarah from a previous local production. Again, she delivers Sarah's heart tugging story so beautifully and also makes a great team with Rodney Jackson, who plays Coalhouse Walker, Jr., the father of Sarah's newborn child. In particular, an audience favorite is their performance of "Wheels Of A Dream" that brings roaring applause. Mr. Jackson's take on the role is terrific as energetic and light in the beginning turning into angst ridden and dark as the story progresses. Also a standout is Brianne Boyd who is absolutely outstanding as Mother. Ms. Boyd's voice is perfect for the soaring score singing her numbers flawlessly. I truly could go on about the whole company as they are all extraordinary.
On the creative team, Artistic Director Patrick Grossman designs the bi-level set. It's pretty much a bare stage overall, but props and rolling pieces are brought out for the respective scenes making for seamless scene changes. Be sure to also fully take in the grand opening number with boffo choreography by Ashley Nicastro. This is enhanced cleverly by Alison Weinberger's superb lighting design with Nicolette Carosi heading up the sound design. And, of course, Ronald Green III's costumes are stunning.
And so, Ragtime is certainly another hit for the Noel S. Ruiz Theatre at CM Performing Arts Center. A stellar cast and gripping story make for an affecting night of theatre.
_____________________________
Ragtime is presented by the Noel S. Ruiz Theatre at CM Performing Arts Center located in Oakdale, Long Island, through March 24th. For more information and to purchase tickets, please call 631-218-2810 or visit www.cmpac.com
Book by Terrence McNally, Lyrics by Lynn Ahrens, Music by Stephen Flaherty, Directed by Matthew W. Surico, Musical Direction by Carl Hottinger, Choreography by Ashley Nicastro, Set Design by Patrick Grossman, Lighting Design by Alison Weinberger, Sound Design by Nicolette Carosi, Stage Management by TJ Smith, Costume Design by Ronald Green III
Starring VAN-LEON WHITAKER, RODNEY JACKSON, AMY L. DOWDELL, ANDREW BECK, ANTHONY PANARELLO, DANA ABRUZZO, David DiMarzo, JEFF PANGBURN, JOCELYN D. MORTON, JODI SALADINO, JOSIAH MARTIN, JUSTIN CIMMINO, KATHRYN ELMENDORF, Katie Johnson, KYLE GRANT, LAURA MORELLI, MAX DENLER, MILAN MCGOULDRICK, RALPH D'AMBROSE, Ryan Cavanagh, SELMA JABER, SHAINA STROH, STEVEN JACKSON, TIFFANY MORALES, JESSICA DONLON, ROB SCHINDLER, Michael Sherwood, Brianne Boyd, MIKEY MARMANN, AMANDA-CAMILLE, RYAN NOLIN, ALEX YAGUD-WOLEK, DORI ALGRIM
Photo by Lisa Schindlar