Review: HAIRSPRAY at The Argyle Theatre

Hey Long Island, welcome to the 60's! The Argyle Theatre in Babylon just opened their second stunning production and it's a cause for celebration. "Hairspray," the smash hit 2002 Broadway musical, is back and better then ever. Tracy, Link, Edna, Corny, and all of your out of sight chums from the Hefty Hideaway are gracing the Argyle stage in an exhilarating production, overflowing with high energy and big talent.
The setting is Baltimore and we are knee deep in colorful quirky characters. Tracy Turnblad is a teenage hairhopper and will stop at nothing to dance on television. She's the "can't everyone just get along" poster girl with radical ideas and a huge heart. This tenacious teenager is not afraid to speak her mind or make mountains out of molehills. While belting out cotton candy tunes, dancing up a storm, and protesting racism, she manages to teach her family, friends, and community, an important life lesson in simply being kind to others.
Katy Geraghty is absolutely terrific as our heroine Tracy. She hardly leaves the stage for a minute and proudly carries this monumental production on her shoulders. Ms. Geraghty expertly leads a phenomenal cast comprised of powerhouse singers and brilliant dancers including Jason Simon as Tracy's hysterical mother Edna. Matriarch Edna benefits from Tracy's wisdom while getting an inner and outer makeover along the musical journey. Edna is married to Wilbur, played by the wonderful John Salvatore, and the comic pair boast the silly endearing parents that everyone wishes they had.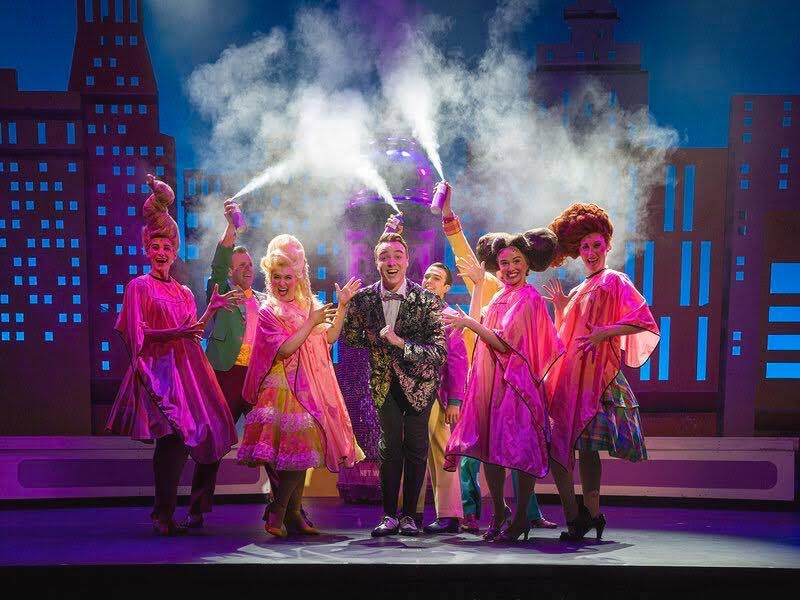 Tracy's team of teens are the driving force behind making everything right. Icon Link Larkin is the object of Tracy's affection and Sam Leicht plays him calm, cool, and collected. Everyone should have a best friend like Penny Pingleton played by the superb Christina Emily Jackson. Penny learns a lot from Tracy's driven passions and gets together with Seaweed, played by the marvelous Malcolm Franklin. The fantastic four use their musical talents and skills to set Baltimore on its ear and do they ever!
Seaweed's mother and sister get involved in the rebellion as well. Inga Ballard brings down the house as Seaweed's mother Motormouth Maybelle. Motormouth, like Tracy, is another pioneer struggling to change the world. Ms. Ballard possesses an outstanding set of pipes and blows the newly shingled roof off of the Argyle with her beautiful voice. Nya Noemi, as sister Little Inez, is a fireball as well.
There are always villains in a fairytale and this princess story is no exception. Kelsey Youmans and Kirby Kunn, as the venomous Velma and Amber Von Tussle, are no match for Tracy. This dirty duo make a spectacular mother and daughter team who in the end seem to be headed on a better path as well. Dustin Maxwell is a fun Corny Collins serving as ringmaster to a dynamite aerobic ensemble who shimmy, mash potato, cha-cha, and pony the night away. Director and choreographer Antoinette DiPietropolo has done a brilliant job recreating this retro extravaganza and the swinging orchestra faithfully delivers the happy and peppy score.
We all knew from the Argyle Theatre's first production of "Guys and Dolls" that they were in store for a fabulous future. Starting with a warm welcome in front of the theater from Artistic Director Evan Pappas and ending with boisterous smiles and ovations, the Argyle's "Hairspray" continues the trend in presenting big Broadway musicals, starring and created by the best of the best, right here on Long Island.
Book by Mark O'Donnell and Thomas Meehan, Music by Marc Shaiman, Lyrics by Scott Wittman and Marc Shaiman, Artistic Director Evan Pappas, Scenic Design by Diggle, Sound Design Sam Silva, Production Stage Manager Andrea Wales, Costume & Wig Design Kurt Alger, Casting Director Michael Cassara, Production Manager Peggy Samuels, Musical Director/Conductor Jonathan Brenner, Lighting Design John Burkland, Associate Choreographer Ashley Gale Munzek, Associate Director Jennifer Swiderski, Directed & Choreographed by Antoinette DiPietropolo
Starring: Jill Taylor Anthony, Inga Ballard, Kayla Cheyenne Coleman, Lephate Cunningham III, Courtney Fekete, Malcolm Franklin, Katy Geraghty, Sean Patrick Grady, Christina Emily Jackson, Sam Leicht, Kirby Lunn, Dustin Maxwell, Conor McGriffin, Nyasia Monroe, Ashley Gale Munzek, Nya Noemi, Matthew V. Ranaudo, Brendon Riddle, Raegan Roberts, John Salvatore, Jason Simon, Chelsea Margaux Smith and Kelsey Youmans
Orchestra: Jonathan Brenner, Jacob Priddy, Amron Svay, Ray Sabatello, Michael Malloy and Brett Beiersdorfer
For more information please visit: www.argyletheatre.com or call: 844-631-5483