Review: FUN HOME Breaks Boundaries and Touches Hearts at Smithtown Performing Arts Center
Some shows move you. Some shows run a chill up your spine. Some shows leave makeup and tears streaming down your face. This was my experience sitting in the intimate Circle in the Square Theatre, where "Fun Home" premiered on Broadway in 2015 after an Off-Broadway run in 2013. More than three years later I experienced the same rush of emotions at Smithtown Performing Arts Center's production.
The show, based on Alison Bechdel's groundbreaking 2006 graphic novel/memoir of the same name, explores the experiences of Ms. Bechdel looking back on her life as a child and a college student.
With a book and lyrics by Lisa Kron and music by Jeanine Tesori (Shrek: The Musical), the musical plays out on a non-linear timeline where moments from childhood, college and reflections from adulthood are interweaved for maximum emotional impact.
Adult Alison, a self-declared lesbian cartoonist, literally watches her past unfold - as explained in the expositional opening number "It All Comes Back." Her central struggle revolves around her relationship with her antique home restoration obsessed, closeted, gay father who committed suicide - no spoilers here, this is explicitly stated at the top of the show - and the lasting impact he left on her and her family.
Jacqueline Hughes plays adult Alison with the skill and intensity comparable to Broadway's brightest talents. A sign of a true artist, the catharsis of becoming a character like Alison is vividly evident as she watches the events of the musical play out - often from her elevated drawing table perch permanently fixed in one corner of the set.
Medium Alison, played by the talented Lisa Naso, gives an equally compelling performance as the college-aged, sexually aloof counterpart. Her insecurity is palpable through her manic mannerisms and youthful naivety. She truly shines in her ultimate sexual explosion, with fellow Gay Union member Joan, in a hilarious, yet surprisingly tender number "Changing My Major." Ms. Naso's performance will be sure to resonate with anyone who has ever questioned any aspect of their identity.
Small Alison, played in the opening night performance by Lorelai Mucciolo, was evidently guided through direction to make the role her own. Her movements and expressions are less like a groomed child actor and more akin to an actual young girl you could pass on the street - which in the context of this story is a coup. Meanwhile, her voice soars in Smithtown's gorgeous theatre with a power behind it that suggests a star in the making.
Dennis Creighton, now a local star in his own right after his performance as Bruce Bechdel, Alison's fatally flawed father, gives a powerhouse performance. Many of his scenes are difficult to watch. He exhibits such pain behind the eyes of a man who knows - despite his airs - that he abuses authority in his home and on the streets, where he encounters the young men he desires. Despite the undeniable fact that Bruce is a problematic character, Mr. Creighton's presence allows for audiences to have sympathy for this broken, self-destructive man.
His final song "Edges of the World" is absolutely heartbreaking. Michael Cerveris took home a Tony Award for his portrayal of the same character and there's no doubt in my mind that Creighton deserves the highest accolades for his exhibit of pure artistry.
He is well matched with Stephanie Moreau, playing Bruce's wife and Alison's mother Helen who takes the brunt of the abuses Bruce inflicts on his family. The role is written with a sense that Helen exists like a piece of tattered vintage furniture reupholstered by her husband to hide the toll the turbulent marriage has had on her over the years.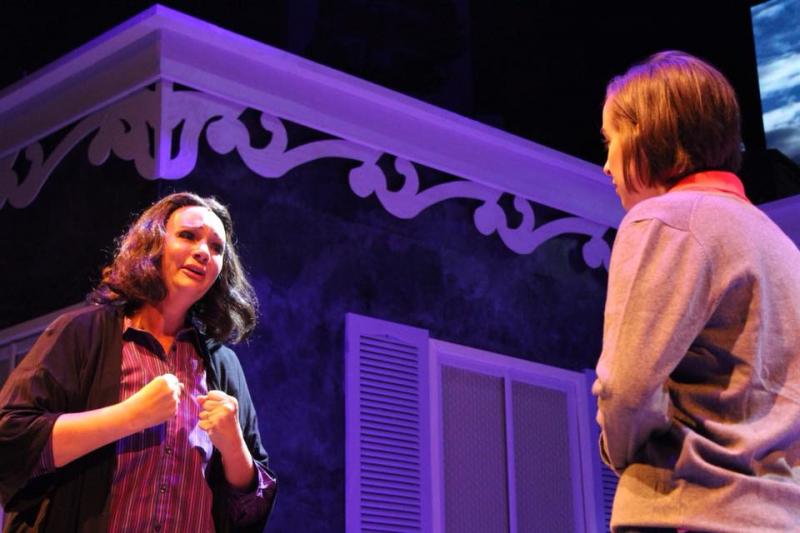 Ms. Moreau maintains a state of consistent fatigue that escalates until her final release in the song "Days and Days," where she finally confesses to Medium Alison what her life was and what it has become. She bares her soul through lyrics based on the real-life marriage of Ms. Bechdel's parents and leaves the audience shaken, but exhilarated by the power of her performance - evidenced by the near standing ovation for the song on opening night.
At this point, there might be a particular thought running through your head: This show sounds heavy. And it is. The subject matter is tough and emotionally draining at times. However, like any well-crafted musical it has its moments of comic relief. Small Alison's siblings lead the charge in this regard with the crowd pleasing "Come to the Fun Home" - an innocent, yet cheeky commercial to the "fun"eral home the Bechdels operate. Young actors Jonathan Setzer (Christian) and Kiernan Brown (John) left the audience in stitches through their charisma and comic timing.
Christine Boehm and SPAC regular Andrew Murano compliment the show in their supporting roles. Boehm's Joan is Medium Alison's saving grace - opening the door to the possibilities of existing as lesbian in a world rampant with prejudice. She has the charm of mumblecore film stars such as Greta Gerwig with her ripping sarcasm and self-assuredness. Murano, always a pleasure to see on stage, brings something different to each of his roles which range from his most prominent - Roy, the handyman Bruce seduces - to a Patridge Family-esque lead singer in the nostalgic "Raincoat of Love."
As with many top-notch productions, the set can become a character itself. This is the case with Tim Golebiewski's gorgeous multi-level set that is directly inspired by Alison Bechdel's actual Pennsylvania home depicted in the graphic novel. The action on the top level was lost at times due to such eye-catching elements of the complete picture, but for most scenes it worked.
Notably, Mr. Golebiewski utilized video imagery (a la Broadway's Dear Evan Hansen or Mean Girls) situated behind the top level of the set. The video images ranged from sunsets, to a college campus to actual clips from "Fun Home" graphic novel. The resolution of the video was blurry at times, however, the innovative effort is still something to be admired.
As expected with a venue like Smithtown, the entire production team was at their best. Kenneth J. Washington's vision was specific, deliberate and positively radiant. Meanwhile, Melissa Coyle's musical direction only elevated one of the most talented casts to appear on Long Island stages this year. And Ronald Green III's costumes, yet again, were perfectly executed - and honestly an improvement from a handful of the Broadway costumes (namely the "Raincoat of Love" costumes and wigs).
On its surface, Fun Home appears like a niche musical. It's a prominent voice from the LGBT community, it deals with difficult subject matter and, ultimately, it's not your classic musical. But it won the Tony Award for Best Musical in 2015 for a reason. The show has the potential to touch all hearts. Whether it inspires you to reflect on your identity or your relationship with your family, this show is a gift to the theatre canon. Smithtown, with the Long Island Premiere, has truly set the bar for other theaters to focus on selecting socially progressive shows aiming to tell important stories and not just selling tickets.
--------------------------------
PRODUCTION STAFF
Director - Ken Washington
Assistant Director - Kelly Mucciolo
Music Director - Melissa Coyle
Stage Manager - Cassiel Fawcett
Choreographer - Milan McGouldrick

CAST
Alison - Jacqueline Hughes
Medium Alison - Lisa Naso
Small Alison - Gabby Blum/Lorelai Mucciolo
Bruce - Dennis Creighton
Helen - Stephanie Moreau
Christian - Dylan O'Leary/Jonathan Setzer
John - Kieran Brown/Brayden Bratti
Joan - Christine Boehm
Roy ETC. - Andrew Murano
Understudies - Abby Rosenberg & Londel Collier
Photos by Courtney Braun