Long Island Interviews
The latest interviews about live + streaming theatre in Long Island.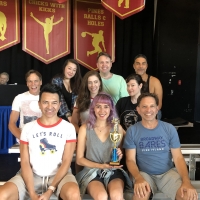 FIPAP Brings Beloved Tony-Winning Musical to Fire Island Aug. 31-Sept. 1; Learn More!
by Matthew Blank - August 28, 2019
, Long Island
Fire Island Pines Arts Project presents THE 25TH ANNUAL PUTNAM COUNTY SPELLING BEE August 31 and September 1....

Summer Stages: Long Island Spring/Summer 2019 Preview
by Melissa Giordano - April 01, 2019
, Long Island
It is indeed the best time of year; Spring is in the air, Summer is around the corner. That means a bustling theatre scene is in full force....

BWW Review: Hampton Theatre Company's First-Ever Musical MAN OF LA MANCHA
by Melissa Giordano - March 27, 2019
, Long Island
You can feel the energy at the Hampton Theatre Company (HTC) as they mount their first musical. In their inspired thirty-four-year history, they have presented plays strictly. However, recent technical upgrades have provided them with the opportunity to present musicals. In a brave decision, they ha...