Feature: Unprecedented Two-Part Long Island ANGELS IN AMERICA Commemorates EastLine Theatre's 10th Anniversary
Tony Kushner's Tony Award and Pulitzer Prize-winning epic comes to life on Long Island.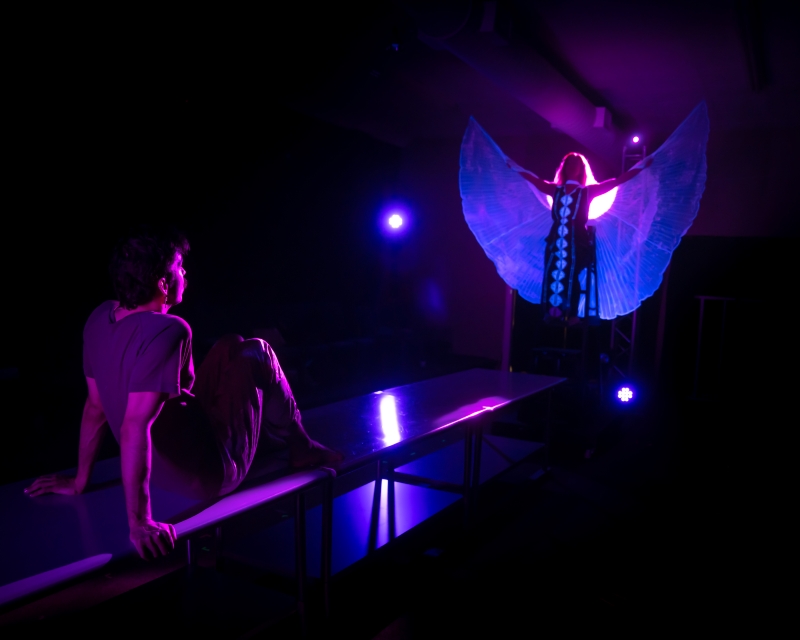 EastLine Theatre will celebrate its 10th anniversary this month with a two-part production of Tony Kushner's acclaimed theatrical epic "Angels in America." The non-profit theatre group has established itself as an impressive presence in the community with intimate productions amplified by the skill and imagination its production teams over the years. Their tagline - "little but fierce" - is well-earned 10 years after its inception in a tiny storefront blackbox in Wantagh. Now, they are partnering with the Babylon Citizens Council of the Arts to stage the Pulitzer Prize and Tony Award-winning play celebrated as "a turning point in the history of gay drama, the history of American drama, and of American literary culture."
This is the first time that a group has staged Kushner's masterpiece in full on Long Island. The two parts of the play, Millennium Approaches and Perestroika, may be presented separately, however, the production team at EastLine reveled in the challenge of bringing the gargantuan work - boasting a total run-time of almost 8 hours - to life.
"We wanted to celebrate and the way we celebrate at EastLine is by stressing ourselves out. So we figured what could be more stressful than doing "Angels in America," director Danny Higgins said in a roundtable interview with cast members and EastLine's co-artistic director, Nicole Savin.
"The idea of doing it alone is an accomplishment. Once we did research and discovered it has never been performed in both parts on Long Island before, it all kind of came crashing together," Higgins said.
Higgins and Savin said they purchased the rights to the seven-act play over a year ago. However, the discussion about producing the piece began about three years ago.
"We already did 'Indecent' and that's the only other play that we're like - 'this is the great American play," Savin said. "And we figured you have to do the 'great American play' for your tenth anniversary."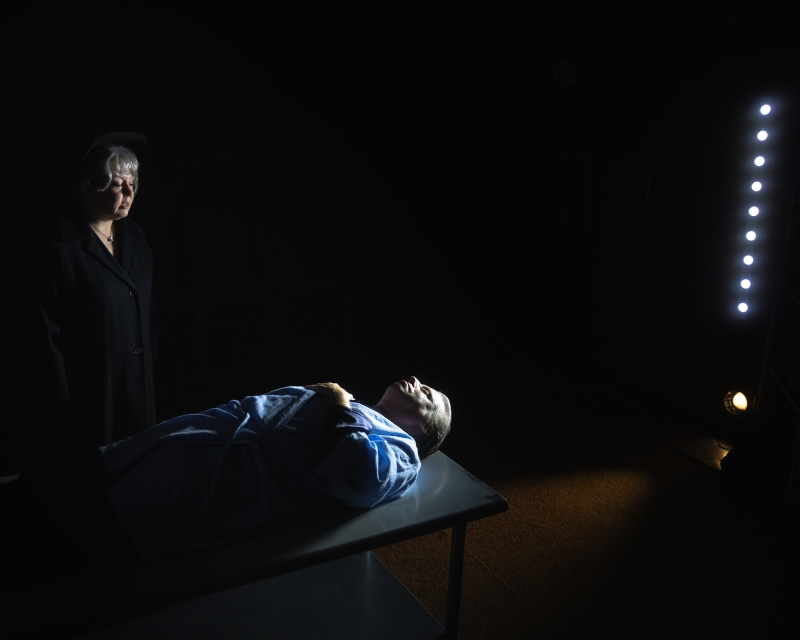 Higgins said that EastLine was also eager to give local performers a chance to play iconic characters in the American literary and theatrical canon.
"I can't think of anything more theatrical than Prior Walter," he said. "These characters are quintessential to theatre."
Auditions for the much-desired roles - "dream roles" for many Long Island actors - were held in July. Approximately 70 actors auditioned and countless others who were unable to attend sent inquiries.
"These are roles that people want to play. There are a lot of older gentlemen desperate to play Roy Cohn, a lot of young women who really wanted to play Harper... auditions were a lot of fun. We had a lot of great people come down and I think people were just happy to read these scenes with these characters," Savin explained.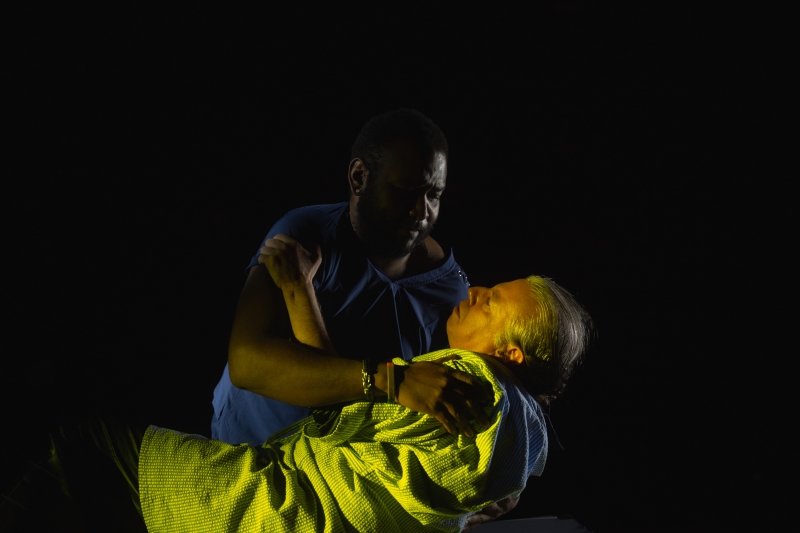 Kushner's play examines the AIDS epidemic and homosexuality in America during the 1980s. Since its premiere in 1991, "Angels in America" has been celebrated by audiences and readers who continue to reexamine the chillingly relevant text from a modern lens.
Logan Clingan said that Prior Walter has been a dream role of theirs since they were a freshman in college.
"I'm a very hopeful person and I feel like, no matter what you're going through, it's better to admit hope rather than let the darkness creep in - and that's kind of the embodiment of Prior," said Clingan. "Prior's circumstances are only getting worse, however, he very much has the mindset of 'the light at the end of the tunnel' - even though as these things are going on - and doesn't let that dull his light."
Thea Kraus shared her castmate's enthusiasm for her own role of Harper Pitt - described as an agoraphobia Valium-addict who experiences vivid hallucinations. Like Clingan, she said Harper became a dream role during her freshman year of college where she took a course that included a scene study of the play.
"She's a little kooky and I'm a little kooky and she doesn't quite fit in and I don't quite fit in," Kraus explained. "So in that she finds this deep and true happiness by the end of act two that is very hopeful and beautiful. I like to think I am on that path of going crazy and then finding my happiness in a similar way."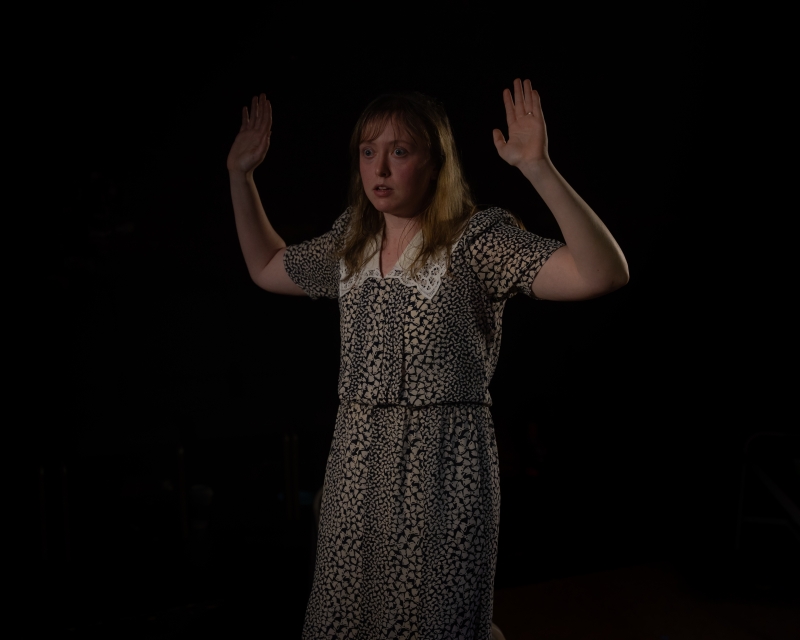 Clingan said that they view the play as an important history lesson, noting that although people always find a way to move on, it's always important to reflect on the past.
"All of these struggles are still going on within all communities, but very specifically in the queer community," they said. "Yes, there are medications that help push past this, but there is a certain awareness that you still have to have."
After months of planning, the EastLine team is ready to present this poignant, timeless play to audiences over the next month at the BACCA Center in Lindenhurst. With opening night on Saturday, February 4, you'll want to secure your tickets for this rare theatrical event right on Long Island as soon as possible.

Part One: Millennium Approaches and Part Two: Perestroika will be running alternately throughout each weekend with the option to see the entire play in one day - with a pause in between parts - or each part on two separate days. The run includes a special Monday two-part, one day performance in light of the holiday weekend. Tickets are on sale today on Click Here - where you will be able to find upcoming announcements about the rest of the group's monumental anniversary season in the near future.
---
EastLine Theatre is a non-profit that relies entirely on ticket sales and public support to produce their daring slate of productions. As a 501(c)(3), any donations you make to them are entirely tax-deductible.
Donations can always be made fee-free via their Facebook, with a small fee via Booktix, or by check to EastLine Players Corp. If you would like to discuss your support in further detail, please call or email them at info@eastlinetheatre.org