BWW Review: DISNEY'S BEAUTY AND THE BEAST at the Noel S. Ruiz Theatre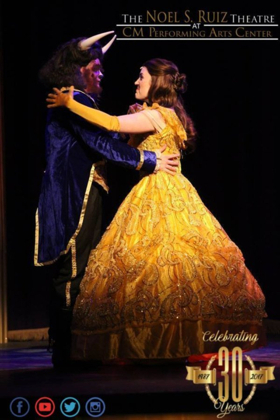 Oakdale's Noel S. Ruiz Theatre at CM Performing Arts Center (CMPAC) offers a beautiful incarnation of Disney's Beauty and the Beast this holiday season. Some may have called this a "tourist trap", but you will find that the story is as relevant as ever. Based on the 1991 Oscar winning animated movie, this production is excellently directed by CMPAC vet Kristen Digilio and runs through December 23rd at the lovely Long Island venue.
As we know, this "tale as old as time" centers on Belle as she is true to herself even when her fellow townspeople perceive her as odd. This leads her almost into trouble when she meets the Beast who is under a spell bestowed on him and his household by an enchantress. If the Beast can learn to love and be loved by time the last petal falls on the rose, the curse will be lifted.
Belle is bookish, has a semi-eccentric inventor for a father, and she's a dreamer yearning for more than her provincial town life. CMPAC staple Katie Ferretti makes a stellar Belle going through the Alan Menken/Howard Ashman/Tim Rice score flawlessly and well emulating Belle's head-strong demeanor. A high point is the collective gasp on Ms. Ferretti's entrance for the famous ballroom dance scene with the most stunning yellow dress. Ronald Green III certainly outdid himself on this gorgeous piece as well as the rest of the exquisite costumes in the production.
Ms. Ferretti makes a great team with David DiMarzo who superbly portrays the Beast. Mr. DiMarzo's depiction of the hopeless monster is excellent. There is a lot of angst and the Beast knows that he must do something to win Belle over as time is dangerously running out. Mr. DiMarzo's costume is also stellar and very striking among Alison Weinberger's eerie lighting design. After all, the story is set in a dark and dingy castle that is under a spell.
Indeed an additional highlight and certainly an audience favorite is Emily Nadler's performance - in the role of Mrs. Potts - of the show's title song. Truth be told, the entire company is truly outstanding.
Also on Ms. Digilio's clever creative team is resident Music Director Matthew W. Surico heading up the fantastic live orchestra. The set, designed by CMPAC's Artictic Director Patrick Grossman, is well done with seamless scene changes. One very minor qualm would be a few moments here and there of the choreography is a little unusual perhaps, but I digress.
And so, Disney's Beauty and the Beast is certainly a hit for the Noel S. Ruiz Theatre at CM Performing Arts Center. A classic story and remarkable cast make for a thrilling night of theatre.
---
---
Disney's Beauty and the Beast is presented by the Noel S. Ruiz Theatre at CM Performing Arts Center through December 23rd. For more information and to purchase tickets, please call 631-218-2810 or visit www.cmpac.com.
Music By Alan Menken, Lyrics by Howard Ashman & Tim Rice, Book by Linda Woolverton, Directed by Kristen Digilio, Musical Direction by Matthew W. Surico, Choreography by Ryan Cavanagh, Stage Management by Amanda Wenchel, Costume Design by Ronald Green III, Lighting Design by Alison Weinberger, Sound Design by Nicolette Carosi, Set Design by Patrick Grossman

Starring David DiMarzo, Katie Ferretti, Corey Martin, Ronnie Green, John J Steele Jr., Steven Cottonaro, Marc Slomowitz, Kaylyn Slomowitz, Emily Nadler, Dante DiGiorgio, Dori Ahlgim, and Courtney Braun with Brian Frank, Christian Kalinowski, Nicole Bianco, Kailey Schnurman, Marissa Tedeschi, Jaclyn Ruggero, Danielle Khoury, Timothy J Conway, Mike Shapiro, Elias Avalos, Anthony M Panarello, Kathleen Lewand, Samantha Free, Ryan Cavanagh, Carolyn Brown Benson, and Julie Viola

Related Articles View More Long Island

Stories

Shows