BWW Review: CABARET at The Gateway Performing Arts Center Of Suffolk County
"Cabaret," the 1966 Broadway hit that made Joel Grey a star, is alive and well at The Gateway Playhouse in Bellport. With a shocking book by Joe Masteroff and a tuneful score by "Chicago's" John Kander and the late Fred Ebb, "Cabaret" was alarming when it first premiered and gained momentum in recent years with three major revivals on Broadway. The Gateway's effervescent cast, lead by upcoming Broadway star Josh Canfield, makes this "Cabaret" an old chum to revisit.
It's 1931 and the Nazi's are rising to power. A young American writer named Clifford Bradshaw falls in love with Sally Bowles, an English cabaret performer who performs at the seedy Kit Kat Klub. Their living quarters is run by Fraulein Schneider, a German boarding house owner who is romantically involved with Herr Schultz, a Jewish fruit seller. At the center of it all is the Kit Kat Klub's Master of Ceremonies who performs one showstopper after another while overseeing and commenting on Germany's inauspicious political issues.
The stunning Cortney Wolfson is a splendid Sally. She sings and dances her way through Germany and seems to get herself into a lot of mischief along the way. Her love interest Clifford, played by the winning Steven Grant Douglas, gives her hope to change and move on with her life. Ms. Wolfson and Mr. Douglas have great chemistry together and just when you think Sally is on the road to a better path, she screws it all up.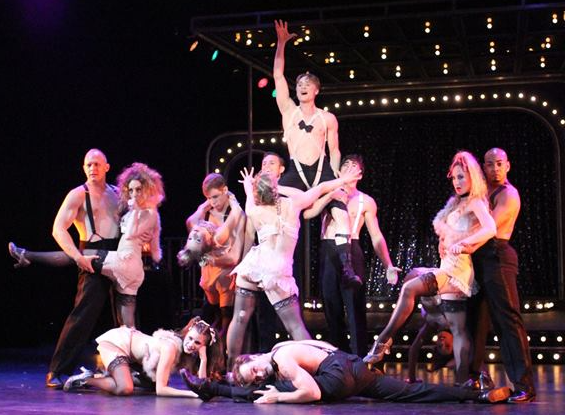 Broadway Veteran Dorothy Stanley makes a terrific Fraulein Schneider who runs the boarding house. She's a nice woman trying to make ends meet while maintaining a secret relationship with the Jewish Herr Schultz played by fantastic Gateway regular Steve Brady. Their romantic subplot brings old fashioned romance and comic relief to the tense atmosphere. Adriana Milbrath as Fraulein Host and Alex Puette as Ernst Ludwig are excellent supporting players as well.
The Kit Kat Girls and Boys are all very talented and worth mentioning. Stephanie Israelson, Jane Papageorge, Delaney Love, Kelsey Beckert, Taylor Habershaw, and Lauren Renahan radiate bawdy fun. Chaz Feuerstine, Mark Ryan Anderson, Cedric Greene, Bjorn Bolinder, Clayton Howe, and Kyle White are all very gifted and buff. A special nod goes out to Mr. White whose performance in Gateway's recent "A Chorus Line" was brilliant.
Finally, the Master Of Ceremonies is played by the extraordinary Mr. Canfield who dazzled us in Gateway's "Anything Goes" and triumphed in the recent "Memphis." Having seen productions of "Cabaret" get more grim and raunchier in every incarnation, we expected the emcee to be more dark and sinister. We finally got to see his creepier side with the song "I Don't Care Much" and especially at the startling finale. With a youthful look and boyish charm, Canfield gave another admirable performance.
Though less gritty and haunting as expected, the Gateway presented this classic musical with pizzazz and panache. It's a been grand summer theater season on Long Island and we are blessed that "Cabaret" and all the other gems of Broadway's golden age continue to live and thrive for new generations to come.
--------------------------------------------------------
Book by Joe Masteroff, Music by John Kander, Lyrics by Fred Ebb, Originally Co-Directed and Choreographed by Rob Marshall, Originally Directed by Sam Mendes, Executive Artistic Director Paul Allan, Production Manager Brian Loesch, Production Stage Manager Ben Walsh, Scenic Designer Michael Boyer, Director of Business Operations Jeff Bellante, Company Manager Aubrey Kyler, Costume Designer William Ivey Long, Casting Director Michael Baker, Director of Development Scot Allan, Lighting Director Brian Loesch, Choreographer Lee Martino, Musical Director Rob Cookman and Director Larry Raben.
Starring: Josh Canfield, Cortney Wolfson, Steve Brady, Steven Grant Douglas, Adriana Milbrath, Alex Puette, Dorothy Stanley, Mark Ryan Anderson, Kelsey Beckert, Bjorn Bolinder, Chaz Feuerstine, Cedric Greene, Taylor Habershaw, Clayton Howe, Stephanie Israelson, Delaney Love, Jane Papageorge, Lauren Renahan and Kyle White.
For more info and tickets please visit: www.thegateway.org or give them a call: 631-286-1133
Related Articles View More Long Island

Stories

Shows
Hi, my name is Anthony Hazzard. I am a Contributing Editor and Digital Marketing Specialist for Broadway World. My love for theatre came alive only (read more...)