BWW Review: TUCK EVERLASTING at The Coterie Theatre In Crown Center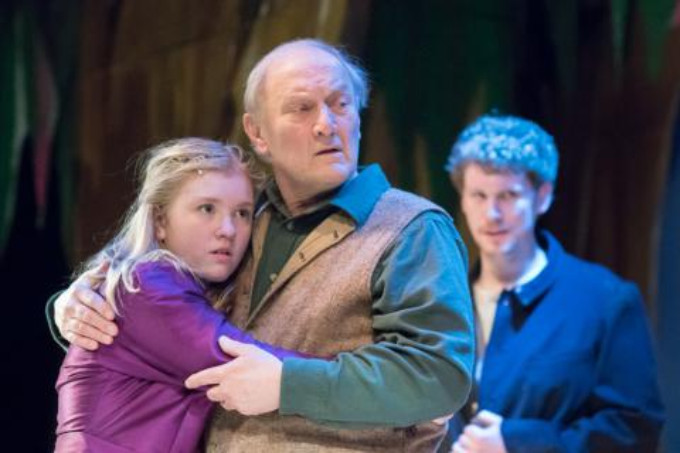 "Tuck Everlasting" at the Coterie Theatre in Crown Center, Kansas City.
The play "Tuck Everlasting", adapted for the stage by Mark J Frattaroli, is from the highly popular 1975 novel by Natalie Babbit. The story poses questions about what would happen if the circle of life was interrupted somehow, allowing people to never face their own death. Babbit was inspired to write the story after dealing with a 4-year-old child who had awaken from a nap having been frightened about dying. Coterie's production, under the direction of Jeff Church, brings the enchanting story wonderfully to life.
As the show opens we find 11-year-old Winnie Foster outside on a sultry afternoon in the yard of her house which stands near the woods. She is greeted by a man in a yellow suit who has an interest in the woods because of a tale he heard told by an old relative. Out of curiosity, Winnie decides to do a little searching of her own in the woods and before long she stumbles upon a strange tree with a stream pouring out of it. As it happens, a young man, one Jesse Tuck, arrives at the same time, but he issues her a warning about drinking from the stream. However, having seen him drink from the stream her strong will makes her determined to have some. Jesse pulls her aside, and as his brother and mother arrive they take her to their home to tell her the reason why. She meets the family patriarch, Angus Tuck, who explains how many years ago their family settled there and happened on to the stream, drank from it, and later learned that it gave them immortality. Angus considers immortality a curse and tries to reassure Winnie that the great natural wheel of life must turn and not be interrupted. "No,' Tuck reassures her, 'Not now. Your time is not now. But dying's part of the wheel, right there next to being born. You can't pick out the pieces you like and leave the rest. Being part of the whole thing, that's the blessing. But it's passing us by, us Tuck's." As Winnie tries to understand what she has learned she is again approached by young Jesse (who at this point still looks 17, but is really 104) who tries to convince her to take some of the water, in a bottle wait until she turns 17, then drink the water and join him on a world of adventure. Winnie, who is flattered to have been asked this by the handsome Jesse, returns home to decide what she will do.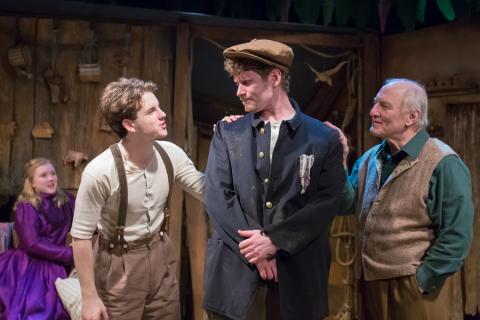 Aurelia Power inhabits the role of Winnie Foster with an inquisitive innocence that allows the audience to understand the dilemma she is faced with. I was surprised to see that this role is her stage debut since she delivered such a believable nuanced character. Fisher Stewart, as Jesse Tuck, brought plenty of teenage energy to the role - bounding across the stage and drawing the audience in with every line. Tyler Alan Rowe (Miles Tuck) in a role that provides some of the most thought-provoking messages of what burdens can come with immortality. He pulls back just enough for the audience to see his pain but shows tender moments of gentleness that bring awareness of all he has sacrificed. Jonathan Lloyd Schriock (Stranger in the Yellow Suit) delivers a sly and cunning performance as the interloper intent on making a fortune from the miracle. Stylishly dressed (thanks to great costuming by Georgianna Londre' Buchanan) his smart as a fox performance includes a wonderful moment of him playing the violin that fit perfectly into the storyline. George Forbes (Constable) makes good of his supporting role by arriving at each scene he's in with just the right perspective and tone.
Rounding out the cast are Nancy Marcy (as Mae Tuck), and Gary Neal Johnson (as Angus Tuck). Their performances anchor the show by providing the eternal optimist and pessimist perspectives needed to stimulate contemplation. Nancy is the "always look on the bright side of life" mother who gladly gives the support to her brood as the best mother hen would do. Gary gives the audience the logical male view that brings reality to the perplexing nature of what they are faced with. While he reluctantly accepts what has happened, he confirms that their miracle has not always been a blessing.
Jordan Janota (set designer) crafts a set that shifts moods well by looking eerie during thunderstorms and cheerful in the sunlight. David Kiehl (sound designer) and Jarrett Bertoncin (lighting designer) enhance the experience by taking the audience easily from a fitful storm to merry music box moments. Pulling everything together without a hitch also included the work of Danielle Renee (production stage manager), Scott Hobart (technical director), Joyce Merrill (properties/set dressing), and Taylor Smith (production assistant).
"Tuck Everlasting" runs a little over an hour without intermission and will be appreciated by adults and children age 9 and older. If your children are new to theater this show is a good introduction since it moves quickly, has fun and youthful characters, and has a plot that poses some interesting questions for conversations after the show. Adults, you'll love it too since it really does make you think about what you'd do if you were in the same shoes as the characters.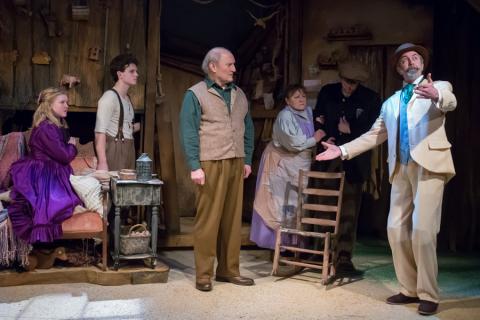 Performances are at the Coterie Theatre in Crown Center, at 2450 Grand Blvd, Kansas City, MO, February 27th thru April 5th, 2018. For tickets call the box office at (816) 474-6552 or online: www.thecoterie.org
Photos by J. Robert Schraeder courtesy of Coterie Theatre
Dr. Bolton has reviewed theater for BWW since 2015 An award winning actor and sought after vocalist he has performed nationwide.