BWW Review: CINDERELLA at STARLIGHT THEATRE Kansas City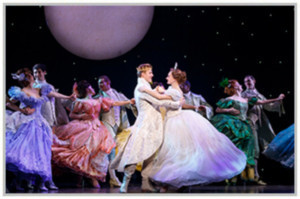 Cinderella sparkles at the Starlight!
Rodgers & Hammerstein's Cinderella, now showing at the Starlight thru July 1, is a dazzling classic with some contemporary twists. This updated rags to riches story is brimming with talent and loaded with fun for everyone. The familiar story of a young woman who is brow beaten by her conniving step-mother brings hope to the stage with beautiful songs, captivating choreography (by Lee Wilkins), and a story rich in tradition with a few new elements to appeal to all ages. The orchestra soars throughout as a richly talented ensemble brings the fairy tale to life.
Cinderella's father has died leaving her step-mother to inherit her childhood home. "Madame" rules the roost and places her daughters above the lowly Cinderella. "Ella" becomes maid and housekeeper to the brood and sees little hope on the horizon. However, Ella has an internal optimism that can't be broken. She shows kindness to forest creatures, her step-sisters, and even Marie a local beggar. Meanwhile, in the castle, young orphaned prince Christopher or "Topher" is governed by Overseer Sebastian, who is to is to "help" him until he is of age to take the throne. Sebastian, however, has his own selfish motives at play and the young prince learns that his subjects are not happy with the heavy rule of their sovereign. Sebastian attempts to distract the prince by having a ball where he is to choose his future queen. Everyone (with a ball gown) is invited, however, Cinderella is prevented by her step-mother and laments her misfortune. However, unknown to Cinderella, the beggar Marie has been her guardian god-mother all along and with a dash of magic Cinderella is off to the ball. Arriving at the beautiful castle, Cinderella is mesmerized with the color and pageant of the event as she lands in the arms of the prince who is immediately taken with her. Her confidence restored, Cinderella quietly advises the prince that all is not well in his kingdom and encourages him to get to know his subjects. But, as the clock strikes midnight Cinderella leaves the ball with the prince wondering who this "wonderful" woman was. The search begins as the Prince is determined to find his love, but the odds don't seem to be in his favor as Sebastian schemes to maintain control of the situation. The prince realizing "now is the time" becomes more intent on becoming the man Cinderella has opened his eyes to. And, with crystal slipper and little time, he seeks his beloved Cinderella.
This production is rich with stunning sets, exquisitely performed music, and engaging acting by a wonderfully talented ensemble. Tatyana Lubov takes on the leading lady role with high energy and soaring vocals. Her diction is so crisp not a word is missed. She's a quadruple threat as she sings, dances, acts, and makes the quickest changes with split-second timing. Louis Griffin, as the prince, brings to life the young royal who is brave and daring, but feels something missing in his life. Griffin's voice is a perfect compliment to Lubov, but at times was difficult to hear in this broad open venue. Marie (or fairy godmother) is played by Leslie Jackson whose stellar voice drew the attention of even the youngest audience members. Jackson is a tour-de-force as she crafts a character that is both powerful and enchanting. Sarah Smith (as Madame the stepmother), Joanna Johnson (as sister Charlotte), and Nicole Zelka (as sister Gabriella) breathe fresh life into the story by providing some great comedic moments and revealing some of the deeper meaning. Corbin Williams (as Jean-Michel) is a vividly fun character who earnestly wants to be the voice of the people. Williams work is bounding with wit and determination and provides a perfect counterpoint to Christopher Swan (as Sebastian) who is equally dark and mysterious. Vincent B. Davis is Lord Pinkleton who not only delivers the royal decrees through the show, but also delivers a stellar vocal performance. Davis solo's are mostly in songs that include the chorus, but are memorable in every way.
This impressive chorus does some of the best singing and dancing I've seen in recent shows. Their high energy level did not falter even though the outside temperature started out above 90 degrees. At least one local Kansas City native, Tyler Eisenreich, is touring with this group who put on a show that drew an opening night standing ovation. While some might think of Cinderella as being a "kids show", this fresh take makes it well worth rediscovery.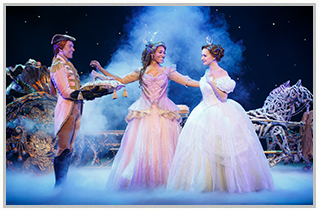 A few notes about Starlight...it's an outdoor venue, but don't be afraid if it's hot out. By the time the show started all seats were in the shade and the light breeze from some state-of-the-art fans kept it comfortable. The expansive seating may put one at the back of the house, but two large screens up front provide close-up views of the actors to enhance the performance. The show is about 2 hours with a 20 minute intermission. There are concessions of all varieties and adult beverages available as well.
Tickets for Cinderella at Starlight Theatre are available online at kcstarlight.com , by calling the box office at 816-363-STAR (7827) or at the Starlight box office at 4600 Starlight Road, Kansas City MO 64132. Onsite parking is $15 for paved and $10 for grass so have your cash ready.