BWW Review: BLITHE SPIRIT at Kansas City Actors Theatre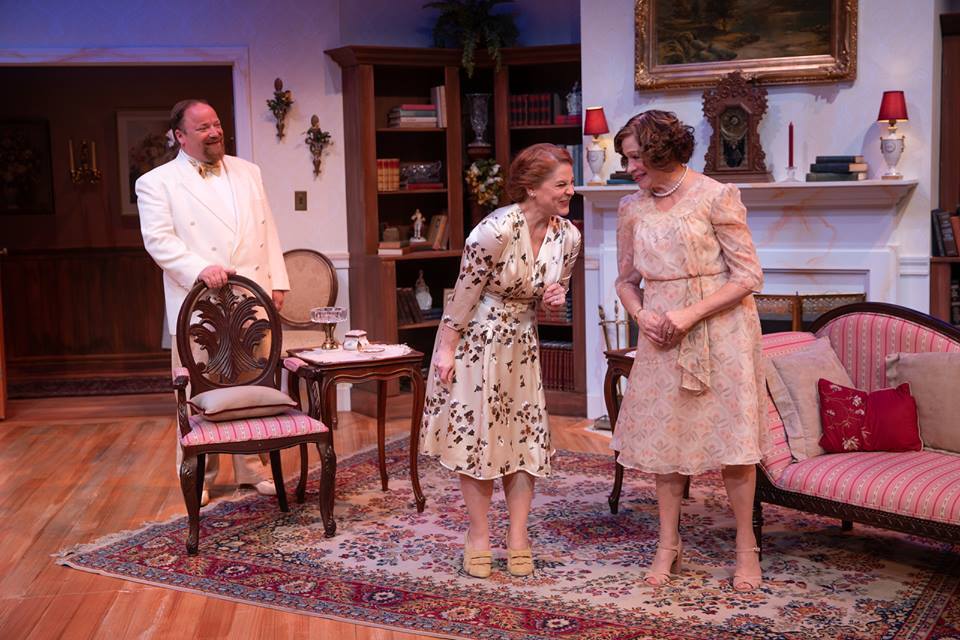 Blithe Spirit by Noel Coward at the Kansas City Actors Theatre in Union Station Kansas City
In Coward's 1940s hit play, the hijinks abound as middle-aged novelist Charles Condomine contends with interference from the ghost of his departed first wife. Now married to his dutiful and earnestly proper 2nd wife Ruth, the couple invite friends Dr & Mrs Bradman over for a psychic lead seance with the eccentric Madame Arcati. Housekeeper Edith isn't the only one banging and clanging around once the medium encounter makes first wife Elvira all too real. However, only Charles is aware of her presence and cannot keep her under control as she seeks her playful vengeance. Indeed, they may be serving up dry martini's in the show, but this production of Blithe Spirit is a fluid concoction of frenetic farce and frolicking fun.
KCAT casts a talented ensemble (directed by Doug Weaver) to tackle Coward's cynical humor. While the material mostly holds up, some of the original writing shows signs of fading over time. Psychics don't quite cause the same curiosity today as they once did, but nonetheless the show's plot still holds enough surprise and absurdity to keep the audience engaged and laughing.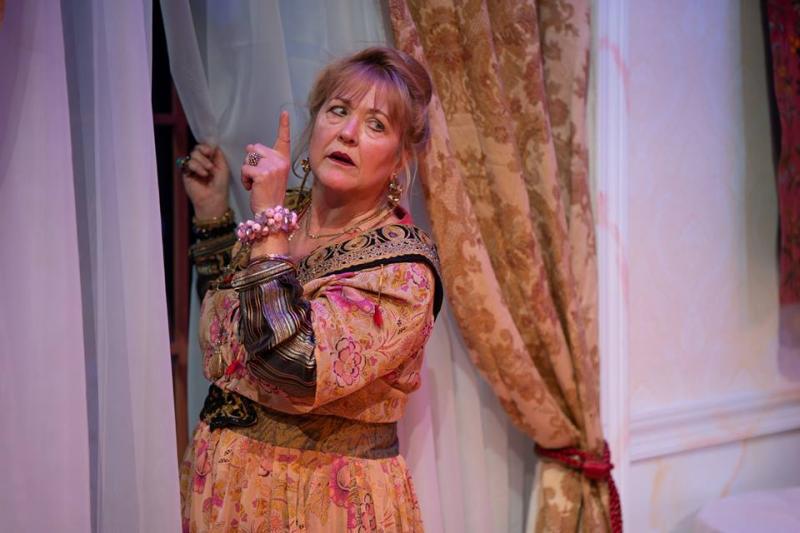 Coleman Crenshaw (Charles Condomine) is solid in his portrayal of the confused novelist and it helps that he seems to be enjoying himself "immensely". His charm keeps the cynical sarcasm controlled enough to maintain his likability, yet he's energetic enough to drive the pace of the piece quite well. Cinnamon Schultz (Ruth Condomine) is well restrained in an intently conservative role. Her performance of Ruth conveys intelligence, pragmatism, and a sense of control that provides playful contrast between the two wives. Schultz slowly peels the skin off the character throughout the show to reveal an unexpectedly raw edginess that makes the role all the more interesting. As the billowing shear curtains part and the ghostly apparition of first wife Elvira enters, the audience is hit with the stark contrast that Vanessa Severo delivers exquisitely. Severo wields herself like seductive weapon as she attempts to monopolize Charles. Her colorful performance makes the character less grey ghost and more red hot darling.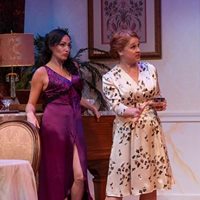 Jan Rogge channels a bit of the young Angela Lansbury in bringing Madame Arcati to life. Rogge's sincerity in role makes the eccentricities all the more dynamic, while her physical comedy makes the audience believe she really did ride her bicycle to the theatre. Matt Rapport (Dr Bradman) is good-natured as he pokes fun at the muse and Cheryl Weaver (Mrs Bradman) delivers a performance with touches of naivete and curiosity that expands the ensemble's range. Margaret Shelby, as the bumbling housekeeper Edith, seems to defy the laws of physics as she balances dishes on her tray much like her character teeters on the brink of collapse at any moment. Shelby's consistently over-the-top portrayal so well maintained throughout the entire production makes her an audience favorite.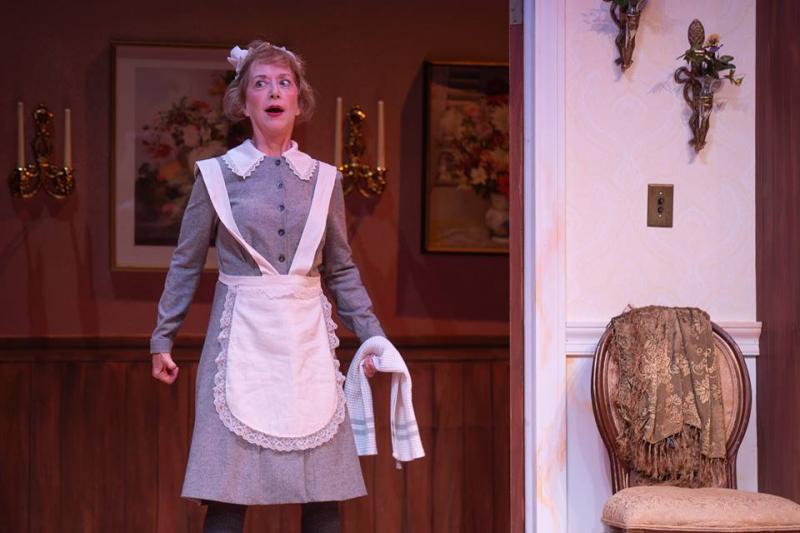 If there's a single element to this show that makes it a "must see" it is the expertly executed love triangle performed by Coleman Crenshaw, Cinnamon Schultz, and Vanessa Severo. The strong trio capture the vulnerability of the characters (that Coward so wittingly constructed) as their words become shockingly unfiltered and honest. The dialogue is still current today and, as Coward wrote, "It's discouraging to think how many people are shocked by honesty and how few by deceit."
Costume Designer - Sarah M. Oliver, Scenic Designer - Kelli Harrod, Lighting Designer - Kyle Greene, Co-Lighting Designer - Shelbi Arndt, Sound Designer - Jon Robertson, Co-Sound Designer - Matthew Schorr, Properties Designer - William J. Christie, Stage Manager Alex Murphy, Assistant Stage Manager - Adam M. Fulmer, Technical Director - Kyle Dyck
Photography courtesy of KCAT
Dr. Bolton has reviewed theater for BWW since 2015 An award winning actor and sought after vocalist he has performed nationwide.