BWW Review: AN EVENING WITH GEORGE GERHSWIN at Musical Theater Heritage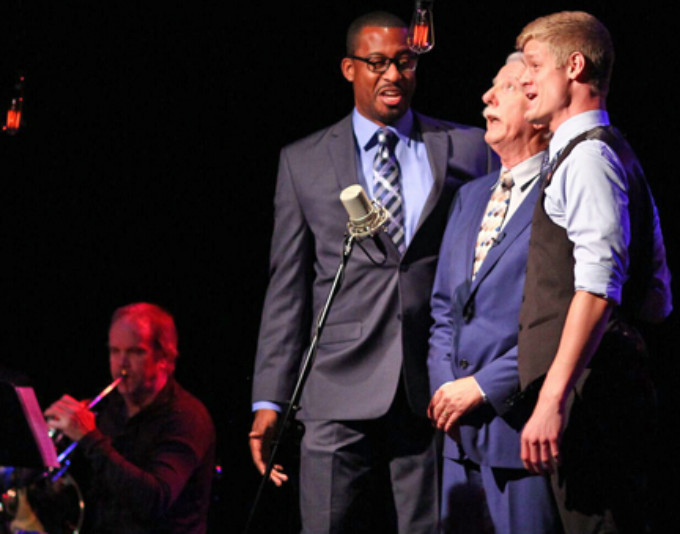 A new fall treatment of the music of American Composer George Gershwin opened this weekend and continues through August 27 at Musical Theater Heritage inside Crown Center. MTH Founder George Harter's take on Gershwin is an interesting look at the musical and societal influences that shaped the composer's work before his early death at age 38 of a brain tumor.
"An Evening With George Gershwin" is a departure from the usual fare that one gets at MTH. Instead of the typical show, this focuses on characters and singers, this offering focuses on the band. In this case, "The People's Liberation Big Band of Greater Kansas City" directed by Brad Cox is stage center. The four very good singers are brought in to support the band and share Ira Gershwin's lyrics. They are Lauren Braton, Jacob Aaron Cullum, Molly Hammer, and Justin McCoy.
George Gershwin and his lyricist brother Ira are remembered for individual songs and compositions that have passed into the early 20th Century songbook. Individual tunes like "I Got Rhythm," "Embraceable You," "Fascinating Rhythm," and "I've Got A Crush On You" all have their roots in "Tin Pan Alley" and Broadway presentations prior to the first modern musical "Oklahoma" in 1943. George Gershwin was already seven years in his grave by that point, but it is clear from the sound of Gershwin's other works that he had been part of a musical transformation then evolving on stage, screen, and the concert hall.
If all this sounds a bit academic, that's because it is. I was put in mind of one of George Harter's longtime, weekly PBS radio shows. Despite the mostly professionally performed music, the obviously well researched information, and the signature stagecraft, the show failed to pull me into any ethos that I usually hope for in a "Main-Stage" production.
Harter appears on stage with his signature folder and a number of blue note cards. On the note cards are quotes from a number of Gershwin contemporaries. He distributes these to cast, orchestra, and audience members throughout the performance and requests they read them in hopes of gaining audience buy-in.
Many of these commenters were quite well known in their day, but have since faded into history. A little background on some of these folks or at least a character representation might have helped meld the presentation together more tightly. A good example is the musician - comedian Oscar Levant who was evidently quite close to the Gershwins and featured in both the "Rhapsody In Blue" 1945 biography and later in the 1951 "An American in Paris." Levant seems remote to Americans under 50.
The experimental nature of Gershwin's mind cannot be well appreciated without hearing a range of man's work in a compressed time framework such as this. There seems to be a forever wandering quality to the work and a significant atonal dissonance. Because Gershwin wrote much of his own orchestration, it is difficult to know if the dissonance one hears has more to do with the performance or the composer's particular experimental ear.
Gershwin's own cultural background (the pale of Russia/Ukraine) can be heard in the Klezmer rhythms and clarinet through lines of many of his earlier works that mirror traditional eastern European Jewish music. Gershwin's parents had separately emigrated from the Russian empire in search of a better life, met, and married in New York. George grew up adjacent to The New York Yiddish theater, but within earshot of the growing African American sounds of Harlem at the turn of the 20th century.
George Gershwin was a working musician who, it is clear, approached music as his business. He did what was necessary to earn a living. He was not a great student, but was, by all accounts, a piano prodigy. Some of his earliest work was to "record" paper roles for player pianos. He quit school to become a song-plugger and then a Tin-Pan alley composer. Later, Gershwin moved to Hollywood because that was where the current composer money stream was most obvious. Many of the decisions that shaped his Broadway contributions were more rooted in business than art.
Personally, George Gershwin was probably a difficult person to be around. He was an introvert and famous for arriving at a party, sitting down at any available piano, and performing for an entire evening. I suspect he played non-stop to avoid having to have a long conversation with other party-goers. The scope of his work shows that he had a yearning to become a more classical musician remembered for his more serious works. Examples are the "Concerto in F," "Rhapsody in Blue," the balletic 1924 "American in Paris," and his masterpiece, the 1935 African American folk opera "Porgy and Bess."
Gershwin's music is generally well performed by the band and the singers. George Harter is George Harter. It is interesting how dated some of the lyrics (especially from the Tin-Pan alley and movie days) have become after almost a century. The idioms used have gone out of fashion. Vocal styles and the use of amplification have changed the way the music is presented. Jacob Aaron Cullen's modern tenor rendition and perfect diction as "Porgy" "I Got Plenty ONothin" and Lauren Braton's clear soprano Clara singing "Summertime" can be a little bit jarring from the "Porgy and Bess" segment at the beginning of Act II. Molly Hammer is an excellent jazz singer and fits much of this music. The standout is Justin McCoy whose really strong bass-baritone is closest to the traditional musical theater styles of the time in which this music was written.
Tickets for "An Evening with George Gershwin" at MTH can be purchased online at their website or by telephone at 816-221-6987.
Related Articles View More Kansas City

Stories

Shows