BWW Review: AN AMERICAN IN PARIS at Starlight Theatre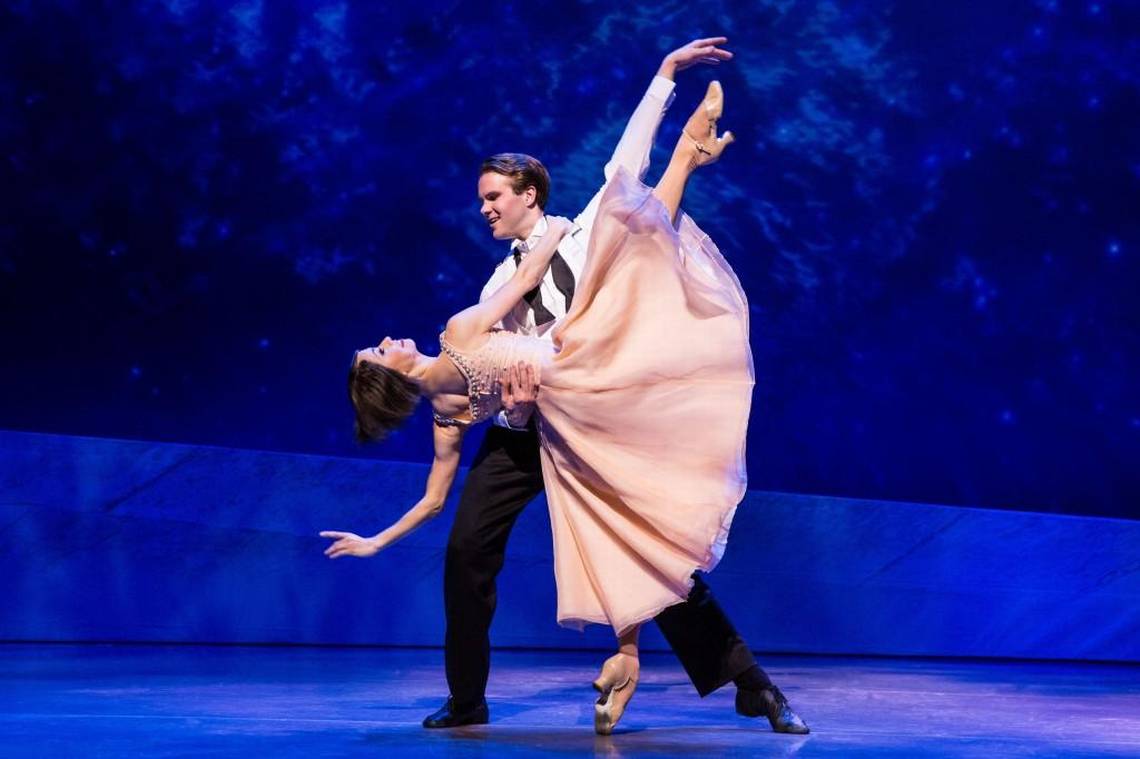 There are many musicals with the songs of George and Ira Gershwin intricately woven into them, but few have the grace and elegance of ballet like AN AMERICAN IN PARIS.
Set at the end of World War Two, AN AMERICAN IN PARIS follows Jerry Mulligan (McGee Maddox) and Adam Hochberg (Etai Benson), two American soldiers who cannot escape the tragedies that the war brought to them and cannot bear to go home, as well as Henri Baurel (Nick Spangler), a well-off Parisian who wants to be in show business and whose involvement in the war has some questions.
Adam is a composer while Jerry is an artist and the two find themselves helping to create a ballet, and unbeknownst to them, both start to pine for the prima ballerina, Lise (Sara Esty), who is about to be engaged to Henri (also unbeknownst to them). While Adam is fine to pine from afar, Jerry takes matters into his hands and starts a friendship with Lise. The love triangle comes to a head in Act 2 at a party at Henri's home showing off the ballet.
While the show uses the Gershwins' peppy songs like "I Got Rhythm," "Fidgety Feet," and "I'll Build a Stairway to Paradise," for show-stopping dance numbers (all choreographed by Sam Davis), most of the show is performed (even in cross overs down stage) with sophisticated ballet movements choreographed by director Christopher Wheeldon. The ballet in the show and the mini-ballet that Adam creates will leave you breathless, as all of the dancers in the show are stunning. Esty is a gorgeous dancer having received the Princess Grace Fellowship Award for her excellence in dance.
Like the movie it is based on, the show does not give much time for character development, instead focusing on the ballet and love triangle, so all of the characters are kept at arms length from the audience, but nevertheless, I found myself drawn to Benson's Adam, and moved during his and Milo's (the beautiful Emily Ferranti) song "Not For Me" lamenting about love that will never be.
The set design and the way the cast moves it around help to transport the audience to each place, from a café to a mansion and then to a riverbed, it is all imaginative and Parisian.
Big props to everyone as they danced their way through a very hot day without seeming to lose any steam even at the end of the 16-minute ballet.
AN AMERICAN IN PARIS plays at Starlight Theatre through the 16th. For tickets call 816-363-7827 or go to www.kcstarlight.com.
SaveSave