BWW Review: A CHRISTMAS CAROL at Kansas City Repertory Theatre
Now in its 38th season, Kansas City Repertory Theatre's "A Christmas Carol" is as much an iconic Kansas City holiday tradition as is the annual Plaza lighting ceremony every Thanksgiving evening. Charles Dickens (Mark Robbins) once again spins his immortal 1843 ghost story of redemption as he himself performed it (solo) on stage for the last twenty-seven years of his life.
Mr. Dickens introduces us to curmudgeonly Ebenezer Scrooge (Gary Neal Johnson), the lonely, morose, embarrassingly wealthy proprietor of a counting house in early Victorian London. He is the surviving partner of the firm of "Scrooge and Marley." Scrooge has one employee, the minimally compensated and less valued family man Clerk Bob Cratchit (Logan Black). Christmas approaches. London is freezing and Bob's corner of the office is so cold, that the ink in his well threatens to congeal. Begrudgingly, Ebenezer allows Bob to spend Christmas Day with his family, but only if he will come to work especially early on the following day.
Charitable souls approach Ebenezer Scrooge. They ask for a holiday donation to the benefit of the poor. Scrooge reacts with his trademark "Humbug" response. Workhouses and prisons are good enough for the poor. If starvation seems imminent, the poor should get on with it and "reduce the surplus population."
Scrooge's only living relative, his nephew Fred (Sam Cordes), invites his uncle to celebrate the season with his loved ones. "Humbug" cries Ebenezer. Fred's invitation hangs in the air. Fred accepts Uncle Scrooge for who he is and heads off to enjoy his own holiday.
The counting house closes on Christmas Eve and Scrooge grumbles his way home. He eats alone and takes to his bed only to have an apparition of Scrooge's long deceased partner Jacob Marley (Walter Coppage) appear in the bedchamber.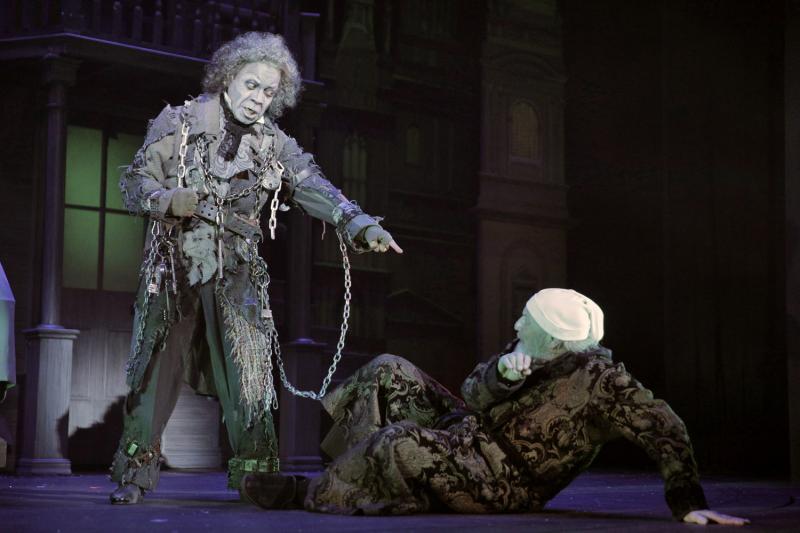 Chains adorn the ghostly visitor. Each chain link represents a kindness foregone in Marley's misspent life. Marley has materialized to warn his old friend. Generosity must become Scrooge's only business. Marley predicts Scrooge will be visited by three spirits. Each will share a lesson and if Scrooge learns the lesson, he may yet avoid Marley's gruesome fate.
Bree Elrod portrays the delightful Ghost of Christmas Past. Shanna Jones is the magical Ghost of Christmas Present. Bradley J. Thomas is the terrifying Ghost of Christmas Yet To Come. John Rensenhouse is the jolly Mr. Fezziwig. Lainey McNanamy and Aria Smith alternate as Tiny Tim.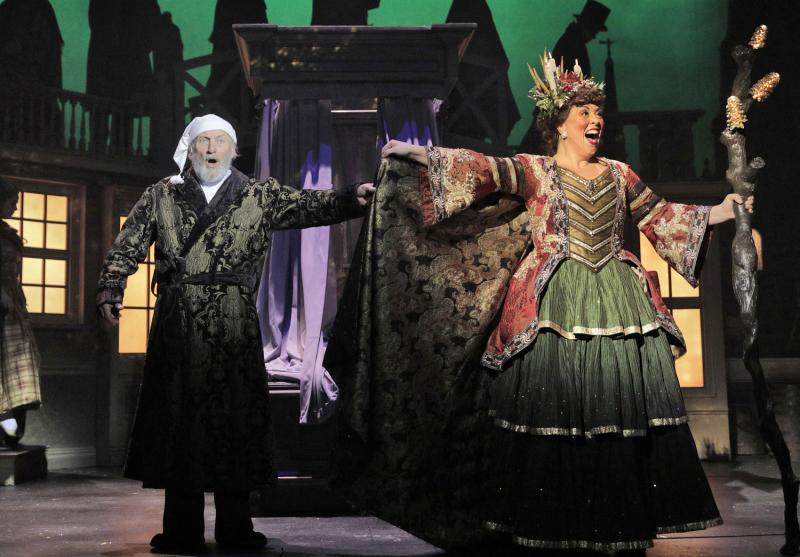 This iteration of the holiday classic is remarkably well balanced in its casting. Marissa Wolf has directed this production as significantly musicalized over previous versions and as a much lighter interpretation of Eric Rosen's adaption of Dickens' work. Mark Robbins does an impressive job as Charles Dickens. The venerable Gary Neal Johnson is a memorable Ebenezer Scrooge. Sam Cordes makes the most of Fred.
Technically, the revolving sets, the ghosts who appear magically from mist and rise up through the stage floor, the multiple projections, and the set pieces that appear from nowhere on silent wheels are pretty much as good as it gets. The musical direction off stage left by Anthony T. Edwards offers the perfect appropriate musical underlayment.
"A Christmas Carol" is worth the time and is a wonderful way to introduce your family to this timeless story. It continues at the Spencer Theatre on the UMKC campus through December 30. Tickets are available at www.kcrep.org, at the box office, or by telephone at 816-235-2700.
Photos courtesy of Kansas City Repertory Theatre and Cory Weaver.
Related Articles View More Kansas City

Stories

Shows