BWW Review: MONTY PYTHON'S SPAMALOT at Times Union Performing Arts Center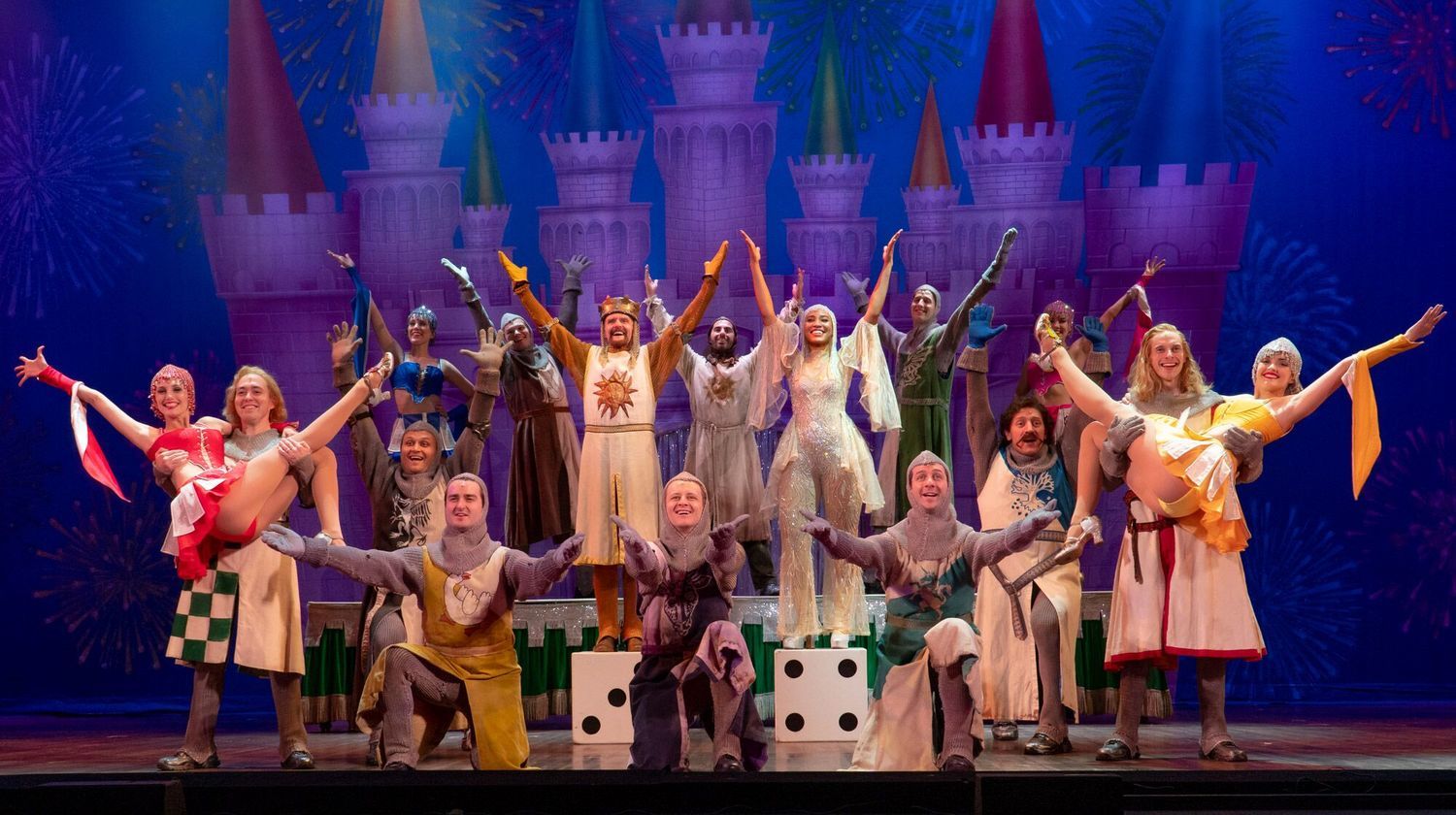 Monty Python fans gathered in Jacksonville Monday night for Monty Python's Spamalot. Laughter erupted through the Moran Theatre at The Times Union Center for the Performing Arts as fans watched their favorite characters performing their favorite lines and jokes based on the movie Monty Python and the Holy Grail. The show follows King Arthur and The Knights of the Round table on their voyage to find the Holy Grail. Accompanied by a great and comedic score, the show was greatly entertaining to all audience members, even those who were not familiar with Monty Python. It was a smash!
The company of the show was phenomenal! Every single one had great comedic timing and a great talent for physical comedy. One number that had me laughing was "The Song That Goes Like This" performed by The Lady of the Lake (Leslie Jackson) and Sir Galahad (Philip Huffman). The song refers to the stereotypical song many Broadway productions have that are almost always anticipated. As someone who has seen many Broadway performances, I knew exactly what they were referring to and they were great in portraying the message. Jackson's number "The Diva's Lament" was also hilarious and her voice was really showcased in this number. King Arthur (Steve McCoy) and Patsy (Jason Elliot Brown) were hysterical in "I'm All Alone" as King Arthur complains of being completely alone on his journey as he has lost all his knights, however Patsy is standing right with him trying to help him. Sir Robin (Kasidy Devlin) was hysterical in his performance of "You Won't Succeed on Broadway". Not only was Devlin's comedic acting displayed, but his voice and dancing were great as well! The entire cast was just unreal! Many played various roles. If you would have asked me before I looked in my Playbill, I would have told you it was an extremely large cast. I think it speaks volumes to this cast that they could play so many parts so well that the audience thinks it truly is different actors.
The stage design was also great. It really was a full-on Broadway production with so many moving parts. The colors, the lights, the dance, multiple stage props, it was everything an audience member wants out of a Broadway production. It was also partially interactive as they revealed a seat number on stage that had a surprise and that member was invited on stage and cheered for wildly by the audience.
I also must mention how much the audience felt like a part of the show through my eyes. I could hear so many quoting lines they knew from Monty Python and the Holy Grail. It made me smile knowing they were so completely invested in the show, even if they are not accustomed to the world of theatre. The entire theatre was belly laughing so hard I missed some parts because they just could not stop laughing.
Monty Python's Spamalot is a must see if it ever comes to a town near you! I cannot wait for the day the production comes back to Jacksonville!