James Barry, Luke Wygodny, to Star in Developmental Reading of Rock Comedy VIVA LOS BASTARDITOS!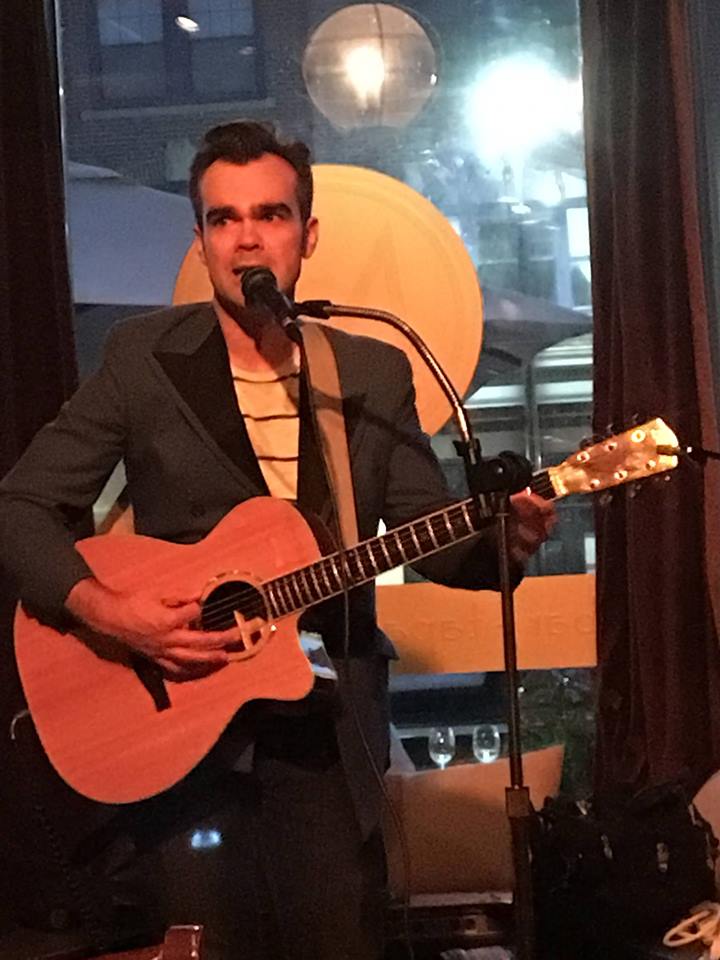 On Monday October 30th, Broadway rockers James Barry and Luke Wygodny will headline in a developmental concert reading of Jake Oliver's original rock comedy, VIVA LOS BASTARDITOS!
Presented by Otter Sparrow Productions and directed by 2017 Lucille Lortel Award winner, Jess Chayes (Misery, Peter and the Starcatcher associate director), VIVA LOS BASTARDITOS! follows the screwball adventures of Western Massachusetts' most famous rock trio, The Pickles -and their grass-roots movement of artists, misfits and patriots- as they struggle to get past their own differences and take back their beloved homeland from dastardly con man, Dancin' Eddie Danson (Scoop Slone).
Under the music direction of James Olmstead and Xander Rovang, BASTARDITOS! mashes absurd comedy with original indie/punk rock songs (played live by Barry and Wygodny) to explore the themes of social justice and the challenges artists and political movements face in finding a unified voice and making meaningful change together.
James Barry (Bloody Bloody Andrew Jackson, Million Dollar Quartet) and Luke Wygodny (Once, American Idiot national/international tours) lead a cast of Broadway regulars including 2009 GLAAD Award Winner Lavita Shaurice-Burr (She Likes Girls Ohio Theater, War Horse national tour), 2010 MAC award winner Tom Rocco (The Who's Tommy [Uncle Ernie]), Mark Emerson (Phantom of the Opera national tour), Kathy Connolly (Wind in the Willows Christmas Two River), Dorothy Abrahams, Suzanne Lenz, Dan Truman, Andrew Shulman, Shyaporn Theerakulstit, Jasmine Holloway and Scoop Slone (The Who's Tommy)
The concert reading will be on Monday, October 30th at 7:30pm at La MaMa at La Galleria, 47 Great Jones Street, New York, New York 10003
Seating is very limited. Industry professionals can RSVP at vivalosbastarditos@gmail.com
ABOUT JAKE OLIVER (book, lyrics, music)
Jake Oliver is a New York based playwright, author, composer and director. Mr. Oliver's work has been praised by The New York Times as, "proudly silly and prurient, broadly satirical and filled with sensationalistic gags that would shock your grandmother" and by Paper Magazine as, "goofy, raunchy, diabolically clever, truly Pythonesque."
VIVA LOS BASTARDITOS! originally appeared as part of the 2010 New York international Fringe Festival, where it won the Audience Favorite Award. In 2013, No Name Player's production made the Pittsburgh Post-Gazette's Year End Best of Theater list.
Past productions include: The Well Done Opera (Hamptons Shakespeare Festival), FLAT! (Operating Theater/Brick Theater), Gregory and James (New York Comedy Club), and SOME STORY! (Guild Hall). His 2009 trivia book What's the Connection? was the best selling general reference book on barnesandnoble.com. He is a graduate of Oberlin Conservatory of Music.
*La MaMa makes La Galleria available to artists for non-curated exhibits.
Related Articles
View More Industry

Stories
More Hot Stories For You