Industry Pro Newsletter: AEA's New Executive Director, More Restrictions Around the Globe
And, the theatre industry celebrates understudies and standbys.
December 27, 2021 -
Amidst a week of more illness related closures on Broadway, an apologized-for comment from the President of the Broadway League led to a wide celebration of understudies and swings from the wider industry - below, we've got the video of Hugh Jackman doing that from curtain call of The Music Man. While the production shutdowns (and recent closing announcements) are an echo of March 2020, it is important to remember that across Broadway and across the country, there were many productions that were able to continue their holiday performance schedule without interruption, thanks to the health and safety protocols that theatres have in place.
AEA and SAG-AFTRA Extend Streaming/Remote Audience Agreement
The agreement was reached in November 2020 in response to the pandemic and many theatre companies shifting to streaming productions for remote audiences. In recognition of the continued struggles for companies due to new variants of the virus, the two unions agreed to extend the agreement to June 30, 2022.
Alvin Vincent, Jr. Named New Executive Director of Actors Equity Association
He comes to the union from the United Food & Commercial Workers (UFCW) International Union, where he was the International Vice President and Mid-Atlantic Region Director since 2005. He will begin in his new role at AEA on February 1, as the 12th Executive Director, and the first Black Executive Director, of the Union.
The Netherlands Re-Enters Lockdown
In response to the latest variant and rising case loads, the Netherlands entered a restrictive lockdown that will last through at least mid-January. Calling to mind the earlier days of the pandemic, this lockdown closes all non-essential activities and businesses.
Germany Imposes New Restrictions on Performances
While performances aren't canceled in Germany, new restrictions ban spectators from performing arts venues. Other large events, including New Years Eve fireworks events, are also restricted under the new rules.
UK Government Announces £60 million in New Emergency Funding
In response to the latest round of restrictions and cancellations resulting from the Omicron variant, the UK government announced a new round of available funding for theatres, cinemas, museums and heritage sites.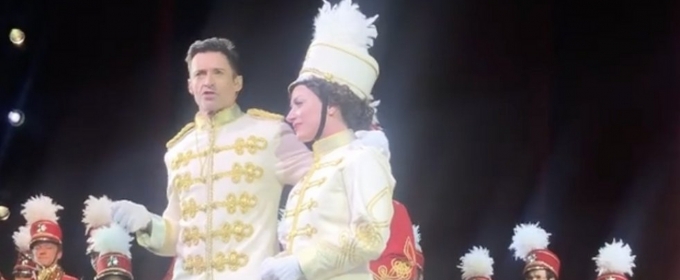 Hugh Jackman Pays Tribute to Understudies and Swings
After Kathy Voytko stepped in for Sutton Foster at The Music Man last week, and with the backdrop of a theatre industry celebrating the unsung heroes of many productions, Hugh Jackman took a moment at the curtain call to celebrate the swings and understudies of both The Music Man and the wider theatre world.
SMU Data Arts Estimates When Audiences Will Return
Cross referencing vaccination rates with ticket sales data, the Data Arts team at Southern Methodist University lays out a few different scenarios about what factors may be impacting ticket sales for performing arts institutions moving forward. While the fall saw a strong correlation between vaccination rates and ticket sales, moving forward the most likely uncontrollable variable is going to be case rates themselves.
New Year's Eve in Times Square Scales Back
Late last week, New York Mayor Bill de Blasio announced that the New Year's Eve Celebration in Times Square would be scaled back this year due to concerns over the Omicron variant. As of now, that scaling back includes a later entry time into Times Square for celebrants, masks required during the event, and a cap at 15,000 people, down from the previously allowed 89,000.
The Met's Fridays Under 40 Draws a New Crowd
The Metropolitan Opera's Fridays Under 40 (offering $40 tickets to patrons under the age of 40), is drawing a whole new crowd of stylish New Yorkers to the Opera. The promotion is not only bringing in younger audiences, but first time audiences - many of whom have already returned multiple times.
Add Your Show to our Regional Events Calendar
As audiences get set to return to in-person performances, and as your company works to market your own return to the stage, make sure you've got your upcoming shows in our regional events calendars. Listings are free of charge, with boosting options available. Get your show listed now!
BroadwayWorld Stage Mag - A Fully Interactive Show Program
The digital solution to your show program needs - want to see what's possible? Check out the Stage Mag's for off-Broadway's Blindness and for Next on Stage Season 3! Then start building your own at stagemag.broadwayworld.com.
Want more information about marketing options with BroadwayWorld? Request a media kit here and a member of our sales and marketing team will reach out promptly.